THE GARDEN SPEAKS FOR ITSELF
By Andrew Maerkle and Natsuko Odate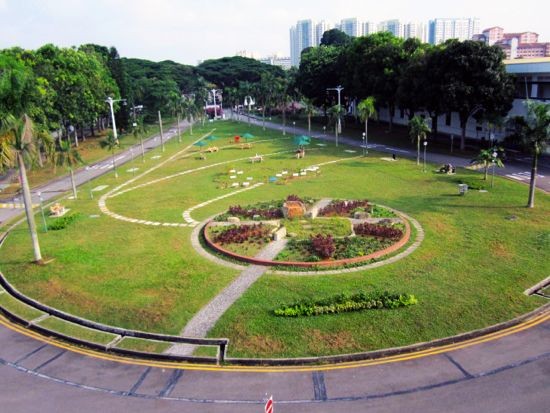 Proposed Helsinki Garden at the Singapore Biennale (2011), site-specific community project
 commissioned by the Singapore Biennale 2011
. 
Photo Mae Ee Wong. All images: Courtesy Martha Rosler.
In March 2011 Martha Rosler was in Singapore to participate in the opening of the 3rd Singapore Biennale, "Open House," where she initiated a unique project to work with local artists and communities to transform a site at the Old Kallang Airport into a multi-faceted garden. Entitled Proposed Helsinki Garden at the Singapore Biennale (2011), this project developed from a preexisting proposal by the artist to produce a public garden as part of a commission by the Helsinki Business Campus in Finland. Partly due to concerns over whether the Helsinki proposal would be an artwork or a park, and whether Helsinki Business Campus or the city would be responsible for its administration, the garden was never realized. Although the Singapore garden does not particularly resemble the Helsinki proposal, in its referencing of this incident in an entirely new context it comments on the circulation of international art, and the local and global contingencies that define that circulation. And in its realization not by Rosler herself but rather by local agents, it also stages a canny reflexive critique of the artist's complicity in that circulation, and the eagerness of events like the Singapore Biennale to control and capitalize on the mystique of the artist, even at the expense of their own constituencies.
Only allusively apparent in the Singapore garden, which could ultimately still be enjoyed for what it is – a communal green space – these themes were expanded further by Rosler in the Biennale's March 12 keynote lecture at the Singapore Art Museum. Drawing upon broad swathes of intellectual and social histories, the lecture considered art's agency in an age of unprecedented internationalization.
ART iT met with Rosler following her lecture to discuss her understanding of the relations between local practice and global visibility in greater depth.
Interview:
ART iT: In your keynote lecture for the 3rd Singapore Biennale, you discussed the contradictions of international biennale exhibitions, and how they inevitably suppress the local in a performance of the global. In your role as an internationally active artist mediating between the local and the global, do you feel any complicity in these contradictions?
MR: Yes. I'm not exempt from these contradictions. That's the way it is. One tries to acknowledge them, but also to see what can be planted, if you will, going in both directions. Ultimately, Proposed Helsinki Garden at the Singapore Biennale is not my project; it's a local project. I provided the framework, opened the door and met with people, and they can carry it forward. But it's also a demonstration project, in that it's a real garden and a metaphoric series of interventions in the concepts of circulation and locality, as well as the idea of society as a garden, which is specifically relevant here in Singapore.
ART iT: How involved were you in working with the local artists on this project?
MR: I produced papers, little dossiers, on what a community garden might be, including its metaphorical aspects. I gave the curator, Russell Storer, an idea of likely types of participants, and he provided me with excellent contacts and referrals. I wrote letters of invitation, mostly to women. The initial contacts were with Amanda Heng, Susie Lingham, Sylvia Lim and Hazel Lim. Further contacts came from them, in an expanding network. I noted all the exchanges: who offered me advice, who offered help, who said yes, and what their preliminary proposals were. I made a set of little cards, with one for each person, so that when I arrived, I could call and set up meetings. In effect, I became an administrator, a facilitator.
I laid out a site plan; I wanted paths so visitors would know the project entailed the whole site, and then we worked out the final proposals, budgets and requirements, and we sent them in to the Biennale office. Susie Lingham, a professor at the National Institute of Education, works with art teachers who also work with students. Susie brought her students and they brought their students, and thus the project became a nice way to promote art in schools. Lucy Davis, at the School of Art, Design and Media at Nanyang Technological University, also brought her students; working with Shawn Lum, head of the Nature Society, the interlocking groups accomplished several projects. Sha Najak, an artist who works with migrants, brought in a group of domestic workers, who designed and planted an herb garden centered on a sculpture. Some people volunteered to work on organizational matters, which is quite wonderful because this is a project that has to be sustained after I leave.
This is not my normal way of setting up a project, and I am really gratified about the response in Singapore. The people involved have been amazing, particularly the women; they understood immediately what I had in mind, and that I really wanted it to be a local project. The people I contacted could easily have said, "Why should we do this? It's our labor, and your name," but they understood that the garden was theirs to make, and they could propose anything. Obviously if a proposal went beyond the grounds of feasibility or budget, we wouldn't be able to manage to institute it, but that did not happen. People made very diverse proposals, and we started planting and building.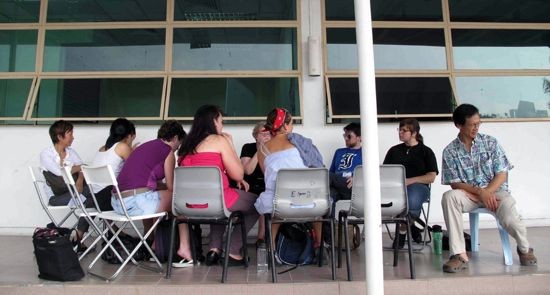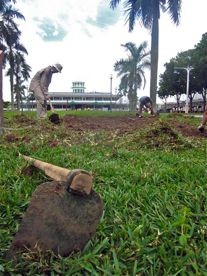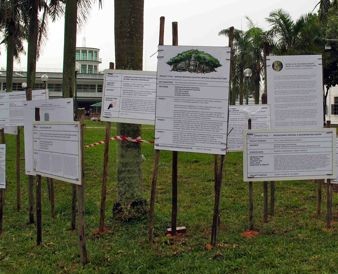 From Proposed Helsinki Garden at the Singapore Biennale (2011). Top: Planning meeting at Old Kallang Airport. Bottom: Yap Von Bing and Shawn Lum of the Nature Society (left) and "Pioneer Landscape Development Project" by Lucy Davis and Shawn Lum (right). Both: Photo Lucy Davis.
ART iT: At the Biennale preview it was difficult to see how the garden would take shape, because everything was still being planted. Once the garden is completed will its overall appearance necessarily have any significance?
MR: As a complete entity, it represents communal labor, although you can't look at it and say "I see communal labor." But that's what it is. It's not a landscape project. It's a project of thinking – together and separately – asking, what can I do that I want to do here? But visually it will be a green oasis with spots for contemplation, recreation, regeneration and edification, since the projects vary from scientific to poetic to edible. There is a purple medicinal garden, a circular grass mandala surrounded by shaded benches and a large map of Singapore, with the places named for trees, planted with saplings.
ART iT: What are the origins of this kind of approach? For example, when did you start trying to deal with the contradictions involved in the international circulation of contemporary art?
MR: Since the 1970s, I've been asking, what does it mean to be invited as an artist somewhere – what do I bring that's more than just a "message" from far away? I try to be mindful of context, and that applies to projects in the US as well. I try to make works that have some relationship to what's locally important. Occasionally I've even been censored because of that.
ART iT: In 1989 you organized the "If You Lived Here…" project at the Dia Center for the Arts in New York. Would you say that the organization for Dia provided a model for Singapore?
MR: Yes, in some ways "If You Lived Here…" was a similar project, but on urban housing and homelessness. In that project also, I invited individuals and groups to participate. Dia offered a certain amount of financial support for the projects, and we had meeting after meeting in setting up the shows. It was much harder to organize, maybe because in New York the cold weather makes things more difficult, and because the non-artist participants were busy, or uncertain. I invited activists and advocacy groups that had to take time out from their work schedules to collaborate, but it worked out just fine. For Singapore, I didn't realize I was going to wind up repeating myself methodologically, but a group project just seemed like an obvious thing to do, especially once I saw the title of the exhibition was to be "Open House." I wanted to focus on something that was both domestic and public, which is why I tried to pitch the project especially to women, who rarely are afforded a collective public space in Singapore.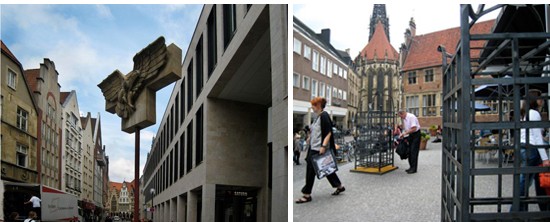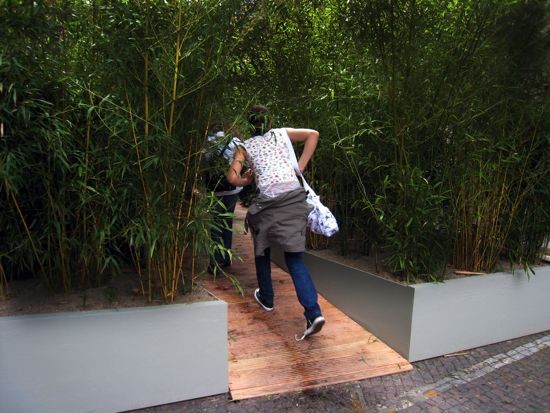 From SkulpturProjekte Münster '07. Top: Luftwaffe Eagle replica at the Principal Markt (left) and two replica cages at the City Library (right). Bottom: Replica bamboo maze on the Lambertikirche plaza. All: Photo Martha Rosler.
ART iT: In contrast, your project in 2007 for Skulptur Projekte Münster, Unsettling the Fragments, seemed to be a more definitively sculptural, as opposed to communal, work.
MR: Yes, that's true; most of my work is not collaborative. I have periodically worked with garden materials, but in that case it was my own work, and not a project by local people. But did you realize there was also a garden as part of that project? My contribution was in four parts: three sculptural elements, plus a visual display on the City Library windows. There was the eagle [a Luftwaffe standard on a pole], there were the cages [used to display the bodies of the Anabaptists who were executed following the 1535 Münster Rebellion], and there was a bamboo maze [as in the Botanical Garden] on the main church plaza.
ART iT: Is the difference in working methods related to the location of Singapore?
MR: Partly. I signed all my letters of invitation Artist, Brooklyn, New York. One artist wrote to me, not necessarily in an unfriendly fashion: "What does an artist from Brooklyn have to bring to Singapore for gardening?" I replied, "The garden." It's your garden, but that's what I bring.
As to Münster, I made many visits there and I wanted to do something about local history. I met with a few local representatives and developed my idea of quoting architectural and other fragments. In the same year, I did a garden project for Documenta 12, Kassel Gardens (from the Perspective of the Mole), but I didn't produce a garden; instead I used photos of the gardens of Kassel as a way of exploring its history. There was no collaborative element there, either, though in both cases my engagement was with the local.
But I did a collaborative work with my students at the Venice Biennale in 2003. It involved 30 people in different places, and I set up the parameters of the work, but the projects were theirs. I was teaching in three different schools in three different countries at the time and there was also participation by an online group of former students, so it was a pedagogical project in a sense, but really it was just about, "let's all do this together." But that was the least locally focused of the works we've been discussing. The show we were in was called "Utopia Station," and our plans centered on an imaginary state.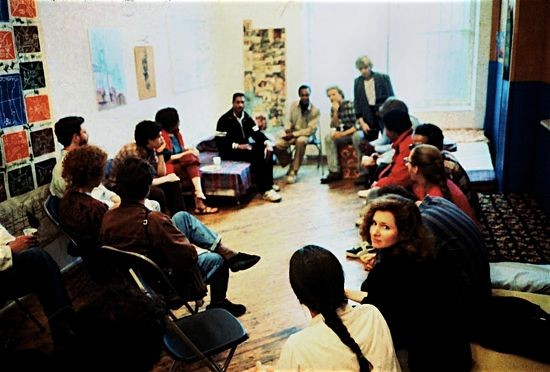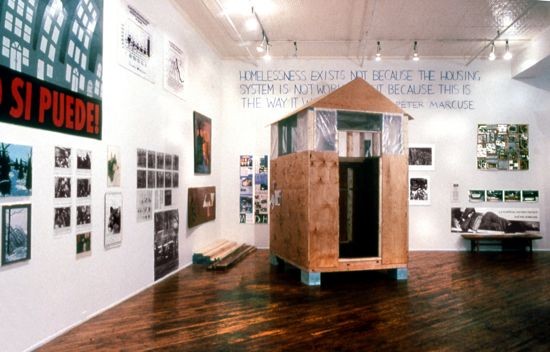 Top: Meeting conducted by Homeward Bound Community Services at the exhibition "Homeless: The Street and Other Venues," part of the cycle "If You Lived Here…" at the Dia Art Foundation, New York, 1989. Bottom: Hut constructed by the Mad Housers and other projects at the exhibition "Homeless: The Street and Other Venues," part of the cycle "If You Lived Here…: at the Dia Art Foundation, New York, 1989. Both: Photo Martha Rosler.
ART iT: What led you in 1989 to taking that first step forward with "If You Lived Here…"?
MR: I don't know. It happened gradually. I was invited to do a solo show at Dia. The problem of homelessness had suddenly become quite urgently visible in New York and many other cities in the Western industrial countries, and I proposed a show about homelessness, not really expecting Dia to accept, but they did. But I began to realize that everywhere but New York, artists had done initiatives about homelessness, so why not just invite them to participate? And then I thought, why leave it to artists only? Why not invite community groups and homeless people? I made a lot of contacts over the course of a year, and asked, what should we do, and, do you want to have some presence in the exhibition space? If you want to do a project, we'll help you. I'm a shy person, but I had to call people I didn't know. These were organizers working with homeless people, and community and tenant organizers: "Hello, I'd like to ask if you are willing to participate in…an art project!" Perhaps today this would not be so unusual, but back then it was. But actually everything worked really well, and I had an excellent assistant, Dan Wiley, who was well versed in grass-roots urban issues.
And I also moved the show away from what might be called a liberal pity project, asking the audience to feel sorry for other people. I wanted to take a more comprehensive look at questions of housing and urban planning. I decided to make it a project of three shows; I realized that if we held only one six-month show, even if the contents changed over that period, people wouldn't make repeat visits because they'd think they'd seen the show already. The progression of shows was that the first one was centered on tenant struggles ["Home Front"]; the middle show was devoted to homelessness ["Homeless: The Street and Other Venues"]; and the third was about architectural- and urban-planning schemes and utopian fantasies ["City: Visions and Revisions"], on successes and failures, and some satirical schemes. There were also four public forums in the course of the project, and film screenings and poetry readings. It turned out to be a complicated undertaking.
ART iT: In your lecture you also addressed the artist as subject and how art has been coopted by urban regeneration schemes, complicating the idea that an artist can speak on behalf of others. Was this something that you considered when you were planning for Dia?
MR: I wrote an essay in 1981, "In, around and afterthoughts (on documentary photography)," which specifically addresses the problem of speaking for others. I've long been uncomfortable about that common pitfall, because there's little gain for the subjects compared to a large gain for the photographer or artist. The people for whom you're speaking are "mistranslated," while you're left standing there with the focus on you alone. That's why I read the list of participants in the Singapore garden project before giving the lecture: to make sure the audience understood that the works on view are those of specific people and groups. The participants are also listed on the show label.
I ran into this problem in Venice also. The Biennale wouldn't let me list the work as the collaboration of the 30 or so participants, even though we had decided on two group names – Oleanna and the Fleas. The participants were listed in the catalogue, but under my name, so we painted their names on the side of our project building. Dia did a similar thing, demoting the participants: at the back of the book we produced after the shows, the names of the artists and groups were listed in a tiny font, and I had to fight just to make the text slightly less tiny.
Even with these collective projects, they always use the same phrase, "You are the invited artist." In Singapore, I had to figure out how to make the names present and how to add names as more people came on board, because once again this is a project by "Martha Rosler." If it could be credited as a project by "anonymous" with local participation, I'd be happier. But the perspective of the organizers remains: you are the artist. I've been really surprised about how hard it is to make headway on this. But it does allow more people access to working in high-profile venues.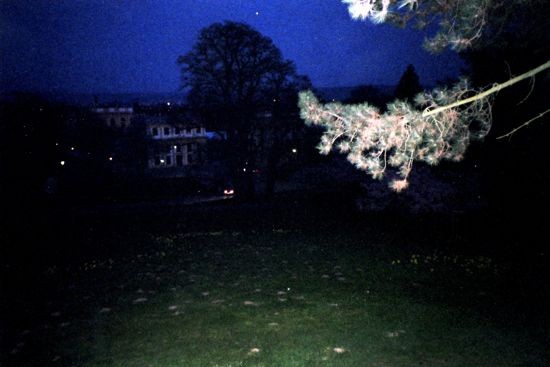 Night scene with molehills, toward the Orangerie in the Karlsaue, from Kassel Gardens (from the Perspective of the Mole) (2007), commissioned by Documenta 12, 2007.
ART iT: The question of speaking for others arises even with events that touch a broad number of people. Seeing the results of the March 11 earthquake and tsunami in Japan, I can imagine that many artists will want to respond to that in some way, but any such expression also has to come with a degree of sensitivity or restraint as well. Where does the credibility come from?
MR: I thought it was important to mention the earthquake, so I brought it up at the start of the lecture. But I share your concern about how to introduce such events into a conversation. You have to decide how to listen to and help give voice to those caught up in them, and those involved in activism and self-organization, since the government's statements usually do not inspire trust. A certain characteristic arrogance is on display in relation to the current revolutions in the Maghreb, where media commentators are claiming that Twitter is somehow responsible for sparking them, but social media are just another tool – it's like saying conversation is a tool. It was people who organized the revolutions, of course, and they've evidently been organizing for years. People communicate however they can, and it's important to understand that you don't own the right to be the interpretive voice or to claim that it's some technological device that created a social movement. It's people's agency.
Proposed Helsinki Garden at the Singapore Biennale Credits
Susie Lingham and National Institute of Education art education students: Lim Hui Chi & Yashini d/o Reganathan; Nuraniza Binte Jalil; Lee Shi Hua Candice & Noor Faiezah Mohd Jalal; Ng Jingge Jeanne and Huda; Suvitha Prakass & Diana Ghazali; Shi Sarah & Tiayan Sim; Nur Shahidah Binte Mohd Diah; Rachel Subramaniam; Umamageswari; Sheaha Zualzmi; and their students; Shawn Lum with Lucy Davis (School of Art, Design and Media, Nanyang Technological University), (Migrant Voices) with members of Indonesia Family Network (IFN) and Filipino Family Network (FFN): Davy Animas, Rhemz Capanas, Sarialam Daulay, Nurida, Eulenia Prudente, Ria, Tukinah Rogildionti, Parmini Sunardi, Turiyah, Ummairoh; Lucy Davis, Shawn Lum and students at Nanyang Technological University's Art in Nature & Visual Culture class.
Student Artist Team: Ximena Aristizabal, Sophie Anne Cameron, Chong Kai Fen Bernadette, Han Shengyi, Ong Fang Zheng, Frankie Tee, Teh Shi Wei, Hera; with the collaboration of Tan Shu An Lauren, Wong See Hua, Tan Jing Ting, Gan Li Juan, Clara, Lee Jia Yan Candice, Lio Shi Qi Joanne; and volunteers Erica Denison and Kate Antonich.
With the assistance of Mohamad Azmi Shahbudin at the National Parks Board and Lay Hun Chen and the workforce of Prince's.
Special thanks to Amanda Heng, Deborah Kelly, Dana Lam, Chen Shian Lim (Archaeology Society), Hazel Lim, Sylvia Lim, Felicia Low, Margaret Tan, Tan Qian Hui, Suzann Victor, May Ee Wong and Stephen Squibb.
Work by Martha Rosler is currently on view in the solo exhibition "In Public" at Galleria Raffaella Cortese, Milan, through July 30, as well as in group exhibitions including "Horario Triple A," through June 30 at Casa del Lago, Mexico City; "That's the Way We Do It," through July 3 at Kunsthaus Bregenz; and "Serious Games: War – Media – Art," through July 24 at Institut Mathildenhöhe, Darmstadt. Her work will also be included in the 12th Istanbul Biennial, on view September 17 through November 13. The Singapore Biennale was held at multiple venues in Singapore from March 13 to May 15, 2011.
Martha Rosler: The Garden Speaks for Itself