May 30, 2010 to January 23, 2011
MAXXI, National Museum of XXI Century Arts, Rome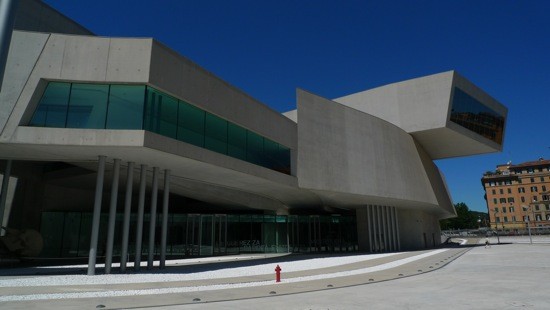 Exterior view of MAXXI, National Museum of XXI Century Arts, Rome. Photo ART iT.
On May 30, 11 years after its design competition held in 1999, four years after its initially targeted opening date in 2005 and half-a-year after the unveiling of its completed facilities in 2009, the 27,000-square-meter, 150-million-euro National Museum of XXI Century Arts (MAXXI) finally opened to the public in Rome.
Established as a museum for 21st century art and architecture, MAXXI has individual directors for these respective departments, MAXXI Art and MAXXI Architecture, giving equal weight to both. Furthermore, the choice of Pritzker Prize-winning architect Zaha Hadid to design its facilities communicates the museum's mission to break away from the conventional institutional narrative of the 20th-century "white box." Even when viewed from afar, the building's unique mix of curvilinear planes and floating concrete masses resists easy comprehension, while inside the cavernous atrium, broad, sloping staircases made out of black iron and industrial grating that snake around and across the building's interior contours add to a sense of spatial delirium.
 
Although such details threaten to compete with the exhibitions themselves, the museum's curators have worked to integrate the building and exhibition designs. For the inaugural architecture exhibit dedicated to Luigi Moretti, entitled "From Rationalism to Informalism," commissioned photographs of the Italian Modernist's representative buildings have been enlarged and displayed on curvilinear panels that are suspended from the ceiling and interact with the surrounding environment. These panels enliven what is an otherwise rather orthodox display of drawings, models and documentation charting Moretti's career.
Also highlighting MAXXI's opening programming is a presentation of the complete "Mespotamian Dramaturgies" project by Turkish multimedia artist Kutlug Ataman and a retrospective of Italian conceptual artist Gino de Dominicis organized by curator Achille Bonito Oliva. However, the clear centerpiece of MAXXI's inauguration is a large-scale exhibition of works from the collection, "Spazio" (Space), a nod to Moretti's own use of the word for the title of a publication dedicated to art and architecture that he ran primarily from 1950-53, as well as an eponymous art gallery that he founded in Rome in 1954. Underscoring the institution's directive, the exhibition features works of both art and architecture displayed together in four sections: "Natural Artificial," "Maps of Reality," "From Body to the City" and "The Stage and the Imagination."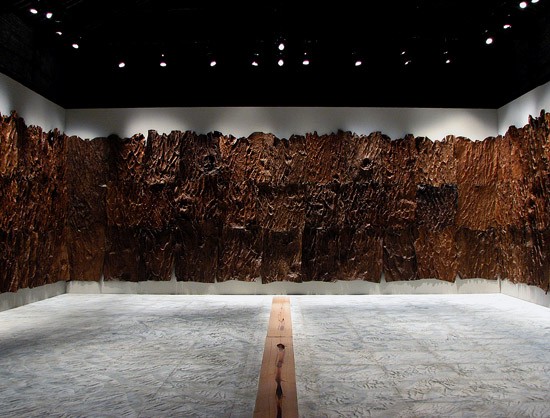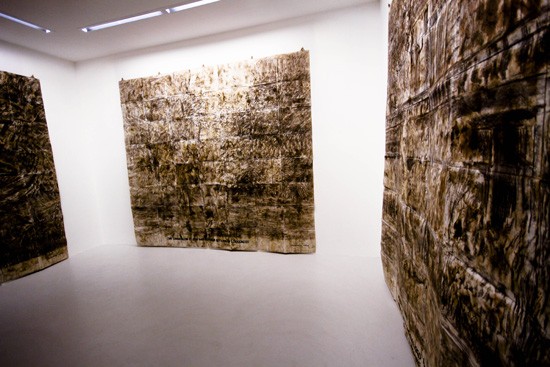 Above: Installation view of Giuseppe Penone's Sculture di linfa (2007) in the Italy Pavilion at the 2007 Venice Biennale. Below: Installation view of works from the series "General Jungle or Carrying on Sculpting" (1971) by Gilbert & George at MAXXI. Both images courtesy MAXXI.
"Natural Artificial" includes works by artists such as Hamish Fulton, Anselm Kiefer, Pino Pascali and Andy Warhol. Stand-out works here include Giuseppe Penone's installation Sculture di linfa and Gilbert & George's set of four drawings from the "General Jungle or Carrying on Sculpting" series. The former is an adaptation of Penone's contribution to the Italy Pavilion at the 2007 Venice Biennale, and comprises a room with walls covered in leather skins and a marble floor carved to resemble the texture of the skins. On the floor of the room are also two wooden beams with long channels running down their centers that have been filled with hardened tree sap. Displayed in a small room nearby, Gilbert & George's four wall-sized drawings are selections from a set of 23 such works made by the artists in 1971: As day breaks over us we rise into our vacuum, Nothing breath-taking will occur here but…, Our limbs begin to stir and to form actions of looseness and We stroll with specialized embarrassment and our purpose is only to take the sunshine. Comprising scores of paper sheets that have been strung together, the drawings are based on photographs of a performance that the artists conducted at a park in London, which were then projected on a wall and traced in charcoal on paper. Combining the traditional landscape of an English park and elements of performance, photography, drawing and installation practice, the finished works fragment and abstract the boundaries between natural and artificial through their multilayered filters of different modes of experience and representation.
"Maps of Reality" deals with politically charged works. Alighiero Boetti's woven world map Mappa (1972-73) appears here alongside William Kentridge's North Pole Map (2003), a wall installation by Lawrence Wiener and works by Atelier van Lieshout. This relatively small selection of works addressing questions of how to define territory and nationality takes on added significance against the backdrop of Italy's own political milieu under the current conservative ruling government.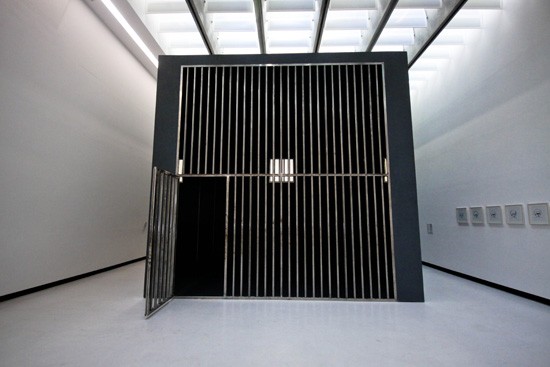 Installation view of Alfredo Jaar's Infinite Cell (2004) at MAXXI. Courtesy MAXXI.
Sprawling across two galleries, "From Body to City" focuses on artists working with the body in art such as Kiki Smith, Francis Alÿs and Chen Zhen. Including those by Vanessa Beecroft and Lara Favaretto, the works in this section provide an important counterpoint to the historic focus in Italian institutions on male artists (namely, Arte Povera). As the title implies, works here trace the relationship between the intimacy of the body to the expansiveness of the city, underscored in part by the curators' use of a corridor space that gives visitors the physical sensation of moving from one point to another. Looming large at the end of one side of the corridor, Alfredo Jaar's Infinite Cell (2004) recreates the cell in which Antonio Gramsci was imprisoned by Italy's Fascist government from 1929 to 1935, and where the Marxist writer and philosopher wrote his Prison Notebooks. While the cell alone evokes the specter of a police state, Jaar has covered its two opposing interior walls with mirror sheets that refract the space and suggest, perhaps, the freedom of thought. Also considering the political and social ramifications of public space, Francis Alÿs' slide projection Sleepers II (2001) features photos of sleeping homeless people and stray dogs in Mexico City, and Gerhard Richter's painting Stadtbild SA (1969) is modeled on World War II era aerial photographs of a bombed-out Dresden. What emerges from this section is a poignant examination of the links between individuated and group space, as well as the steps artists take to break out of the confines of both body and society.
Drawing inspiration from classical arts and theater, "The Stage and the Imagination" is the exhibition's most spectacular section. Pointedly, it includes Francesco Vezzoli's satirical two-channel video installation from the 2007 Venice Biennale, Democrazy, imagining fictional campaign advertisements for US presidential candidates. Other works engage more directly with notions of beauty, such as Luigi Ontani's Le Ore (1975), William Kentridge's mock-up of his stage design for the Magic Flute, Preparing the Flute (2004-05), Giulio Paolini's life-sized plaster-figure sculpture Tre per Tre (1998-99) and a chandelier by the Naples-based collaborative vedovamazzei.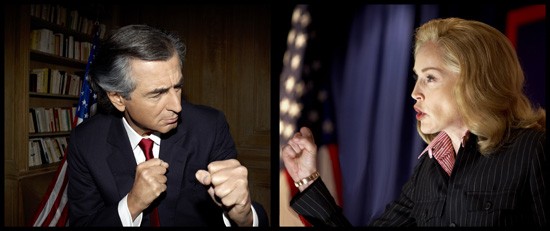 Francesco Vezzoli – Democrazy (2007). Photo Matthias Vriens.
Overall, the collection exhibition manifests the impressive potential of Italy's national resources. Although MAXXI is described as the country's first national museum of contemporary art and architecture, the Venice Biennale has long been internationally hallowed ground for developments in both fields. MAXXI is in prime position to acquire works made for the Biennale that also help to define the career trajectories of the artists who made them, as exemplified by the presence in its still-nascent collection of works by Penone, Vezzoli and Ilya Kabakov. This is not to say that Britain and France have been lagging in the advance of cultural policy, but MAXXI's collection, if judiciously assembled, could be nonpareil.
On the other hand, the future of MAXXI is still very much in doubt, overshadowed by the dark profile of Prime Minister Silvio Berlusconi, who is notorious for his anti-contemporary-art stance. At the opening press conference, Berlusconi's cultural minister Sandro Bondi was booed by assembled reporters when he smugly declared that MAXXI was opened under the auspices of Berlusconi. Concerns over how much money the government will allocate to the museum aside, also worrisome is the prospect that Berlusconi's cohorts will interfere in day-to-day management. The archconservative art critic Vittorio Sgarbi, known for his dismissive stance towards Arte Povera and recently appointed as an advisor to Bondi, has already been named commissioner of Italy's presentation at the 2011 Venice Biennale, and could be in a position to meddle with MAXXI's curatorial integrity. So while MAXXI's opening embodies a bold vision for the future, one can only hope that it will be able to avoid being used as a political tool while it is in the process of articulating its mission.