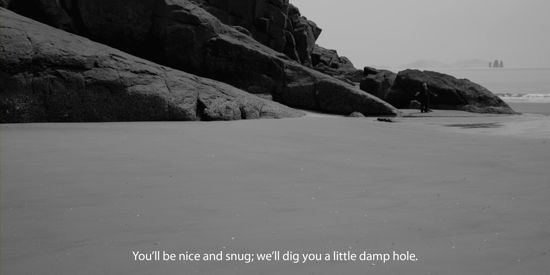 All images: Still from Abstract Reading (2010), video, black-and-white, 24 min 30 sec. Courtesy the artist and Atelier Hermès, Seoul.
Abstract Reading (2010) is part of a cycle of four new video works that I have made for my current exhibition at Atelier Hermès, Seoul. Shot on a beach, the video features three actors – an old man, a young woman and a middle-aged man – reciting passages that I have adapted from four books by four different authors. Each actor has been assigned a role in what may or may not be a family: the old man plays the role of "Boy"; the young woman plays the role of "Woman"; and the middle-aged man plays the role of "Man."
The selected books are somewhat arbitrary, in that I simply flipped through books that I had at my studio and chose passages that could be "dramatized," but in fact they all in some way address ideas of time-space and cosmic time. In his collection of short stories, Cosmicomics, Italo Calvino relates the adventures and experiences of a single narrator across the entire history of the universe. It was with this expanded scale of time in mind that I chose a 70-year-old man to play the role of Boy, who reads three passages from Cosmicomics. Maurice Blanchot's Awaiting Oblivion is about a man and a woman who find themselves alone in a hotel room with no recollection of how they got there and no sense of what awaits them. Woman recites only one passage from this book, a line in which she keeps telling us that she is not going to tell us anything. Antoine de Saint-Exupéry's Night Flight follows the radio transmissions between an airmail pilot and his supervisor on the ground as he flies into almost certain death on a stormy night above Argentina, while Luis Sepulveda's The Old Man Who Read Love Stories – one of my favorite novels – centers upon an old widower who is caught between encroaching Western civilization and the Ecuadorian jungle. Man recites three passages, one each from Cosmicomics, Night Flight and Love Stories.
In a way, the video is about reading, and how different people interpret the same text. The actors' readings all differ from my own, bringing with them different points of emphasis and levels of energy. Yet, recording the performance of "scripted" material itself reinforces the investigation uniting the entire video cycle of the different overlapping and diverging layers of human and cosmic time, and spaces that are at once specific and at the same time abstract.
– Sora Kim
BOY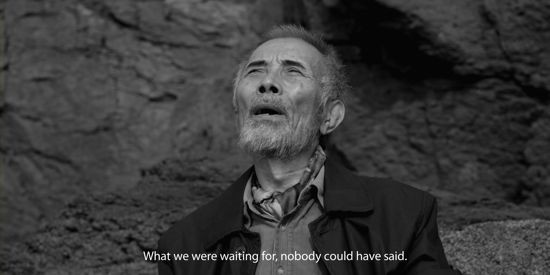 1.
Uncle!
We've brought you some insects that grow where we live!
 
Uncle!
Have you ever seen such fat cockroaches? Taste one and see if you like it…
Uncle, if you only knew how sorry we feel leaving you all alone, at your age, in the midst of all that dampness…
We wanted to take you to live with us, in a lovely little meadow…
You'll be nice and snug; we'll dig you a little damp hole.  
You'll be able to turn and toss in it, just like here.
And you might even try to taking a few steps around the place:
 
You'll be very good at it, just wait and see.
And besides, at your time of life, the climate on land is much more suitable.
So come now, uncle, don't you wait to be coaxed.
Won't you come with us?
– Adapted from Italo Calvino, Cosmicomics: 'The Aquatic Uncle'
2.
There was no way of telling time; Whenever we started counting the nebula's turns there were disagreements, because we didn't have any reference points in the darkness, and we ended up arguing. So we preferred to let the centuries flow by as if they were minutes; there was nothing to do but wait, keep covered as best we could, doze, speak out now and then to make sure we were all still there; And, naturally, scratch ourselves; because all those particles spinning around had only one effect, a troublesome itching.
– Adapted from Italo Calvino, Cosmicomics: 'At Daybreak'
3.
Pitch dark it was, I was only a child, I can barely remember it.
I think I've told you before, we lived on the nebulae.
What we were waiting for, nobody could have said.
Those times had surely been better in some ways, or at least different.
– Adapted from Italo Calvino, Cosmicomics: 'At Daybreak'
WOMAN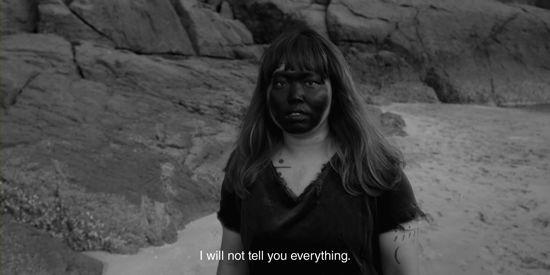 1.
I will regret it.
I already do.
You will regret it, too.
I will not tell you everything; I will tell you almost nothing.
– Adapted from Maurice Blanchot, Awaiting Oblivion
MAN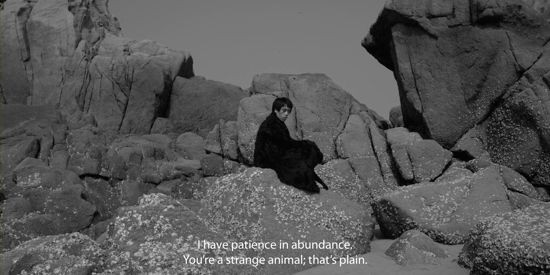 1.
I thought about it day and night; in fact, I couldn't think about anything else; actually, this was the first opportunity I had had to think something; or I should say: to think something had never been possible, first because there were no things to think about, and second because signs to think of them by were lacking.
 
I let out a yell.
I had lost everything: the sign, the point, the thing that caused me to be me.
Space, without a sign, was once again a chasm, the void, without beginning or end, nauseating, in which everything – including me – was lost.
I was disheartened and for many light-years I let myself be dragged along as if I were unconscious.
 
When I finally raised my eyes, I saw what I would never have expected to see. I saw it, the sign.
But in the duration of that galactic year we already began to realize that the world's forms had been temporary up until then, and that they would change, one by one.
I had left that sign in space, that sign which had seemed so beautiful and original to me and so suited to its function, and which now, in my memory, seemed inappropriate, in all its pretension.
Even their memory was intolerable.
The universe was scrawled over on all sides, along all its dimensions.
There was no longer any way to establish a point of reference.
It was clear that, independent of signs, space didn't exist and perhaps had never existed.
– Adapted from Italo Calvino, Cosmicomics: 'A Sign in Space'
2.
I regret it very much indeed, but you should have had your breakdown somewhere else.
Those are the orders.
The orders are like the rites of a religion; they may look absurd but they shape men in their mold.
– Adapted from Antoine de Saint-Exupéry, Night Flight
3.
Here I am.
I have patience in abundance. You're a strange animal; that's plain.
I can't make out if you're acting intelligently or out of desperation.
Why don't you circle around me and show some sign of attacking?
Why don't you head east to draw me after you?
You keep going from north to south, making a westward turn and then retracing your steps.
Do you think I'm stupid? You're cutting off my path to the river. That's your plan.
You want to see me flee deeper into the jungle, and then go after me.
I'm not that stupid, my beauty.
And you're not as intelligent as I thought.
– Adapted from Luis Sepulveda, The Old Man Who Read Love Stories
Sora Kim is an artist based in Seoul. Her untitled solo exhibition at Atelier Hermès, Seoul, continues through December 5.
Related:
Sora Kim at Atelier Hermès, Seoul