Video WallPaik
By Barbara London
A version of this text previously appeared in the publication The Electronic Super Highway – Travels with Nam June Paik (Holly Solomon Gallery, New York, and Carl Solway Gallery, Cincinnati, 1994). The author has revisited and updated the text for ART iT.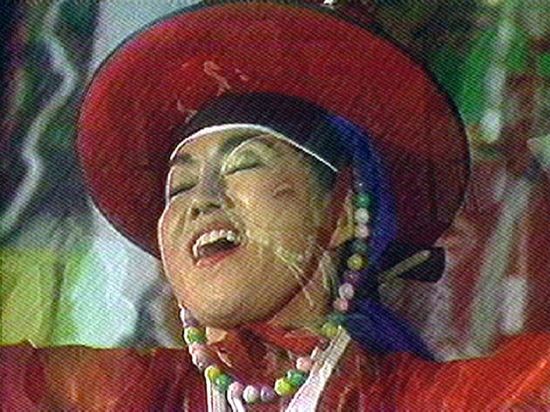 Bye Bye Kipling (1986) 
© Estate of Nam June Paik, courtesy Electronic Arts Intermix (EAI), New York.
I.
One blisteringly cold December afternoon, I trundled downtown to visit Nam June Paik. This was the early days of Soho when the cobblestone streets were desolate, before trendy boutiques outnumbered edgy galleries. Inside the loft, I found myself swimming in an aquarium. Hanging from the ceiling were dozens of monitors populated by goldfish cavorting through their watery domain, part of the installation Fish Flies on Sky (1975/82) that had just returned from a show at the Martha Jackson Warehouse Gallery.
Lounging around the space was a group of artists, Japanese and American, who worked with Paik and John Cage to create the street actions and other events that Fuxus was known for doing in the 1960s. In the middle of the room was a gigantic slab of tuna on a table. It was for real, not an image on a monitor. The artists attacked the tuna like hungry piranha, slicing off strips of raw meat until the fish melted away without a trace.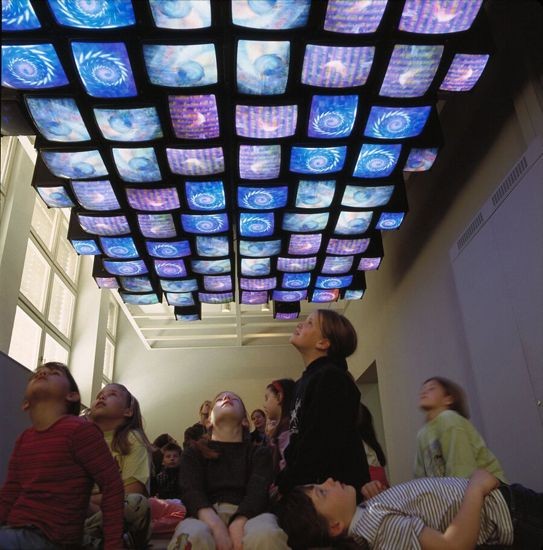 Fish Flies on Sky. 1975 (1982), 
two-channel video installation with variable number of monitors, color, silent, 
dimensions variable. 
Collection Museum Kunst Palast, Düsseldorf. 
© Estate of Nam June Paik.
II.
Paik's TV Buddha (1974) was one of the first video installations shown in "Projects," the Museum of Modern Art's exhibition series that highlights what is new in art. The focus of the work was an especially beautiful sculpture of the Buddha, which infused the gallery with the aura of a zendo. A video camera trained on the Buddha captured the sculpture and transmitted the image to a round, futuristic monitor. The Buddha, staring at the Buddha on the monitor, evokes an obvious question, a video koan: What is the difference between the Buddha staring at a live image of the Buddha, and the Buddha staring at a pre-recorded image? The Buddha smiles knowingly.
III.
In the early 1970s when Paik visited me at the Museum, I could be found in the Department of Prints and Illustrated Books, which curiously is the division where the Video Program began. My alcove, at the end of a long corridor lined with oversize lithographs by Robert Rauschenberg, was barely large enough for a desk, two bookshelves and a file cabinet. Invariably Paik brought along treasured memorabilia for my files: out-of-print catalogs from the first video shows at the Bonino and Howard Wise Galleries, yellowed newspaper articles, and dog-eared photographs. Paik anticipated that one day all of these "reference" materials would be important in transforming the filing cabinet into a major archive.
IV.
In 1975 when I launched "Video Viewpoints" as a forum for artists to show and discuss their work, I needed to lead off with an eminent speaker. I telephoned Paik prepared to charm him, but without much ado he responded with his familiar "sure, sure, sure," or so I recall. During his lecture he stood in front of a blackboard and drew a circle, labeling it "art." Alongside he sketched another circle, calling it "communication." He explained that a lot of art does not have much to do with communication, and a lot of communication has no artistic content. Then he drew a pair of intersecting circles and added that in the middle there is something like an apple seed: This is our theme, maybe our dream.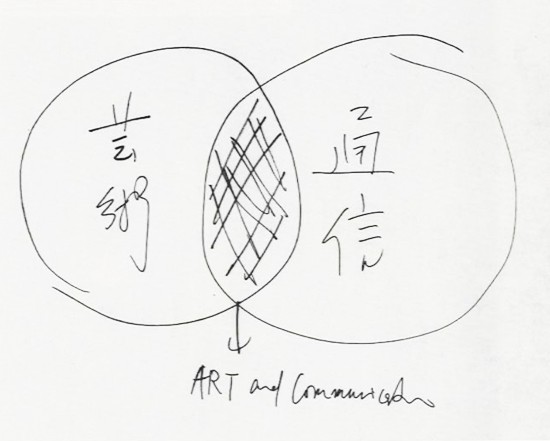 Art and Communication. Courtesy the Museum of Modern Art, New York.
Afterwards I edited the transcript of Paik's talk, and Artforum published it. "Video Viewpoints" was off to a good start and continues to be an important lecture series.
V.
One evening I went to watch Paik edit Lake Placid (1980), a pastiche of his own, recycled videotapes interspersed with commercial sports footage. Paik was proud to be working on a CMX, a computer-controlled video editor recently installed at the Artists' Television Laboratory. Paik asked whether he should leave the "time code" running at the bottom of the screen. I answered noncommittally, "It looks good." Then he asked me about a few other scenes. Sometimes he went along with my suggestions, at other times he didn't. In effect, I became part of the randomness in a random generator, so to speak, a cog in the wheel of chance that steered Paik's work.
VI.
Paik liked to tease me about how my graduate work in Islamic art prepared me for a career as video curator. My thesis had been about the silk route between China and the Near East. Paik insisted that the silk route was just like video, and I went along with what seemed to be a joke. I could not imagine that television images and video cameras hand anything to do with desert caravans. However, I eventually realized it was unimportant whether information traveled on the back of camels or by means of satellites. In either case, culture and motifs pass from East to West and return in new guises.
The intersection of East and West was at the core of Paik's art. Early on in his work he was inter-cutting Pepsi-Cola commercials with classical Korean dancing. At the 1993 Venice Biennale Paik appropriately chose a Marco Polo theme, because the explorer's trip ended in Venice. The eine DATA base installation had wrecked Volkswagens and worn out yurts packed with monitors, all resting on the Venetian hillside like caravansaries in the Gobi Desert. Paik may have focused on the silk route because he was a global traveler, or perhaps because he believed that the Koreans are the eastern extension of the Mongol peoples.
VII.
On the eve of my first trip to Japan, Paik passed along the customary instructions that an old Tokyo-hand gives to a first-time visitor. He sketched a map of the area around my hotel and wrote in Japanese the address for me to show the taxi driver who would take me there. Paik had written the information on the back of an announcement card for a Fluxus event by George Maciunas, who had recently passed away. Although Maciunas had never traveled to Japan, he had been instrumental in Europe and the United States in promoting the Japanese branch of Fluxus. Handing over the card, Paik expressed his satisfaction that George was finally going to Japan.
VIII.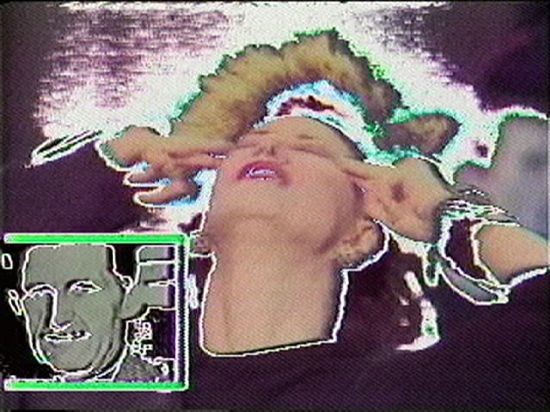 Good Morning Mr Orwell (1984). 
© Estate of Nam June Paik, 
courtesy Electronic Arts Intermix (EAI), New York.
While Paik was busy traveling the world and developing his Good Morning Mr. Orwell (1984) satellite extravaganza, I was preparing for the reopening of the Museum's expanded galleries. I arranged to see Paik: I sought news from Europe, and he wanted to find out what was going on in New York. We agreed to catch up at a restaurant in Soho. I raced downtown for the meeting and waited at the bar, but never saw Paik. When I called him later that night, I discovered that he had been virtually incognito, having grown a beard and become tanned during his travels. For our rescheduled rendezvous, I put on a thick pair of glasses with an attached nose. This time he was very attentive, looking carefully at every woman in the place. Anxious to greet him before he saw through my cover, I lifted off my glasses and he said, "Hello, where did you buy your disguise?"
Over the years our encounters remained pretty much like that – whimsical. He called me Paris, because my name is London. I called him Wizard, because his montage of life was alchemical.
—
Revisiting the above text now from Korea (where I have returned after a hiatus of 10 years), I look back to my very first visit here in the 1980s. At the time, the exuberant hues of traditional garb reminded me of video's vivid test pattern known as color bars, something Nam June Paik would draw with panache. Today as I meet the youngest generation of Seoul-based media artists, I see some of the same insatiable curiosity and drive that Paik had, and an understanding that music extends beyond performed instruments to integrate time and space of everyday life.
I think about Paik's insatiable appetite for new ideas. With his global vision he opened many doors for us all.
The first major retrospective of Nam June Paik's work in the UK will be presented jointly by Tate Liverpool and FACT (Foundation for Art and Creative Technology), Liverpool, opening December 17 and continuing through March 13, 2011. Special thanks to Tate Liverpool and FACT for provision of images.
Barbara London is a curator in the Department of Media at the Museum of Modern Art, New York, where she established video exhibition, collection and archive programs that link the electronic arts with more traditional art forms. She has lectured internationally and written extensively about the field of video art.