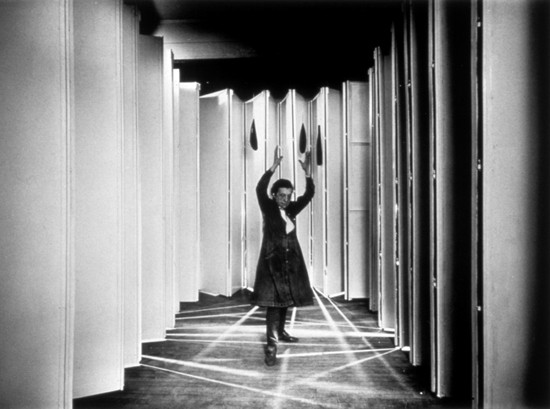 Louise Bourgeois inside Articulated Lair (Collection Museum of Modern Art, New York) in 1986. Photo Peter Bellamy, courtesy Hauser & Wirth.
Louise Bourgeois has died at the age of 98. She was a rare artist who literally lived through the 20th and 21st centuries. In 1997 the Yokohama Museum of Art organized the first solo exhibition in Japan – and indeed, Asia – for Bourgeois, and the news of her passing brought to mind a rush of memories from that experience.
In preparing the exhibition, I had a number of opportunities to visit Bourgeois at her home in New York, but what stands out most uniquely was my first encounter with her. At the time, Bourgeois was already 84, but was such a vigorous artist that one had no sense of her age. When I was ushered into her living room, the very first thing she did was to show me the blouse she was wearing and pronounce with great impishness that it was "Issey Miyake." Perhaps it was an attempt to put her guest from Japan at ease.
She even fetched me a cold beer from her refrigerator, but as soon as my guard was down, she had me view a BBC documentary about her that was then in production and ordered me in a commanding tone to state my opinion about the video. The implication was that she would decide whether or not to do the exhibition with me based on my response, and I remember how I answered with terrible trepidation. Nor can I forget the profound sense of relief when I heard that my catalogue essay for the exhibition, which I had sent to Bourgeois to review, had met her standards.
My strongest impression of her as an artist was that Bourgeois always spoke directly and frankly, and was constantly thinking about her works. Bourgeois was already 72 when she made her solo-exhibition debut at New York's Museum of Modern Art in 1982. However, even then she never hesitated to voice her anger at the hardships she had undergone as a female artist or her fierce antipathy towards the male chauvinism that could only understand her works in relation to Surrealism. Without a doubt, she despised André Breton's entire being. A wife and mother of three sons, Bourgeois took an equally combative stance toward the clichés of feminist discourse.
Bourgeois' father exercised absolute paternalistic authority and installed his lover as a home tutor to his children, but Bourgeois' mother remained resolutely mute with regard to this situation. For the highly sensitive Bourgeois, artistic expression was the only way she could work through her psychological barriers. Yet, she also started out majoring in mathematics at the Sorbonne and was able to balance exquisitely in her life both reason and passion, suggesting that her works were not solely driven by emotion. Her life itself was extraordinary, and, developing in line with the trajectory of Modernism, the tracks of her artistic practice provide us with an important foothold from which to reconsider the end of that era.
– Taro Amano (Chief Curator, Yokohama Museum of Art)