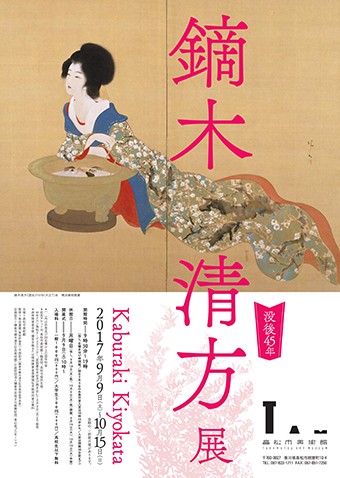 In Kiyokata Kaburaki (I win turnip and others work) [Meiji 11(1878) – 1972 (Showa 47)], I play an active part for the Showa era from the Meiji era and am known to a painting of beauties as a painter representing the modern Japanese painting which opened up an original image boundary widely. I hold an exhibition looking back on the painting taking advantage of 2017 (Heisei 29) being 清方没後 45 years some other time.
 I become a disciple of Toshikata Mizuno of the Japanese painter at 13-year-old time, and I start the painting as an illustrator, and 清方 puts success in 1891 (Meiji 24). I went to this image production from the Meiji 30s and got an evaluation in the exhibitions such as sentence exhibitions and played an active part as a leading painter of painting circles. In addition, I wrestled newly in the field of the portrait from the early days of the Showa era and left the work which I projected for human internal までもを screen.
 For the big-screen work which was conscious of the exhibition halls called this image, I cannot overlook "the desk art" of the small screen which took the forms such as a scroll painting, 画帖, the folding book called "my thing which I poured interest into most" by oneself as work group indicating the truth height of 清方芸術. The work which took the form of the subject and this small art including the picture scroll which did it described the literature of the Kyoka Izumi and others whom there was of the interchange through the writing of Ichiyou Higuchi and the cut which I loved reading from the teens much from 20 generations and developed the original world by the refined sense.
 I have Kamakura-shi Kiyokata Kaburaki memory Museum cooperate, and the book exhibition becomes the retrospective show that can look over painting of first 清方 in Shikoku. Please fully enjoy the world of 清方 full of the poetic sentiment through approximately 50 points from a variety of paintings of beauties such as <>, <>, <> to a portrait including <>, "desk art" such as <<夏清十郎物語>> about the literary work.
[exhibition basics information]
A session: From Saturday, September 9, 2017 to Sunday, October 15 ※During a session, it is some display spare があります.
A meeting place: Art museum the second floor exhibition room
A closed day: On Monday
It is an opening time (but closed on opening, Tuesday, September 19 and Tuesday, October 10 on 9/18 Monday (holiday) and 10/9 Monday (holiday)): From 9:30 to 19:00
It is hosted (but on Sunday as for 17:00 closing / admission until 30 minutes before closing only on / Saturday, September 9 for the first day as for the display admission from 10:15): Takamatsu City Museum of Art
The supervision: 島田康寬 (art commentator), Ayako Imanishi (Kamakura-shi Kiyokata Kaburaki memory Museum curator) plan cooperation: Kamakura-shi Kiyokata Kaburaki memory Museum, Kamakura-shi art culture promotion foundation, blue illusion building promotion
View charges:
[the public] 1,000 yen (800 yen) ※Rate general more than 65 years old
[university student] 500 yen (400 yen)
[less than high school student] Free of charge
※(in) advance sale and more than 20 groups rate
※A certificate of the physically disabled, a nursing notebook, the mental patient health welfare notebook owner is no charge for admission
※The booking ticket is sold at art museum the first floor reception desk, Takamatsu-shi government office consumers' cooperative, Yumetaun Takamatsu service counter, the Miyawaki Bookstore head office and the south head office until Friday, September 8
An inquiry: Takamatsu City Museum of Art TEL087-823-1711
◇Please confirm the exhibition-related events from "Takamatsu City Museum of Art official site".
http://www.city.takamatsu.kagawa.jp/museum/takamatsu/