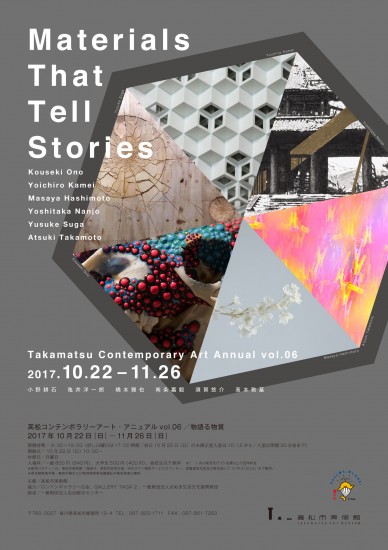 I invite the seventh at this time since Takamatsu contemporary art アニュアル is a group exhibition of the annual contemporary art to introduce originality, a promising writer to and was held as vol .00 in 2009. This theme "a material to show". I introduce the work of six writers who use a material under the new viewpoint, and open up the unique world.
 Ko Ono stone (a saw fades away and comes, and Okayama is born in 1979) which produces the plane work that I am seen by an angle to put ink in silkscreen, and to see, and changes. Yoichiro Kamei (かめいよういちろう, 1974 Kagawa birth) who lets you accumulate a hollow cube of one side of 5cm, and brings about molding of the porcelain full of the feeling of strain. 南条嘉毅 (なんじょうよしたか, 1977 Kagawa birth) which describes the scenery of the visited place in Masaya Hashimoto (はしもとまさや, 1978 Gifu birth), the fieldwork that begin to carve the sculpture of the delicate flower from a staghorn and a bone by transcendent art using local soil and acrylic paints. Suka Yusuke (uncrowded 1984 Tokyo birth to do it, but to say) who deals with a sculpture and a picture consisting of various material with reference to the SF and the philosophical approach to science. The Atsushi Takamoto group who lets many daily material such as clothespins constipate, and develops the installation of the overwhelming scale (たかもとあつき, 1980 Hiroshima birth).
 By the original approach of each writer, the materials let own figure greatly undergo a complete change and will be to begin to talk about various "stories". Please expect it.
A session: From Sunday, October 22, 2017 to Sunday, November 26
A meeting place: Art museum the second floor exhibition room
A closed day: On Monday
An opening time: From 9:30 to 19:00 (but on Sunday as for 17:00 closing / admission until 30 minutes before closing only on first day of / Sunday, October 22 as for the display admission from 10:15 ) sponsorship: Takamatsu City Museum of Art
Cooperation: London gallery platinum, the GALLERY TAGA 2. Sanuki life culture promotion foundation furtherance: Self-government synthesis center
View charges:
[the public] 800 yen (640 yen) ※Rate general more than 65 years old
[university student] 500 yen (400 yen)
[less than high school student] Free of charge
※(in) advance sale and more than 20 groups rate
※A certificate of the physically disabled, a nursing notebook, the mental patient health welfare notebook owner is no charge for admission
※The booking ticket is sold at art museum the first floor reception desk, Takamatsu-shi government office consumers' cooperative, Yumetaun Takamatsu service counter, the Miyawaki Bookstore head office and the south head office until Saturday, October 21
An inquiry: Takamatsu City Museum of Art TEL087-823-1711
◇Please confirm the exhibition-related events from "Takamatsu City Museum of Art official site".
http://www.city.takamatsu.kagawa.jp/museum/takamatsu/