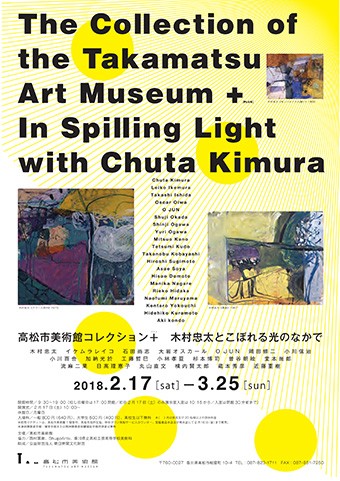 It will be 1953 (Showa 28) approximately 60 years ago now. Painter Chuta Kimura (1917-87) from Takamatsu departed from Yokohama in a Dutchman and set a residence that I arrived in Marseille for two months in Paris. Thereafter I stayed in France until 1987 (Showa 62) to die and I continued searching light and devoted myself to production. There were the feelings of Kimura to "light" in the trend of the abstract (abstract) picture and might be reflected in the isolated challenge. However, I have now for the life of Chuta Kimura who brought about "inner light", and it may be said even if I continue giving off a profound question for a picture and the light.
 By the way, as for the writers whom this exhibition introduces, all were born other than Hisao Domoto (1928-2013) and Tetsumi Kudo (1935-90) who crossed it as well as Kimura in France and Mitsuo Kanou (1933-) after the war. Ikemura Reiko (Germany), the base of the activity including Hiroshi Sugimoto (New York) vary, and, other than Oiwa male Carl born in Sao Paulo as the Japanese-second, there are not Kimura and the person with the point of contact for the generation either. However, I can feel the way and possibility of the art as "a thing breaking confusion" which Kimura talks in each work to see. There is adventure over the light of Sotani writers living in the present age including the trace of the picture act that I entrusted to the picture of the picture, light to come in of Masashi Ishida in the morning that water and light flicker. It is organic light showing, and they will satisfy our physical sense like a shaking picture rather than dazzling light gently.
 In addition, after the Great East Japan Earthquake that Hidehiko Kuramoto describes resident in Kagawa, the attractive display by the guest writer including the picture installation of the picture opens in new series <> of "FUKUSHIMA" to advocate on a theme and the Sotani morning when similarly the Great East Japan Earthquake covers a movie <> which a motif of the production and Manager Aki Kondo, the script that it was depend on and the exhibition room one side.
A session: Saturday, February 17, 2018 – Sunday, March 25 A closed day: On Monday
An opening time: From 9:30 to 19:00 (but on Sunday as for 17:00 closing / admission until 30 minutes before closing) sponsorship: Takamatsu City Museum of Art
Cooperation: Nishimura art gallery, ShugoArts, Kagawa Prefectural Takamatsu industrial arts High School art department
Viewing charges:
[the public] 800 yen (640 yen) ※Rate general more than 65 years old
[university student] 500 yen (400 yen)
[less than high school student] Free of charge
※(in) advance sale and more than 20 groups rate
※A certificate of the physically disabled, a nursing notebook, the mental patient health welfare notebook owner is no charge for admission
※The booking ticket is sold at the first floor of the art museum reception desk, Takamatsu-shi government office consumers' cooperative, Yumetaun Takamatsu service counter, Miyawaki Bookstore head office and south head office until Friday, February 16
An inquiry: Takamatsu City Museum of Art TEL087-823-1711
◇Please confirm the exhibition-related events from "Takamatsu City Museum of Art official site".
http://www.city.takamatsu.kagawa.jp/museum/takamatsu/