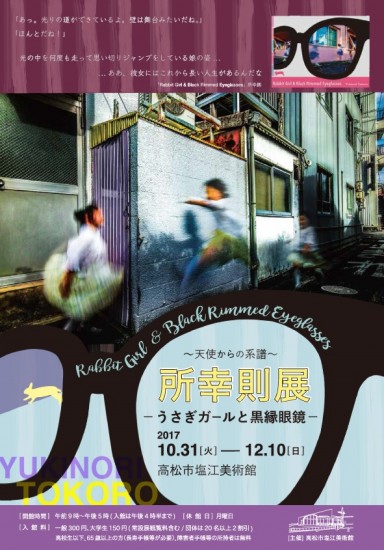 I hold a private exhibition of photographer Yukinori Tokoro playing an active part worldwide in local Kagawa after an interval of three years.
The place receives a high evaluation as a fine arts photographer at home and abroad from the 90s, and an anthology of, compiling it into one book publishes "the genealogy reaching the CHIAROSCURO angel" in 2006. Taking this occasion, I reset a previous carrier, and it "is sublimated by the car window of the "Shibuya One Second" series that I take in "temporal axes" in a landscape of Shibuya of Tokyo by the monochrome from 2007 and photographed and the Shinkansen whenever "the time concept" that a place including the Einstein romance series that photographed scenery to drift thinks about repeats time.
I hold the book exhibition in commemoration of the publication of collection of photographs "rabbit girl and black edge glasses". As for this work, "time" becomes the theme like a conventional work. I describe the figure jumping up and down against the light that a girl (daughter) inserts against a backdrop of the scenery that I ever got used to of local Takamatsu who seems to be brought back to the origin. What's called "time concept" in the life of the author is a work expressed through a family (daughter). In addition, I put parts of the colorbar John work of the "Einstein romance" series together by the display and introduce me.
[period] From Tuesday, October 31, 2017 to Sunday, December 10
[time] From 9:00 to 17:00 (as for the entering a building until half past 16)
[entering a building charges] General 300 yen university student 150 yen
※The / group including permanent exhibition view charges is 20% off more than 20 people)
※The owners such as disability certificates are free .65 years old lower than a high school student or older
[closed day] On Monday (but in the case of a holiday the next day)
[sponsorship] Shioe, Takamatsu-shi art museum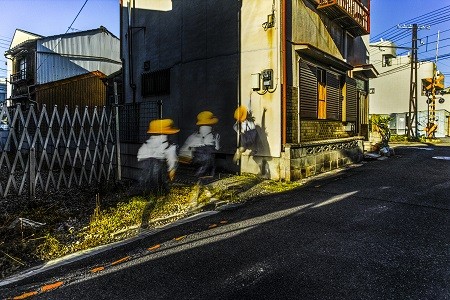 Than image "rabbit girl and black edge glasses" series
[allied event]
Artist lecture
 The date: Sunday, November 5, 2017 time: From 13:00 to 14:00
 Admission: An admission ticket of the day is necessary
 Contents: Work commentary by Mr. Yukinori Tokoro
Talk event
 The date: Sunday, November 19, 2017 time: From 13:00 to 14:00
 Admission: The contents which an admission ticket of the day needs: A guest held by the talk by Mr. Yukinori Tokoro and the guest: 杉山武毅 (Rokko international photograph festival director, Gallery TANTO TENPO director)
■Inquiry Shioe art museum tel 087-893-1800
■Please confirm the details such as exhibition-related events from formal HP.
Shioe, Takamatsu-shi art museum HP
http://www.city.takamatsu.kagawa.jp/museum/shionoe/