The independent curator Takashi Azumaya died on October 16 of this year.
Organized by Azumaya at the Setagaya Art Museum in 1999, "Art / Domestic: Temperature of the Time" remains one of the defining exhibitions of the 1990s. Also working at the Tokyo Opera City Art Gallery, the 1st Yokohama Triennale and the Mori Art Museum, Azumaya had the distinction in 2010 of being the first Japanese to direct the Busan Biennale, after having collaborated on the Biennale's previous edition in 2008. Below, the writer, publisher and photographer Kyoichi Tsuzuki offers some reflections on his relationship with Azumaya.
– The Editors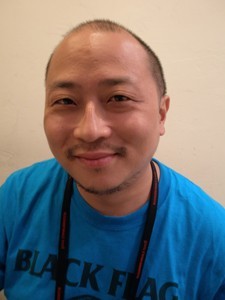 Photo Yasumasa Morimura 2008.
Remembrance: Takashi Azumaya
By Kyoichi Tsuzuki
I have to admit I feel completely foolish writing these reflections now, more than two months since Takashi Azumaya's death, and have the sense that Azumaya is somewhere laughing at me, "Tsuzuki-san, what've you been doing!"
We were born exactly one cycle apart in the Chinese zodiac, with Azumaya 12 years younger than I. But we never once actually worked together. We only had fun together.
We got to know each other just before Azumaya started his curation
of "Temperature of the Time," when my "Revolving Roadside Japan" show was on at the Art Tower Mito Contemporary Art Center – some 13 or 14 years ago. At the time Azumaya was an incredibly eccentric curator, even wearing sports gear and rubber sandals to work at the Setagaya Art Museum, with the patter of his sandals trailing him as he walked. What first surprised me when I got to know him was his special talent, like that of a TV showman, for perfectly remembering the birthdays of all the attendants sitting with their lap rugs on chairs around the museum. How many curators even bother to learn the names of the attendants? In Azumaya's case,
although he knew all their birthdays, neither did he want to get stuck with pitching in for presents, so instead, he proudly told me, "I approach them on the day after and say, 'Yesterday was your birthday, wasn't it? Congratulations!'"
Whether at the Setagaya Art Museum or the Mori, I'm sure he must have been a nuisance to his supervisors, but he was always affectionately admired by the gallery attendants and the lunchroom ladies. Almost all the curators I know look only to their own advancement, while perhaps Azumaya alone spent too much time looking out for those below him.
Rather than stretching, it is the sensation of squatting on the ground. This is a mentality that seeks the underground, a mentality that can never be thrown out, even if it is thrown away. Even as this mentality is what made Azumaya the person he was, as a curator he was full of ambition to produce major exhibitions at major museums. Yet where is the museum in Japan that could support a talent, guided by those two extreme vectors, who could be both so extraordinary and so troublesome?
Utterly defiant of the powers that be in the art world, Azumaya himself was caught running in circles around those powers. This alone probably drained him of a good deal of his unique genius. And, I think, the rest of it was smothered by a Japanese contemporary art infrastructure that simply could not accommodate this beautiful, wild beast of a man.
Return to Index
Things Worth Remembering 2012