TARO NASU is pleased to announce Minoru Nomata's solo exhibition, entitled "Gekka (under the moon)".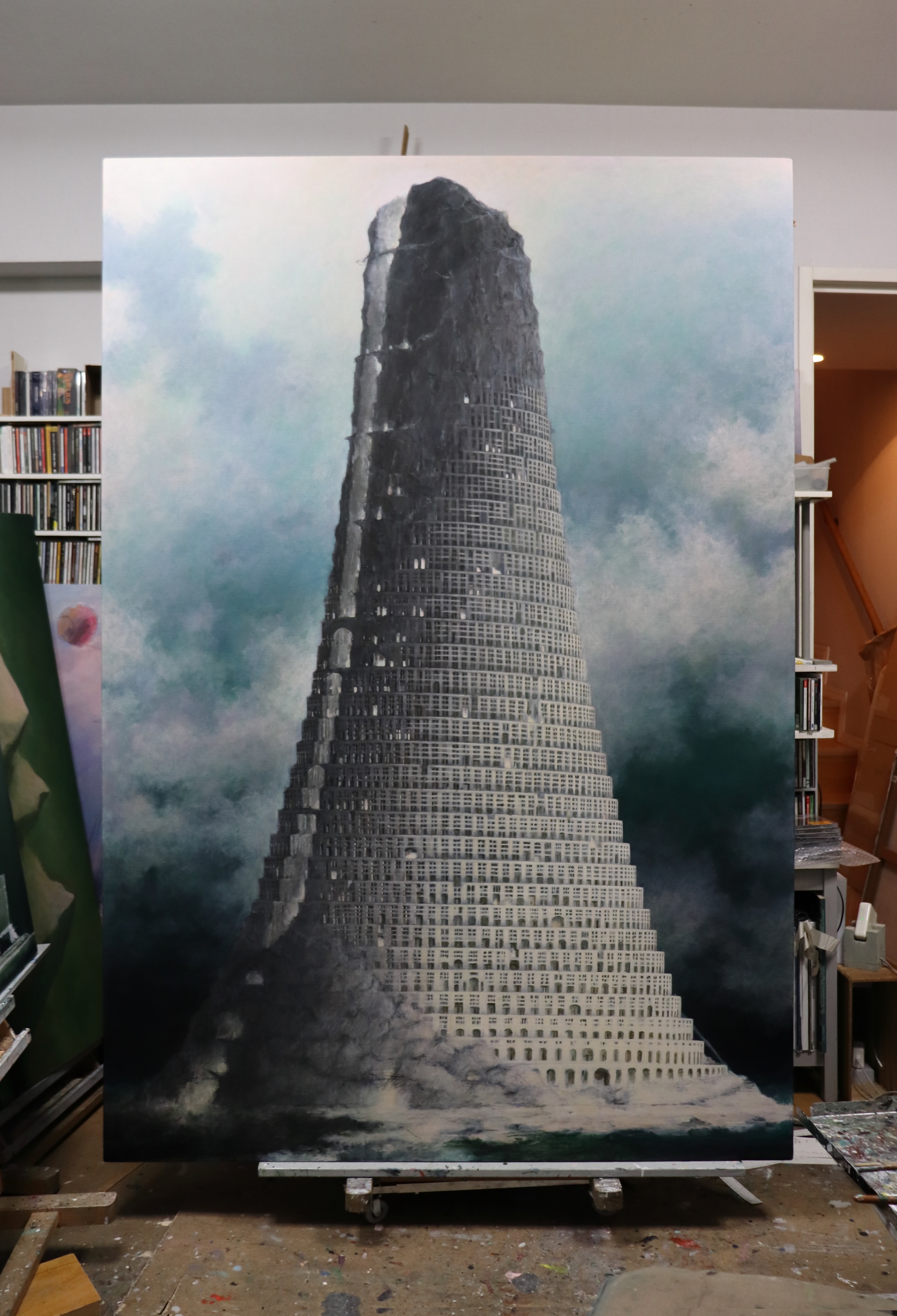 Gekka-2 (Work in progress)
©︎Nomata Works & Studio
Minoru NOMATA
Born in 1955, Tokyo. Lives and works in Tokyo.
Graduated from Tokyo University of the Arts in 1979, with a major in design.
Awarded the 45th Art Encouragement Prize for New Artists from the Agency for Cultural Affairs in 1995, and the 17th Takashimaya Art Award from Takashimaya Charitable Trust for Art and Culture in 2006.
His selected solo exhibitions include, UNBUILT, White Cube Hong Kong (Hong Kong, 2021); ALTERNATIVE SIGHTS ‒ Landscapes by Minoru Nomata, The Museum of Modern Art, Gunma (Gunma, 2010); Architecture on Canvas, Tokyo Opera City Art Gallery (Tokyo, 2004); Imaginary Architectures, Rias Ark Museum of Art (Miyagi, 1995); and more. His major group exhibitions include, All our stories are incomplete/Colours of the imagination, Tokyo Opera City Art Gallery (Tokyo, 2021); SAGACHO EXHIBIT SPACE 1983-2000 Fixed-Point Observation of Contemporary Art, The Museum of Modern Art, Gunma (Gunma, 2020); BEYOND THE END: RUINS IN ART HISTORY, The Shoto Museum of Art (Tokyo, 2018); KAWAGUCHI Kimio|NOMATA Minoru – Alternative Universes Within, Tokyo Opera City Art Gallery (Tokyo, 2016); Imaginary Architecture from Piranesi to Minoru Nomata, Machida City Museum of Graphic Arts (Tokyo, 2013); and more. His major publications include, Elements, Seigensha art publishing Inc., 2012; ALTERNATIVE SIGHTS, Seigensha Art Publishing Inc., 2010; Points of View, Tokyo Shoseki Co., Ltd., 2004; and more.
Gekka (under the moon)
Minoru Nomata creates works with imaginary buildings as motifs, using various techniques such as paintings, sculptures, lithographs, and drawings. Nomata, often described as a "painter of signs," expresses the matters of everyday life as an imaginary building. His futuristic and retrospective work offers viewers an opportunity to think not only about the modern city, but also about the future of the earth.
The starting point of Nomata, who sees "imaginary architecture" as a language, is in his hometown where he spent his childhood. In a commercial and industrial area where town factories and houses coexist, he became interested in the structural elements of chimneys and steel towers, while absorbing traditional designs under his parents who run a dye shop. Especially in Tokyo in the mid-1960s, urban development was actively carried out before the Olympics, and while expectations for a new city were raised high in the construction of Tokyo Tower, Nomata also felt an upsurge in the future.
In the last year at Tokyo University of the Arts, Nomata encountered the works of Charles Sheeler, a representative artist of precisionism, and "The City" series by Thomas Bayrle of media art, which encouraged him to draw architectures as a motif that embodies his thoughts. The works of science fiction writer Philip K. Dick, musicians Brian Eno and Erik Satie also had a great influence on Nomata's world of work.
Realistic architectural depictions and mysterious landscapes invite viewers to a world that transcends time and space. Déjà vu but non-existent buildings, unpopulated land, vast skies, and tranquility. He portrays his feelings for the modern city on the various elements that make up the screen. However, never does he want to make a "correct answer" for understanding the work. The freedom of appreciation given by the artist broadens the range of interpretation and realizes the construction of a new world of work while fusing with the viewers backgrounds.
Encounter with this unknown world will greatly shake the viewer's sensibility. This sensation it-self is the essence of Nomata's work, and it guides us to discover the universe hidden within ourselves. Along with the practice of Nomata's work through imaginative architecture, this experience could possibly give people the opportunity to rethink the changing relationship between modern cities and humans, and at the same time, could also have people to rethink of something transcendental that continues to exist with a magnificent rhythm far beyond human time.
TARO NASU will hold a solo exhibition in Japan for the first time in 4 years for Nomata, focusing on his 6 new works.
Minoru Nomata
Gekka (under the moon)
Friday, January 21 – Saturday, February 19, 2022
Gallery Hours: 11:00-19:00 Tue. – Sat
Closed on Sun., Mon., and Public Holidays