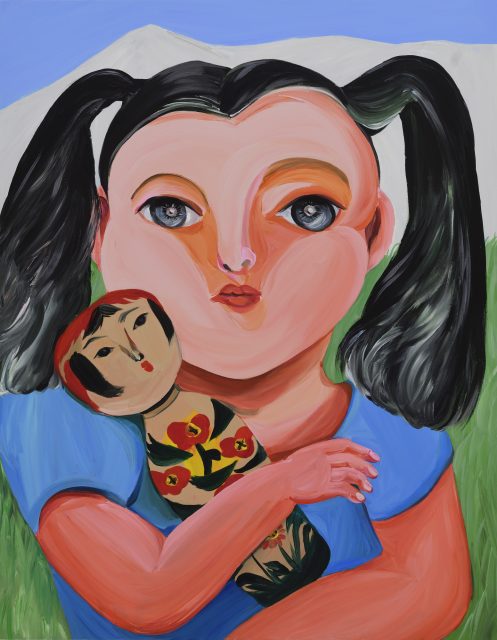 Aki KONDO, Hometown, 2020, acrylic on canvas, 116.7x91cm
Aki KONDO  The Happiness that Exists Here
Saturday, March 13 – Saturday, April 10, 2021
ShugoArts
Opening Hours: Tue-Sat noon-6pm
Open noon-6pm on Sunday, March 20
Closed on Sun, Mon and Public Holidays
List of Works
Press Release PDF
Aki KONDO
Works and Info
Library
---
The happiness that exists here in this world simply is what it is.
There can be things that lack form in this world, yet still exist, and I see and feel their countless vestiges here among us. Perhaps they are like heat and colors that dwell within a person's soul.
I trace invisible paths of memory to paint them, and by painting them, I trace them once more.
All this together forms the happiness that exists here in this world.
Aki Kondo
————————————————————
The Happiness that Exists Here, a group of fifty paintings that Aki Kondo created in her hometown of Sapporo, Japan from winter 2019 to summer 2020, has become a book. We at ShugoArts are pleased to announce her solo exhibition in order to celebrate its publication.
Aki Kondo's bold and spontaneous brushstrokes, vivid colors, and humorous and imaginative images have captured the hearts of many people. On the other hand, Kondo's work is always based on her unique view of life and death, which she has developed through the experience of the Great East Japan Earthquake and other losses that happened in her life. The motifs of The Happiness that Exists Here are flowers given in celebration of life, flowers given in appreciation of life, a child gazing into the distance, and overlapping empty cups. Each of these motifs embodies flickering life with which others are also involved.
In any kind of situation, Aki Kondo continues to create works that strongly affirm the importance of living in the present, without leaving painting or indulging herself in expressing sadness. Although the artist once said that her feelings could not keep up with the speed of her own artistic production, the process of creating The Happiness that Exists Here made her realize that living and painting overlap. With the completion of this body of work, Kondo decided to move to Yamagata last summer, where her alma mater, Tohoku University of Art and Design, is located. She is now preparing a new environment for her art practice while planning her next work.
In cooperation with Phillips Tokyo, Contemporary Art Foundation, the multiple exhibitions are going to be realized in Roppongi. Also please check the publication event and exhibition at Daikanyama Tsutaya Books. Each overview is listed below. All exhibitions will be based on a different theme, and this will be a large-scale opportunity to see nearly seventy pieces of Aki Kondo's works in multiple locations, including her solo exhibition at our gallery. We hope that you will enjoy them all.
Exhibition overview
Saturday, March 13 – Friday, April 9, 2021
PHILLIPS TOKYO
4F, Piramide Building, 6-6-9, Roppongi, Minato-ku, Tokyo
Opening Hours: Mon-Fri 10am-5pm
Closed on Sat, Sun and Public Holidays
Open noon-6pm on Saturday, March 13
Saturday, March 13 – Friday, April 9, 2021
Contemporary Art Foundation
4F, Piramide Building, 6-6-9, Roppongi, Minato-ku, Tokyo
Always on view while the exhibition is up.
*The artworks can be seen from the windows in the hallway outside.
Friday, March 12 – Friday, March 26, 2021
DAIKANYAMA TSUTAYA BOOKS
17-5 Sarugakucho, Shibuya-ku, Tokyo
Open every day (Please see the website for opening hours.)