'Once in a lifetime' art marking time and memories
Text: Ozaki Tetsuya
Portrait: Ishikawa Natsuko
Many of Miyanaga's works, pale and ephemeral, vanish over the space of a few weeks. Take for example her objects made from napthalene. The semitransparent dress, shoes, eyeglasses and such that on the opening day of the show appeared complete had by the end lost their original shapes, crumbling piteously yet beautifully, like withering blooms. The artist insists however that it is never her intention to create things that disappear. "On the contrary, I create works from them because I want them to last."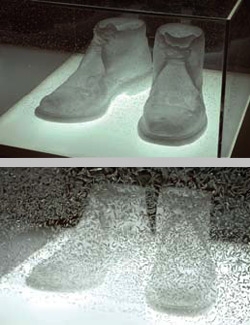 Aristocratic Pierrot, 2007
Napthalene, mixed media
Photos Ueno Norihiro
Courtesy the artist
This February Miyanaga presented a fishing net installation titled Rowing Style in a gallery located in a former elementary school classroom. Visiting the Goto Islands home of a woman with whom she formed an acquaintance while in Edinburgh, the artist learned the art of netmaking from her friend's grandparents, 88-year-old fisherfolk. Taking netting knotted with friends and family, she soaked it in seawater collected on her travels in Europe, and from Goto, carefully saturating it in saltwater to "grow salt" on the cord. The salt crystals adhering to the netting glittered like frost on trees, and a thin veneer of white particles resembling powder snow accumulated on the gallery floor. Apparently over 900 liters of seawater were used for the installation. According to the artist:
"Being born and raised in Kyoto, for me the sea was always a remote presence. That is until last year, when I found myself crossing the sea, and having the chance to view the sea in many different places and moods. I also met a lot of wonderful people, which is what gives the work this particular flavor."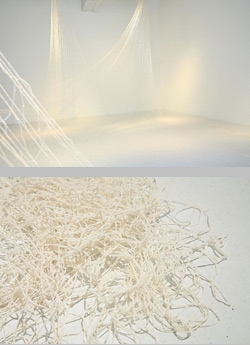 Rowing Style, 2008
Installation view at Kyoto Art Center
Photos Ishikawa Natsuko
Miyanaga's family operate the famous Miyanaga Tozan kiln that fired pieces for the likes of Tomimoto Kenkichi and Kitaoji Rosanjin. To coincide with the solo show presenting her fishing net, she re-fired an incomplete vessel left in the workshop, and staged for a limited time and a limited number of visitors personal site , an exhibition that gave visitors the opportunity to hear the sound of kannyu or cracking, i.e. the faint metallic noise accompanying the cracking of the glaze coating the vessel, as it swells and shrinks. Miyanaga explains:
"That sound always occurs just about the time the piece has slipped your mind. I mixed the glaze to a different formula to that used in ordinary ceramics, so if conditions are right, it will keep producing sound pretty much indefinitely. I think this piece was fired by my grandfather or great-grandfather, but I wanted to see if I could make frozen time move, so tried re-firing it myself.
"My work is often described as Oriental or Buddhist in nature, but that's not intentional. What I can say though is that I believe sea and islands and mountains, people and the landscapes surrounding them, the past and present and future, are all connected. I am part of the history of humanity, and I want to keep connecting things, continuing.
"I make various groups of works, but in my mind they are all related. I've noticed recently that for me, it's not so important to be able to spin lots of threads, as take a single thread and twist it to make it thicker. My aim is to produce unforgettable works that remain with the viewer always."
Originally printed in ART iT 19 Spring/Summer 2008

Miyanaga Aiko
Born 1974 in Kyoto. Received her BFA in sculpture from Kyoto University of Art and Design, and MFA from Tokyo National University of Fine Arts and Music. She visited the US in 2006 on a grant from the Asian Cultural Council and the UK in 2007 through the Japanese Government Overseas Study Programme for Artists. She presented Border in the group show Oshakasama no Tanagokoro at ARTCOURT Gallery (Osaka).
www.aiko-m.com