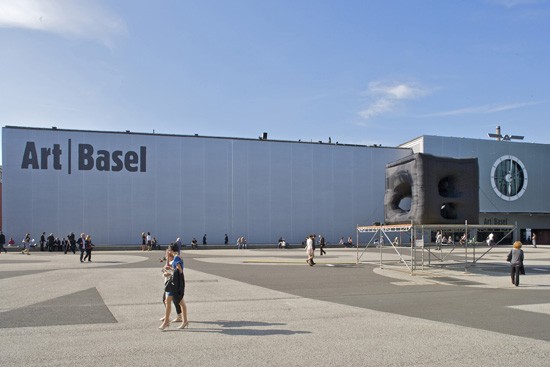 Exterior view of Art Basel 41 at Messe Basel, with Heimo Zobernig's Art Public installation Black Cube (2010) visible at middle-right. Courtesy Art Basel.
(Basel) Since the start of this year, art professionals have been cautiously optimistic that the market has stabilized since the collapse of New York's Lehman Brothers in late 2008 sent the global economy into a tailspin and burst the past decade's contemporary art bubble. While in 2009 numerous galleries shut down and others scaled back their international art fair itineraries, events of the past sixth months have provided a light at the end of the tunnel: Alberto Giacometti's sculpture L'Homme qui marche I set the record for the world's most expensive artwork when it sold for GBP 65 million at Sotheby's in London in February, while the success of the third Art HK art fair and a concurrent white glove sale at Christie's in Hong Kong in May have suggested that rather than retrenching, the international art market continues to expand.
However, the real litmus test for the direction of the primary contemporary art market is the annual Art Basel art fair in Switzerland. With strong sales recorded by the majority of the over 300 participating galleries from 36 different countries, this year's 41st edition of Art Basel, held June 16-20, confirmed that collectors are back in force, but also indicated that the shape of the market is radically different from what it was three years ago.
Paradoxically, economic instability may have contributed to this year's success. As the faltering Greek economy threatens to unravel the European Union, blue-chip art is attracting attention as a potential secure investment, with collectors gravitating to works by historically proven name-brand Modern artists like Picasso, Andy Warhol and the recently deceased Louise Bourgeois. And with the declining value of the euro, this year saw a marked increase over the previous year of collectors attending from the US, Russia, the Middle East and China.
Galleries that spoke with ART iT all reported strong sales, and were particularly pleased that museums and museum patrons had been active at the fair. They praised the overall quality of the clients, and noted that in contrast to speculators who had snapped up works by young, unknown artists at inflated prices three years ago, collectors this year were spending time looking at and evaluating works.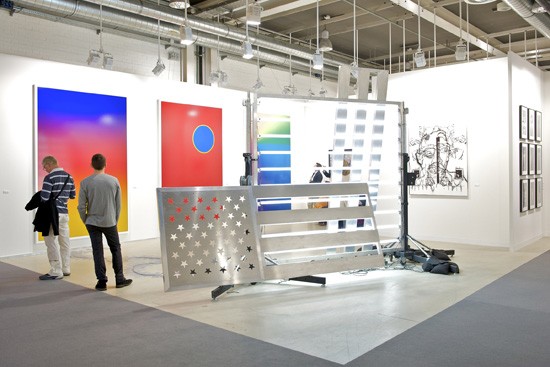 Installation view of the booth of Team Gallery, New York, at Art Basel 41. Courtesy Art Basel.
This shift in mood was also reflected in the overall look of the fair, with less figurative and more abstract painting, and an increase in conceptual artworks and sculptural installations. Some galleries seemed intent on introducing to the market under-recognized but historically significant artists from the 1970s and '80s, such as Michael Krebber (Greene Naftali) and Heimo Zobernig (Chantal Crousel). Others found homes for works by institutionally recognized emerging and mid-career artists like Danh Vo (Daniel Buchholz), Banks Violette (Team Gallery and Maureen Paley), Cheyney Thompson (Andrew Kreps), Gillian Carnegie (Gisela Capitan), Do Ho Suh (Lehmann Maupin) and Jim Lambie (Modern Institute).
Galleries from Japan also performed well, a welcome change after Japanese participants at Art HK struggled to find buyers for works that did not conform to Pop aesthetics. Tomio Koyama, however, seems to have no trouble selling Yoshitomo Nara wherever he goes, with an Indonesian collector picking up a USD 300,000 ceramic sculpture by the artist at Basel. SCAI the Bathhouse sold a Kohei Nawa "Pixcell-Deer" sculpture to a European collector for $160,000, while Gallery Koyanagi sold four Hiroshi Sugimoto "Seascape" photographs to European collectors at $150,000 each. Less market-oriented works were also finding homes. ShugoArts sold a large-scale multimedia installation by Yukio Fujimoto for $150,000, and Taka Ishii Gallery sold works by conceptual photographer Yuki Kimura and painter Nobuya Hoki to a Swiss collector for $12,300 and $6,000, respectively.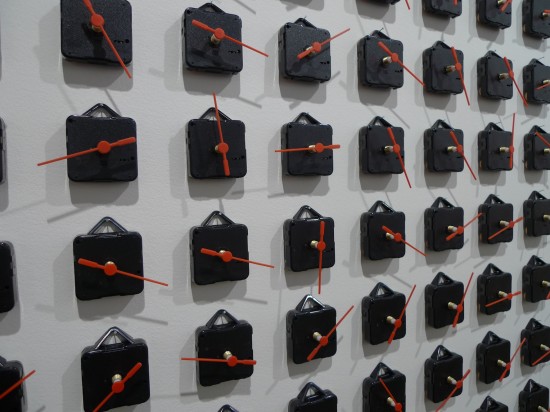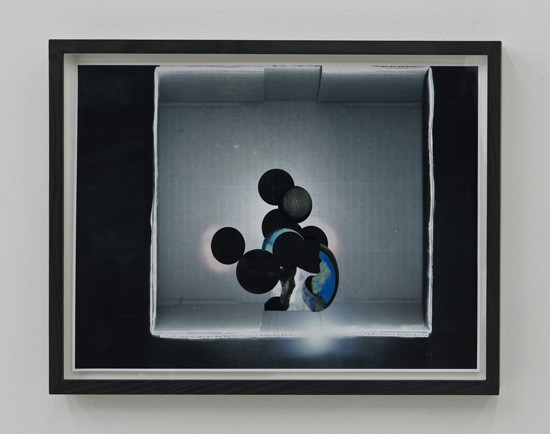 Above: Detail of Yukio Fujimoto's large-scale installation at the booth of ShugoArts, Tokyo, at Art Basel 41. Below: Marieta Chirulescu's photograph Space one person (2007) at the booth of Micky Schubert, Berlin, at Liste 15. Courtesy the artist and Micky Schubert, Berlin.
Among the Basel satellite fairs, LISTE has traditionally been the most successful at attracting leading collectors and this year was no different. At the VIP preview, galleries including Altman Siegel (San Francisco), Elizabeth Dee (New York), Fortescue Avenue (London), Herald Street (London), Peres Projects (Berlin), Micky Schubert (Berlin) and Wall Space (New York) had sold numerous works in the $10-20,000 range.
However, after switching venues from the city center to a warehouse on the outskirts of Basel near the private Schaulager museum and reducing the number of participants from 110 to 81, another top satellite fair, Volta, was relatively quiet, with the venue's relatively inconvenient location a probable contributing factor. Nevertheless participants including Japan's Mizuma Art Gallery and Taro Nasu told ART iT that sales had improved over last year. And with Schaulager hosting a major Matthew Barney survey, Volta was able to attract curators and other arts professionals who had made the trip to see this year's blockbuster show, providing a degree of consolation to exhibitors.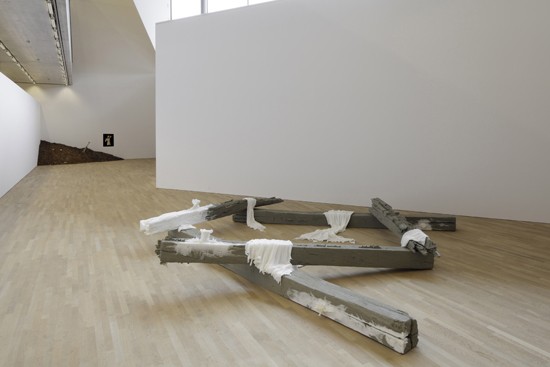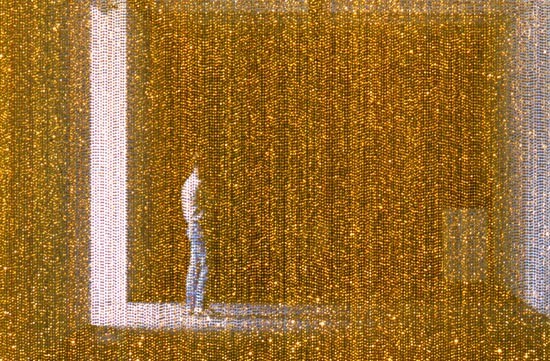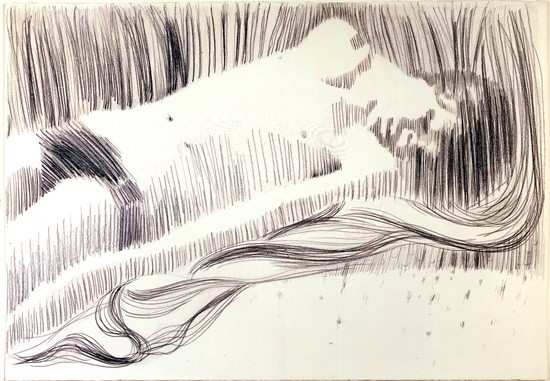 Above: Installation view of "Matthew Barney: Prayer Sheet with the Wound and the Nail" at Schaulager, 2010. Middle: Felix Gonzalez-Torres – Untitled (Golden) (1995) as installed in "Felix Gonzalez-Torres: 2 Installationen" at Neue Gesellschaft für Bildende Kunst, Berlin, 1996. Photo Thorsten Monschein, © The Felix Gonzalez-Torres Foundation, courtesy Andrea Rosen Gallery, New York. Below: Rosemarie Trockel – Untitled (2000), Colored crayon on paper, 70 x 100 cm. Kunstmuseum Basel, Kupferstichkabinett, Gift of Dieter Koepplin, Basel. Photo Kunstmuseum Basel, Martin P. Bühle.
Entitled "Prayer Sheet with the Wound and the Nail" and organized by independent curator Neville Wakefield, Schaulager's Barney survey was not the only major draw outside the fair circuit proper. Basel's institutions seemed to put extra effort in this year's programming, with a sparkling line-up of exhibitions: retrospectives for Felix Gonzalez-Torres and Jean-Michel Basquiat, respectively, at the Fondation Beyeler; Moyra Davey and the group show of young artists, "Strange Comfort (Afforded by the Profession)," at Kunsthalle Basel; and concurrent solo shows for Rosemarie Trockel, Gabriel Orozco and Rodney Graham at Kunstmuseum Basel. Art lovers willing to go further afield could also partake of Christopher Williams at Kunsthalle Baden-Baden, Pipilotti Rist at Museum Langmatt, Thomas Struth and Adrian Paci at Kunsthaus Zürich and Ryan Gander at Haus Konstruktiv, Zürich.
Ultimately, it is this kind of strategic cohesion between private and public interests, art fairs and institutions that makes Basel one of today's premier events for modern and contemporary art. While London's Frieze and New York's Armory Show fairs also provide lynchpins for citywide programming, it is perhaps precisely because Switzerland is often overlooked as a contemporary art center that its institutions understand the need for coordination in order to produce world-class results. Combined with the depth of collectors who show up every year, this savvy deployment of local infrastructure ensures that even as the international art market continues to change, Art Basel will likely remain the world's art fair for the foreseeable future.