Looking ahead not only to 2014 but even further to 2015 as well, as part of "Things Worth Remembering 2013" we have invited the artistic directors of two upcoming international exhibitions in Japan to exchange their views about the biennale/triennale format, and share their intellectual concerns as they begin to choose artists and formulate exhibition plans. Artist Yasumasa Morimura, artistic director of the Yokohama Triennale 2014, which opens on August 1, has already announced his exhibition title, "ART Fahrenheit 451: Sailing into the sea of oblivion," as well as a preliminary list of artists including Michael Landy, Gregor Schneider, Akira Takayama of the theatre and performance group Port B, and Miwa Yanagi. Curator Shinji Kohmoto, who spent most of his career at the National Museum of Modern Art, Kyoto, is overseeing the inaugural edition of a new international exhibition, PARASOPHIA: Kyoto International Festival of Contemporary Culture. Although the exhibition will not officially open until March 2015, Kohmoto has already initiated an "Open Research Program" of lectures, symposia and other events held in Kyoto. A presentation of Wiliam Kentridge's multimedia installation The Refusal of Time (2012) will be held in February 2014 as a "Prelude" to the main exhibition.
Moderated by Natsuko Odate
Dialogue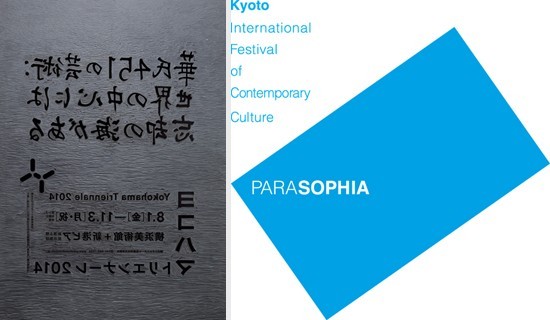 Visual identity materials for the Yokohama Triennale 2014 (left) and PARASOPHIA: Kyoto International Festival of Contemporary Culture 2015 (right).
ART iT: I would like to first ask Kohmoto-san about the concept for PARASOPHIA. As this is the inaugural edition I am sure you are still feeling your way through a number of issues, but when thinking about the idea of an international exhibition in Kyoto, I feel it is impossible to disregard the context of the city and its history. This time the perspective for reconsidering that context does not seem to be contingent upon the motivation for urban regeneration or attracting tourism, which I feel distinguishes PARASOPHIA from other international exhibitions that take place in Japan like the Setouchi Triennale, the Echigo-Tsumari Triennial, or the Aichi and Yokohama triennials. Ultimately I wonder whether the model here isn't closer to documenta, which is similarly rooted in the historical context of the city and the region. documenta was built up to its current status over a period of many years, but what I feel from the title PARASOPHIA is that you want to propose an interpretation of the site of Kyoto that is not only about tourism. Could you explain more about the symbolism of the title and the exhibition concept?
SK: Firstly, one reason I decided to get involved with PARASOPHIA is that the idea for the event came directly from a private citizen of Kyoto. Three years ago, this person went to see the Venice Architecture Biennale directed by Kazuyo Sejima, and seems to have been strongly affected by the experience of being in Venice on that occasion. Seeing how knowledge from across the world was temporarily being gathered there, and seeing the movements of the people coming and going, exchanging ideas and opinions – seeing a city to which people brought their knowledge – this person felt a sense of crisis that if we did not produce a similar flow of new knowledge into Kyoto, then the city, entirely dependent upon old things, would inevitably decline.
Responding favorably to the idea, the Kyoto city and prefectural administrations both got behind the project. Conceived through a different process from the governmental idea of so-called urban regeneration, and receiving a more mature form of governmental support in the promotion of culture in the city, this project is an extremely rare case in Japan.
I think it would be presumptuous of me to compare the exhibition that I will realize in Kyoto with exhibitions that have more significant histories and budgets, but I will go out on a limb and say that rather than Venice, something like documenta is more what we aspire to. Through PARASOPHIA, I hope to create a platform in Kyoto for knowledge from the inside and outside to converge and collide, and for us to explore a provisional form of knowledge, or, say, shared language. Also, I chose the feminine name of PARASOPHIA because I hope that the provisional knowledge that the event produces will provide an alternative to the dominant, paternalistic knowledge of the 20th century.
ART iT: You've been involved with art in Kyoto for a long time now, so I am sure you have strong feelings about the city. You must have a strong awareness of what it means to make an international exhibition in Kyoto.
SK: Certainly I have a deep affection for Kyoto, as well as a kind of contempt born from proximity. In the sense that it has accumulated a long span of "urban time" that approaches a life cycle of growth, decline and rebirth, I feel that Kyoto is Japan's most city-like city. With the idea of the city serving as a kind of lingua franca, our organization of an international exhibition in Kyoto is an advantage in attracting support from international peers. On the other hand, Kyoto is also a kind of fantasy for the Japanese people, who project upon it all the stereotypes and archetypal images of Japanese tradition and the land, so to organize such an exhibition here must necessarily involve "Japan" as well; we cannot escape taking some kind of responsibility for the entire country.
ART iT: But because Kyoto is, in fact, quite alluring as a city, it becomes a target of exoticism, and I would imagine that element of exoticism is at least expected of Kyoto from outsiders.
SK: This is a very good point. Certainly I think in the past there has always been an expectation of exoticism from the outside. But what I am now confronting is an external exoticism that has become internalized, and filtered into how we Japanese view ourselves. Probably the Japanese who are closest to Kyoto are indeed those who have the highest expectations for its exoticism. I hope that PARASOPHIA can provide an opportunity for us to objectively and coolly examine the colonial gaze that has been imprinted upon us.
 
ART iT: I think this is an extremely important consideration in thinking about an international exhibition in Kyoto. Something that embraces exoticism is probably suited to a strategic approach to achieving a successful international exhibition through spectacle and cheap thrills, but at this point in the 21st century, I wonder whether there is any value in making such an exhibition. That's why I hope you can go beyond such a framework. I am really interested to see how the attempt to surpass exoticism plays out in the form of the exhibition.
SK: We've only been working on the exhibition for a few months now, but many of the international colleagues whose views I trust take it as a matter of course that we should have an international exhibition in Kyoto, and they have offered their unstinting support to me on the assumption that whatever we do in Kyoto will differ from other international exhibitions. Of course, in this case we have the freedom to reconsider the history and tradition – as well as the drawbacks they hold for us – of Kyoto (in other words, Japan), and it is essential that we do so through the diverse forms of knowledge that many people can bring here. I feel that the process of self-consciously using the exterior gaze that has been internalized by the Japanese to rethink Kyoto will allow me to take a step towards the "discourse on Asia" which I have thus far been hesitant to join. I hope that we will be able to think about our internalized colonial gaze together with other artists from Asia.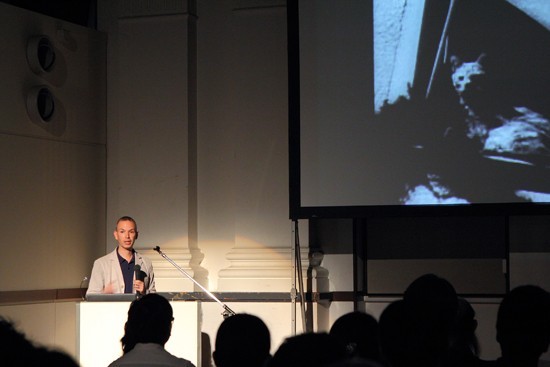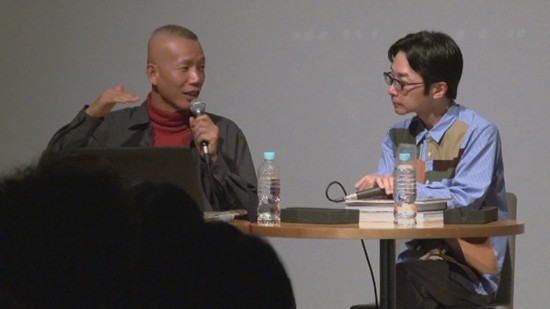 Top: PARASOPHIA: Kyoto International Festival of Contemporary Culture 2015 Open Research Program 01 [Lecture] Akira Mizuta Lippit "Like Cats and Dogs-Cinema and Catastrophe." June 21, 2013, Annex Hall, The Museum of Kyoto. Photo Takahiro Mitsukawa. Bottom: PARASOPHIA: Kyoto International Festival of Contemporary Culture 2015 Open Research Program 04 [Dialogue] Cai Guo-Qiang in conversation with Akira Asada. October 14, 2013, Kyoto University of Art and Design. Both: Courtesy Kyoto International Festival of Contemporary Culture Organizing Committee.
ART iT: I would like to ask both of you more about the concept of "Asia," but first I think we should hear from Morimura-san about the Yokohama Triennale. As opposed to Kohmoto-san, who has an extensive relationship with Kyoto, Morimura-san has held two solo exhibitions at the Yokohama Museum of Art, but otherwise has no particular relationship to the city where he will be curating a major international exhibition. This will be the fifth edition of the Yokohama Triennale, and although responsibility for the exhibition has recently shifted from the Japan Foundation to Yokohama city, the Triennale has a history and tradition, as well as a clear direction. With this in mind, can you explain why you accepted the role of artistic director, and whether you share anything with the direction the exhibition has taken so far?
YM: Before answering, I'd just like to say that when Kohmoto-san began talking about how the people of Kyoto have internalized the city's exoticism, I immediately made an association with an extremely domestic thing, "Osaka takoyaki" octopus dumplings. I am from Osaka, and in my childhood years takoyaki was a shameful food, something you would eat while half-hidden in a back alley somewhere. But then as takoyaki gradually gained popularity in Tokyo, it came to be upheld as an example of Osaka's flour-based cuisine and a pride of the city. The recent case of the "Osaka obasan" is similar, as the elderly ladies we had all derided are now considered to be interesting and have become a part of the city's identity. As the largest city in the region, Osaka has many such examples in its history. The part of Osaka where I live, Tsuruhashi, is another example. In the past Tsuruhashi was no place to visit or speak of, but now it is a point of pride, albeit with a complex history. So I think that kind of internalization exists in different ways in many places.
Now, the perspective that Kohmoto-san just shared with us is very open, even touching upon documenta, which I myself have never visited. And even though I am now involved in it, I have never been to see the Yokohama Triennale, nor have I ever participated in it. I have never even thought to go see it. When I was offered the role of artistic director I went to consult with Kohmoto-san, and in hearing what he had to say I became aware of my particular quality, which is to say, the characteristic associative process I shared with you just now. And in doing so, I felt I was not suited for the position of directing an international exhibition or large-scale survey. What I thought at first, and even still think, is that I am, ultimately, an artist, whereas the position of artistic director is absolutely more appropriate for someone who is more knowledgeable, has a large network of peers, sees many exhibitions, and knows all kinds of artists.
Even when I went to speak with Kohmoto-san, I was prepared to refuse the offer, thinking that to do so would be no fault of my own – that is to say, I had an extremely negative attitude. But – and this reflects my general thought process – rather than simply declining and having a clean break with everything, I had to turn the problem on its head, something I often do when making works as well. I then had the extremely perverse and contrary sense that it is precisely because I am not qualified to be the director that it might be worthwhile for me to take the position. If someone like me were to direct an international exhibition, it might reveal a different aspect of the current format. And while thinking about this, I also came to think that there was inside of me something that was unresolved, some kind of "homework" that I had to confront.
SK: When Morimura-san came to speak with me, it appeared to me that he had already made up his mind. I think my role was simply to push him a little. I was sure that if he took the position, Morimura-san would totally betray the calculations of the people who chose him. As such, I remember emphasizing to him that his accepting the position would "benefit the whole world." There have already been a number of instances around the world where artists have directed international exhibitions. Of course there are exceptions to the rule, but mostly I feel that such exhibitions have not been successful. I think the reason why is that when they assume the position of director, artists begin to worry about what their role should be and what the people around them are seeking – they get sucked into the marketing of the exhibition – and become overly conventional in thinking about what the exhibition should provide in order for them to fulfill their position.
I think that in his case, Morimura-san might go through a similar thought process, but ultimately cast such concerns aside and think of something different. Over the past 20 years, international exhibitions have turned into a massive cultural industry, with no sign of slowing down. At the same time there are people who think that we need to put a stop to this, that it can't go on forever. Amidst all of that, I honestly believe that Morimura-san is capable of producing in Yokohama a form of international exhibition that upholds alternative values to those being sought in the international exhibition as cultural industry. I expect that Morimura's Yokohama Triennale next year will prompt domestically minded people to rethink the concept of the international exhibition.
YM: I have something to ask Kohmoto-san. Just now what you had to say about PARASOPHIA sounded extremely official, but I wonder what the real situation is. For example, when you think about the artists that you personally like, do the title and overall structure also come to mind, or do you have a strict concept of curation into which you organize the artists as you go? 
In my case, several "homework problems" will emerge. Because these are extremely personal issues it would be almost rude to push them onto other people, but in converting these personal issues – which have a powerful reality for me – into a shared language, I am convinced that I can share that reality with other people. So while visualizing several of these personal issues, I first come up with a word or phrase that can express them in total, and from there the concept and title also emerge. In that sense for me the title is actually quite important. While basing everything on personal issues, I produce the title as something that has been turned around and converted into a shared language. From those words a reality emerges as a kind of shared language. I then compose the exhibition as an expanded form of that reality. This is the structure both for how I make my own works and make an exhibition.
I think life is about gradually solving "homework problems" one by one. It is about continuously making works, and resolving the problems that are left behind from that process. But there are many problems that cannot be addressed through making works. One example for me is the artist pair Goh Hayashi and Hiroko Nakatsuka. Some may not know of it, but for me the project that Hayashi+Nakatsuka carried out through the Kyoto Independent exhibition in the 1980s is one of my unresolved problems – even now – and I think I really have to do something about it. Another example is the area of Kamagasaki in Osaka. [Kamagasaki has the highest concentration of day laborers in the country, a significant homeless population, and is the site of frequent clashes between laborers and police; Morimura used Kamagasaki as the setting for a series of works reenacting the iconic 1920 photograph of Lenin speaking at Moscow's Sverdlov Square.] I'm still not sure how I will incorporate these problems into Yokohama, or what Kamagasaki has to do with Yokohama, but through a point of contiguity with the Triennale, I hope to work through these problems as personal impulses.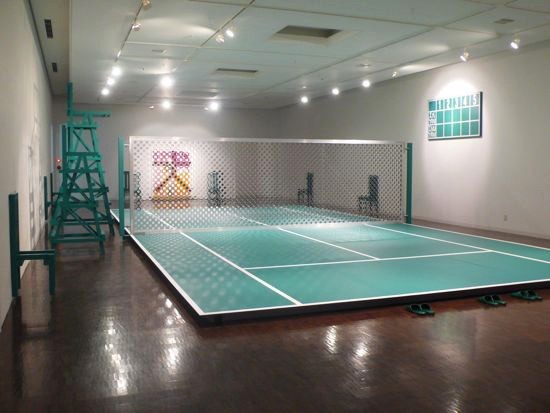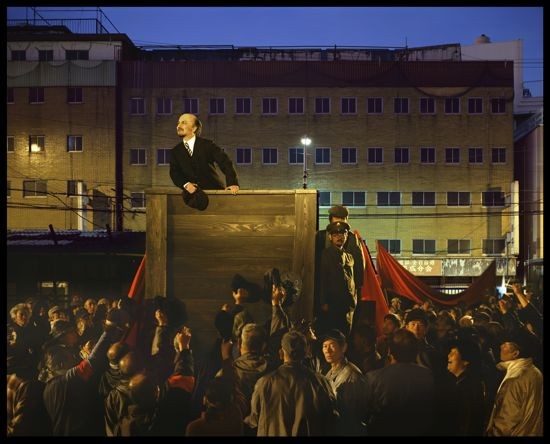 Top: Goh Hayashi & Hiroko Nakatsuka – The Court of the Goddess / The Tennis Court (1983/2013), installation view in "Dog and Site-Seeing / Site-Walking, Part 2" at Kyoto City University of Arts Art Gallery @KCUA, 2013. Photo ART iT. Bottom: Yasumasa Morimura – A Requiem: Vladimir at Night, 1920.5.5 – 2007.3.2 (2007), 150 x 200cm. Courtesy the artist.
ART iT: So can the exhibition resolve "homework" that cannot be addressed through making works? Can you explain more about such problems?
YM: The problems that I can resolve on my own I address through my works, but there are things that are impossible for me to address by myself or which escape the scope of my capabilities. For example, I had my first solo exhibition in 1983, and then in 1985 I made the work Portrait (Van Gogh), and since that time I have continued making self-portrait works. But at the same time in the 1980s, Hayashi+Nakatsuka spent 10 years producing their annual project for the Kyoto Independent exhibition. I knew Nakatsuka well and through frequent conversations with her came to feel that what they were doing was truly incredible. But the more I thought that way, the more the significance of my own practice disappeared, and I was no longer able to make works, so I had to blind myself to what they were doing.
Only then was I able to continue advancing my own practice. This was not a situation of "A and B," it was a situation of "A or B," and because I had to ignore A in order to advance B, A got left behind. Now that B – my own art practice – has progressed to a certain point, I want to find a way to make visible the part that was left behind, A; I want to give it a visible form again, but this is something I cannot achieve on my own. Except that rather than researching exactly what Hayashi+Nakatsuka were doing, I feel it is through the interconnections with other works and expressive actions that their position in my own map of the world will come into focus. An exhibition is a presentation of a worldview, but right now I feel it is necessary to use things outside of my artistic practice, outside of my own works, to create this worldview. We'll see what kind of worldview becomes apparent in the different elements gathered from across the world and the way that they are placed together. A worldview is essentially a philosophy or value system. I think I am trying to find a balance between making visible a presentation of a worldview through the selection and arrangement of objects on one hand, and my own practice on the other.
ART iT: I wonder if Kohmoto-san could explain his thinking on what Morimura-san said about personal feelings. Of course, in 2010 you concluded your career at the National Museum of Modern Art, Kyoto, with an exhibition entitled "My Favorites: Index of a Certain Collection," and obviously you have personal feelings, but how do you see that unfolding in the framework of PARASOPHIA?
SK: I don't think there will be such a personal aspect to PARASOPHIA, but certainly the exhibition does involve "homework" that I am working on in the same way that Morimura-san describes. Through my work at the museum I came to meet many artists and organize exhibitions through the resonances with and reactions to what they were thinking. There are a number of artists with whom I've wanted to work but with whom I was never able to realize projects. There are artists with whom I have previously worked and would like to work one more time. So there is a personal aspect to PARASOPHIA in that I would like to assemble such artists to exchange ideas and thoughts, but I don't think that is such a bad thing for those around me – in this case the city of Kyoto. This is also about age, but recently there are more and more obituaries for artists with whom I thought I would always have another chance to work. So the exhibition will incorporate my personal desire for the people around me to not forget the achievements of the artists I believe are significant. In that way I think PARASOPHIA will be slightly different from the typical international exhibition filled with information on the freshest artists in contemporary art and all new works.
YM: In the case of Yokohama I think almost half the works will be by artists who are no longer living. There will also be many older artists, which may be unpopular with critics. I've already received a request to include more young artists. We often use the word "festivalism" in tandem with international exhibitions, but originally festivals were intended to celebrate the dead, so I think it is strange to draw a line between the living and the dead in this case.
SK: During the Obon period this year, I actually thought PARASOPHIA might turn into something like an Obon festival honoring the dead, in the sense that it would transcend time and space in "calling" knowledge to Kyoto. I thought of this on the passing, during that period, of Allan Sekula, with whom I had promised to do another project. I really have to think seriously about what we can do to not forget the intelligence that he possessed.
YM: What is strange is that when I speak about the participating artists for Yokohama, those who I think are really good are all dead. I understand that death brings with it a kind of mythologization, but rather than picking artists through a sense of sentimentality or nostalgia, it's just that even without knowing so much about their particulars, most of the artists I feel are good happen to be dead, or at least older than myself.
SK: For the past 10 years I haven't exactly been avidly following young contemporary artists, so in my research, when I encounter a work that I think is good, it tends to be an older work from earlier in an artist's career as opposed to a brand new work. The more I research, the more I find that these are the only works that interest me. I think the only way to produce an exhibition that meets my own standards is to bring together works that really satisfy me, although that might actually be a wrong way of thinking. Only in accepting something that does not meet my expectations can there begin a search for a conditional shared language, born of the necessity for reconciling that opposition. I want to avoid producing something that gets caught up in a catchy title or theme.
YM: If you think about an exhibition in a simple way, each work is just one piece on the chess board. When you add a piece to the overall composition, and play around with the different combinations, then maybe a kind of flattened world comes into view that feels right. But I think it also creates a layering effect that is like the after-image of everything that derives from the piece, and all of the other works that the artist makes. Of course eventually maybe the most beautiful aspect is what rises to the top of those layers, but when viewed from the side, where everything that sinks below the surface is apparent, the work might appear to be insipid, or become even more interesting, so it is a challenge to understand that you also must consider those layers when viewing a work.
SK: This might lead to a bit of a misunderstanding, but, for example, I spent many years searching for the artist behind a work that I encountered long ago, whose name I never learned, and then when I was conceiving this new exhibition I suddenly figured out the name of the artist. I thought, there is no way I cannot include this artist. I've spent decades thinking about her work and surely something has developed from that, and now I've come to think that there might be some meaning in sharing this experience with other people. I don't think it is possible to objectively convey in the space of an exhibition what is right, what is significant. An exhibition is a site for the curator to carry out a kind of authorial editing and interpretation, to discover and revise narratives. To make an exhibition is to make a presentation with that awareness. It is important to have a place for that awareness.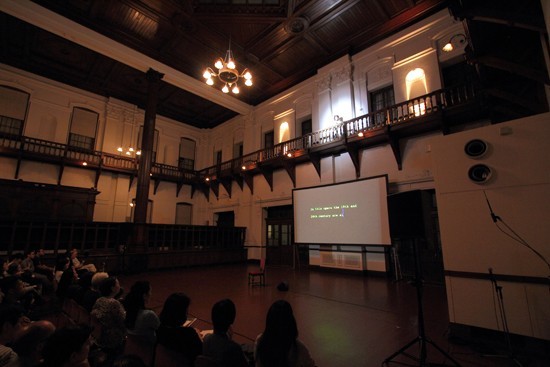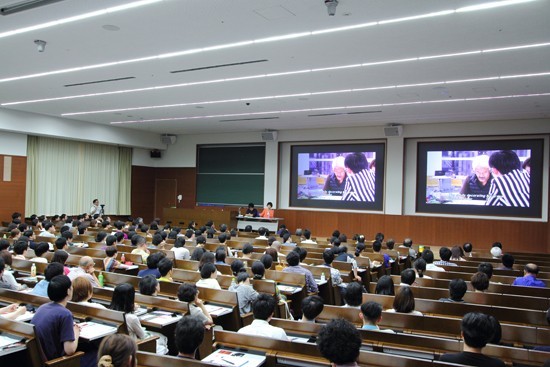 Top: PARASOPHIA: Kyoto International Festival of Contemporary Culture 2015 Open Research Program 03 [Lecture/Performance] Dominique Gonzalez-Foerster "M.2062 (Scarlett)." September 6, 2013, Annex Hall, The Museum of Kyoto. Bottom: PARASOPHIA: Kyoto International Festival of Contemporary Culture 2015 Open Research Program 02 [Report] Koki Tanaka & Mika Kuraya "abstract speaking-participating in the Venice Biennale." July 27, 2013, Doshisha University, Kyoto. Both: Photo Takahiro Mitsukawa, courtesy Kyoto International Festival of Contemporary Culture Organizing Committee.
ART iT: I would imagine that even when you incorporate personal feelings into an exhibition, you are conscious of avoiding the "strong message" that appeals to widespread sympathy, or of avoiding being overly adamant. I have a feeling that from 9.11 to 3.11, even in light of the fact that nothing will change in the direction of society if we don't raise our voices or protest, you are choosing to commit without creating a narrative. Could you both talk about how this relates to your exhibitions?
YM: There are situations where keeping quiet can be a form of protest. When you protest against something, it's possible for that to be turned into information, to be historicized, but there are also cases when that only makes silence all the more appropriate. Silence is usually not recognized as action or information, but I think that to remain silent and inactive when others are raising their voices can be a profound statement, even if it won't be appreciated as representing the strong choice. One of the things that interests me is the attitude of artists who daringly choose silence and inaction, which I find to be highly provocative. This connects to the theme of Yokohama, but you can actually feel a strong resolve in the choice of silence and inaction, in the things that are forgotten or that are entrenched in obsessive ideas that are destined to be forgotten.
SK: 9.11 and 3.11 are categorically and qualitatively different events so I don't think it's appropriate to draw an equivalence between them, but thinking about them together, a major factor in the developments since 9.11 was the idea of American justice, whereas in the case of 3.11 it is "Japaneseness," a problem of an inward-turning mentality of implication [toujishasei]. I think it would be good if I could maintain toward 3.11 the same sense of distance that I feel toward the issues of post-9.11 America. As a Japanese, of course one is implicated by it, but I am sure there are others who also want to take the same distance from 3.11 that they have from 9.11.
Something that emerges from a similar context is, for example, the video work that Aernout Mik made for the Aichi Triennale 2013, in which he reconstructs the scene of an emergency shelter during the Fukushima nuclear disaster. I heard from Mik about the process of making the work. When he first received the commission, he thought he couldn't do it, because he had too much distance from the mentality of the Japanese people involved in the disaster. But as he continued to think, he came to realize that even if the experience of the earthquake can be restricted to an issue of the Japanese people, it is possible to address Fukushima if you understand that the problem of radioactive contamination transcends Japan.
The resulting work had many points of interest, although I would not consider it a success. Rather, I could feel, in the work's ambivalence and unfinished aspect, Mik's sincerity as an artist. I felt his intent to approach the subject while still maintaining his distance as an outsider. I sympathized with Mik's spirit in attempting to do something that he knew was bound to fail. And then, reversely, I also thought that although I can't escape my own implication in 3.11, it is important to keep a perspective that is as distant as possible. It may be partly because he is based in Los Angeles, but I imagine the concept of "abstract thinking" that Koki Tanaka came up with for his exhibition in the Japan Pavilion at this year's Venice Biennale also reflects a slight discomfort with the craze for identifying with those who were affected by 3.11. That he felt so gives me a glimpse of his talent as an artist.
ART iT: In diverse forms, a rhetoric that seeks to make visible the issues of "implication" was apparent at both this year's Venice Biennale and last year's documenta 12, but I feel that there is a kind of apologist element to the posture of standing on the victim's side. What do you think?
SK: It's hard to put into words, but for documenta 12 Carolyn Christov-Bakargiev came up with a framework referencing the history of Kassel and, inviting the artists to visit, brought them to see specific sites and had them make works. I understand this approach, but looking from the outside, from Asia, I felt as though I were observing an operation from across the other side of a glass panel. And I thought that the process of verifying history that took place in Kassel came off looking flat, as though all histories are equidistant; it became apparent to me that the people carrying out the verification of history there were themselves not actually implicated in that history. 
Obviously we have seen over the past few editions of documenta the possibility for the exhibition to make connections with and open up to the outside, but we are still cut off by the glass panel, and to be honest it gives me a lot of stress. In order to overcome this limitation maybe we need to enter a new phase, or viewers have to apply themselves even further – I'm not really sure.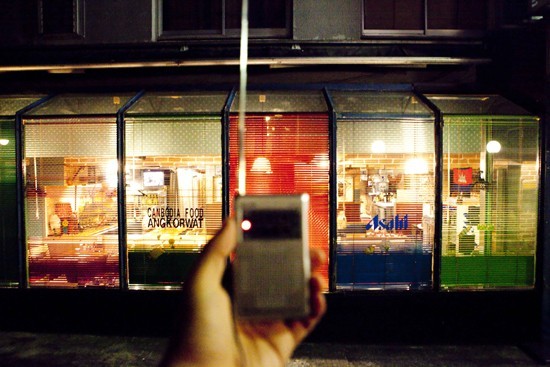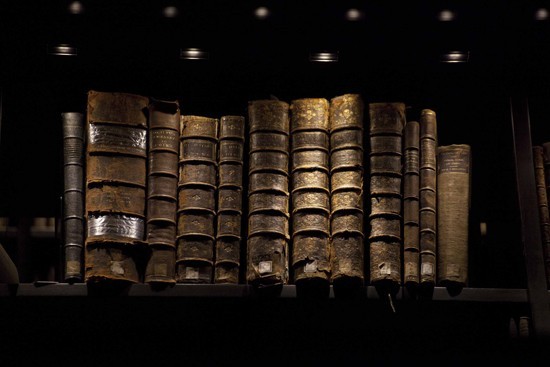 Both: Akira Takayama (Port B) – Tokyo Heterotopia. © Masahiro Hasunuma.
ART iT: I'm not sure whether this connects to the politics of implication, but I think this is a good point to discuss "Asia." Japan is both involved in Asia and yet has also kept itself at a remove from Asia. In a number of ways we can say that the country is lacking in its awareness of its position. How can we think about our involvement in Asia, and how can we actually engage with Asia?
YM: I don't know how it will be with PARASOPHIA, but at this moment I have included only a few artists from Asia in the Yokohama Triennale. However, I have invited one artist who has a strong awareness of the issues related to the presence of Asia in Japan, Akira Takayama of the theatre and performance group Port B. His dramatic works are not intended for the traditional theatre, but they are grounded in a consciousness that they are theatre. The first part of Yokohama that attracted Takayama was the area of Koganecho. Koganecho was once a center for the sex trade, with many immigrants from Southeast Asia working there, but when news spread that the authorities were planning a crackdown, all the people working there disappeared without a trace.
Hearing about this, Takayama went to visit the area and was deeply impressed by the graphic sight he saw there. The city of Yokohama has now redeveloped the area, but what interests Takayama is the question of where all the people who worked there have disappeared. He's still in the planning stage for his project, so I can't describe it in detail, but he has conceived the idea of a "Yokohama Institute of Foreign Languages" that will partly reveal this situation, which he will continue developing. Takayama's artistic stance focusing on the presence of Asia in Japan differs from the upper level political ties that claim, "Even though there are issues between Japan, China and Korea, we can still all get along." If anything, he is willing to draw out the negative aspects that people would prefer not to address. Japan has a very specific position in Asia, and also has a history of trying to cut itself off from Asia. But – and this may be putting it a bit strongly – I feel that it is a sham to use the international exhibition simply as a site for cultural exchange between nations if we remain forgetful of our position and the Asia that is internalized within Japan.
SK: The issue of Asia has been a difficult one for me, mainly because I am not so knowledgeable about Asia or the rhetoric that surrounds it. It just happens that I was born and raised in Japan, and among the artists I encountered who could dialogue with me about the things that concern me in my daily life, only a few are from Asia. I don't have the mentality for engaging with Asia through the general framework of "Indian contemporary art" or "Chinese contemporary art," for example, so I always maintained that I would neither address Asia nor be involved in it. But recently I have had a chance to encounter more works by young Asian artists, and I have a feeling that the phase of their works is shifting.  
When I saw the installation by Arin Rungjang for the Thai Pavilion at this year's Venice Biennale, I found the structure of his works to be very interesting, and felt that even without knowing about "Asia," I could have a dialogue and discussion with him. The elder generation of Thai contemporary artists such as Rirkrit Tiravanija emphasized their Thainess through the use of "food," for example. Rungjang continues that trend in his use of "food," but he brings the sugar trade into issues of world mapping. Again, through the story of a Japanese woman who lives in Thailand and is infatuated with Thai food – through a visible narrative or fiction – he turns a commentary on the contemporary stereotype that has been imposed from the outside onto Thailand into a work. I think we have entered a period where we no longer need the auxiliary framework of "Asia," a period where artists with similar thinking and analytical skills can work on their own. Rather than a geopolitical Asia, more and more artists are emerging who can relate the issues they are thinking about. What came to mind when I was looking at their works was Claude Lévi-Strauss's concept of "bricolage." It may be a bit stale, but when we are once more bound in such a condition, it is my hope that we can create a shared platform that transcends the geopolitical concepts of Asia, Japan, Europe.
YM: I think Kohmoto-san's thinking is very flexible, whereas I tend to be driven by my preconceptions. Among the artists I am considering for Yokohama is Danh Vo, who left Vietnam as a refugee when he was a child. When I saw his work We the People (2010-13), I felt a strong understanding of his practice as someone who left Vietnam with his family during the Vietnam War and ended up immigrating to Denmark. He has dismembered the Statue of Liberty into different parts, which he sells separately. Regardless of whether breaking up a monument like the Statue of Liberty and scattering it across the world results in a smart work, for me this project communicates the kind of grudge that the artist bears toward the establishment. For collectors this is certainly a fascinating and enticing work. They jostle to buy this part or that, competing for the hand or the eye. But to sell the piece like that is a way of playing with money that differs from the so-called commercialism that is often criticized in art. In essence, I feel the grudge that this artist bears towards capitalism, which was born from his life experience, and understand it as an attempt to overturn the Western framework. What I really like is all of this is being carried out as art. It appears as though the entire process, including the sale of the work for profit, functions as a form of artistic expression, and even where it does not come across as profiteering, you really feel the complexity of the fact that there is a genuine profit-seeking aspect to it as well. That's why I hope to include this work in the Triennale.
SK: Following Lévi-Strauss, I feel we have to try thinking in parallel about the Modernist engineering-style approach which responds to things on the basis of plans sketched out in advance and precise instructions, and the polar opposite, an intuitive, magical, craft-like approach of responding to reality by which, even when one is thrown into a situation without any kind of instructions or manual, one can still think flexibly and survive using the materials at hand. In that sense, I want to interpret the concept of "bricolage" in a more versatile and adaptable way, and through that process build more relations with Asian artists.  
Return to Index
Things Worth Remembering 2013 | Yasumasa Morimura & Shinji Kohmoto