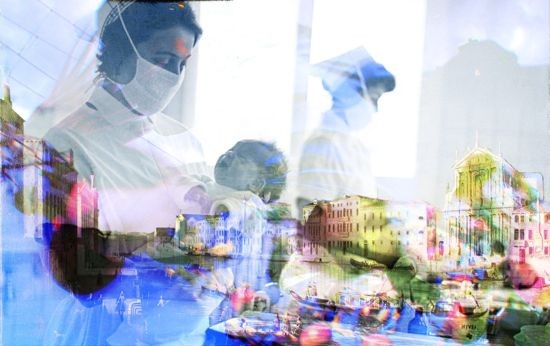 Pipilotti Rist – Non voglio tornare indietro (Ospedale) (2011), video projection on veduta oil painting "Anonymous Venetian Master (Apollonio Domenichini?): Veduta with Canal Grande with Santa Maria di Nazareth, Santa Lucia and Scuola dei Nobili," Museum Langmatt, Stiftung Langmatt Sidney and Jenny Brown, Baden/Switzerland (detail). Courtesy the artist, Hauser & Wirth and Luhring Augustine, New York.
Deliberately referencing its century-long tradition of national representations (beginning with the establishment of the Belgian Pavilion in 1907), this year's artistic director of the Venice Biennale, Bice Curiger, has selected the theme "ILLUMInations" for the venerable exhibition's 54th edition. At a time when this format is increasingly chided for its perceived anachronism, Curiger is taking the criticism head-on, telling ART iT that, "the national pavilions are what make the Venice Biennale so unique." She sees the pavilions in a historical context as representing the desire of different countries to participate in international exchange, and hopes to underscore through her direction the Biennale's potential to realize a "borderless map." Yet that doesn't mean the Biennale model is immune to reconsideration or innovation. Amid the rise of conservative populist movements in Europe and beyond, as well as the upheaval of the Arab Spring in North Africa and the Middle East, this year issues of nationality and nationalism will be right at the fore of the pavilion exhibitions. These range in tone from Dora García's playful investigation of her "inadequacy" to represent Spain and US representatives Allora & Calzadilla's circus-like appropriation of the iconography of corporate America (business-class recliner seats, ATMs and sunbeds) to Israeli artist Yael Bartana's shocking proposal to invite three million Jews to return to Poland, "…and Europe will be stunned" (on view in the Polish Pavilion).
Seeking to better understand the critical tensions that define the Biennale and its tenuous balance between local contexts and international consumption, in the months leading up to its June 4 opening the editors of ART iT have corresponded with Curiger and numerous participating artists to probe deeper into the questions of what Venice means to contemporary art today, and what it means to exhibit at Venice. We include these dialogues here, alongside articles previewing selected aspects of the artistic director's exhibition and the national representations.
– The Editors
ILLUMInations:
Artistic Director – Bice Curiger
Participating Artist – Shannon Ebner: Photography as Thinking
Participating Artist – Birdhead
NATIONAL REPRESENTATIONS:
In Country – Selected National Representations
France – Christian Boltanski: Chance
India – Zarina Hashmi from Everyone Agrees: It's About to Explode
Poland – Yael Bartana: …and Europe will be stunned.
Spain – Dora García: The Inadequate
Thailand – Navin Rawanchaikul: Paradiso di Navin

United Arab Emirates – Curated by Vasif Kortun: Second Time Around

United States – Allora & Calzadilla: Gloria