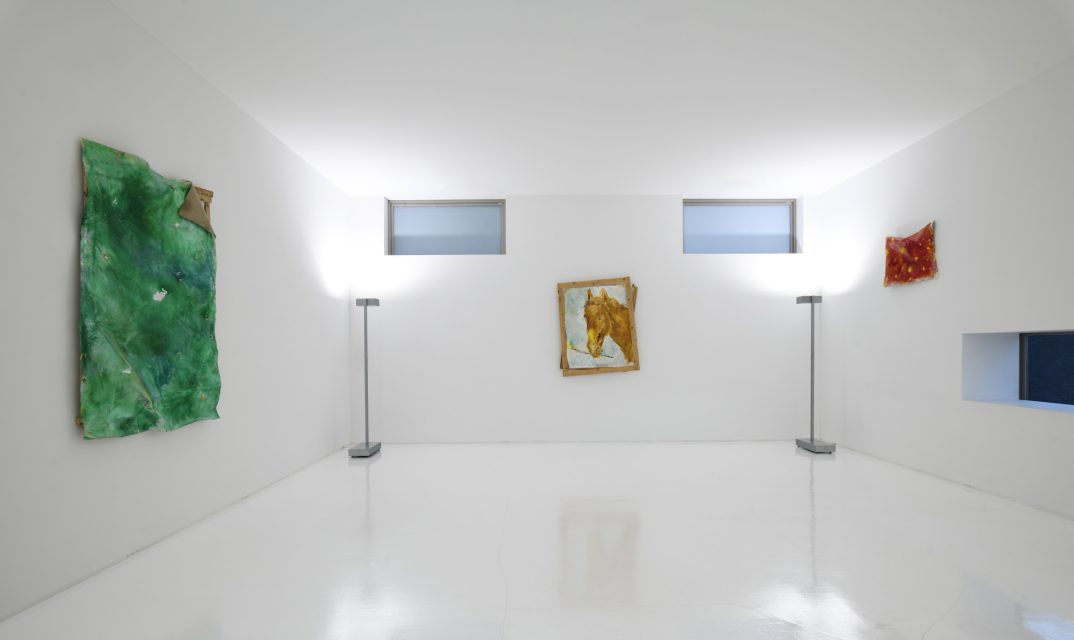 installation view ShugoArts Show, 2022, ShugoArts
ShugoArts is pleased to announce the opening of ShugoArts Show—a group exhibition featuring six artists including Masaya Chiba, Masato Kobayashi, Aki Kondo, LEE Kit, Anju Michele and Yoriko Takabatake—from Saturday, February 19 2022.
In this exhibition, we will showcase Masato Kobayashi's new works including Portrait of the Artist (Pair) in which a horse is depicted with a drip of paint on its nose while holding a paintbrush in its mouth. Also, the exhibition will highlight a variety of different works such as Aki Kondo's new works and selected works from Stars, Sparkling, her solo exhibition at the Yamagata Museum of Art, Yoriko Takabatake's new series CAVE in which the artist incorporates plaster into her practice, along with artworks by Masaya Chiba, Lee Kit, and Anju Michele. This year, Masato Kobayashi is planning to publish the last volume of his bildungsroman trilogy Paint of the Planet. During the course of Art Fair Tokyo (March 10 – March 13), his new work Artwork in Pairs will be exhibited at the art fair venue in Yurakucho and our gallery space in Roppongi.
Aki Kondo, who received an honorable mention from VOCA in 2021, will participate in The VOCA Exhibition 2022 from March 11 at which the artist will introduce her new works. In addition, Yoriko Takabatake will have her solo exhibition at Gana Art Nineone in Seoul from this April. Please enjoy a collaboration of ShugoArts' painters who are increasingly receiving recognition for their art practices.
February 2022, ShugoArts
---
Exhibition overview
ShugoArts Show
Artists: Masaya CHIBA, Masato KOBAYASHI, Aki KONDO, LEE Kit, Anju MICHELE, Yoriko TAKABATAKE
Dates: Saturday, February 19 – Saturday, April 2, 2022
Venue: ShugoArts, complex665 2F, 6-5-24, Roppongi, Minato-ku, Tokyo 106-0032
Opening Hours: Tue-Sat noon-6pm, closed on Sun, Mon and Public Holidays
*The opening reception will not be held this time. Due to the COVID-19 outbreak, we have shortened our opening hours.
---
Masato KOBAYASHI, Portrait of the artist(Pair), 2021, oil, acrylic, canvas, 130x113x15cm
Aki KONDO, Circle of Light, 2021, acrylic on canvas, 130.3x162cm photo:Shigetoshi Okuyama
Yoriko TAKABATAKE, CAVE, 2021, plaster, panel, 100x100cm
Anju MICHELE, ascension, 2021, oil on aluminum paper mounted on panel, 48x40cm(reference image)
LEE Kit, Seascape (I), 2020, acrylic, emulsion paint, inkjet ink and pencil, on cardboard, 46x39cm
Masaya CHIBA, Roly-poly at nightfall, 2020, oil, collage on canvas, 38×52.8cm(reference image)