Contemporary Art Museum, Kumamoto is opened in 2017 in this year and reaches the 15th anniversary more.
There are many works of the "treasure of Kumamoto" related to Kumamoto which exhibition holding in this museum was produced as an opportunity or was exhibited to the public first as most Shinsaku for collection of Contemporary Art Museum, Kumamoto grade. Do you not discover "what is treasure of true Kumamoto?" together while enjoying a Japanese painting and an oil painting image, a photograph, a picture, a variety of expression only by a wide variety of contemporary art including the three-dimensional work?
 Living doll <> (actress Shirley Temple old storehouse) of the new store, Yasumoto tortoise eight (three generations) <<3yearsoldgirlinterestimage>> exhibit it to the public first, too!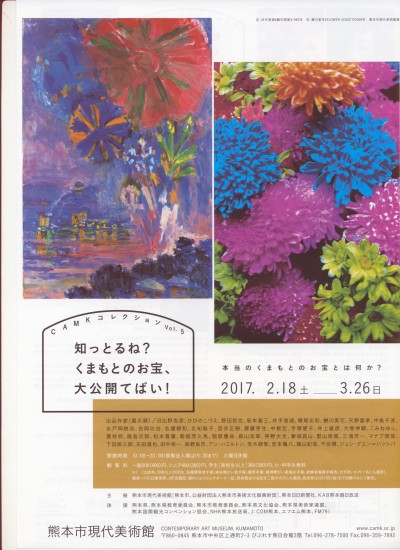 [holding summary]
An exhibition name: Is it CAMK collection vol.5 intellect っとるね? Treasure of Kumamoto, very much public てばい!
Period: From Saturday, February 18, 2017 to Sunday, March 26 (32 days) meeting place: Contemporary Art Museum, Kumamoto 2-3, Kamitoricho, Chuo-ku, Kumamoto-shi opening time: 10:00–20:00 (as for the exhibition entrance until 19:30) closed day: On Tuesday
View charges: The public: 500 (400) Japanese yen
     A senior: 400 (300) Japanese yen
     A high university student: 300 (200) Japanese yen
     The small, a junior high student: Free of charge
*(in) a booking, more than 20 groups
Various disability certificates (as for the physical disability certificate, the nursing notebook, the mind person with a disability welfare notebook, the health handbook of an A-bomb victim. I apply a ticket, JAF member's card, a green identification of carpet supporter, an identification of meeting of the art museum friend to one attendant toward the presentation on application), train, bus 1st.
The advance ticket is sold only in this museum until Friday, February 17.