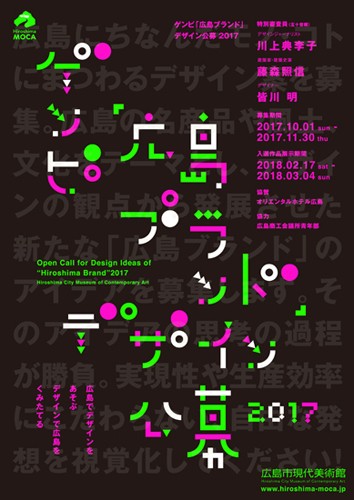 I charm Hiroshima effectively. The open program of the idea game.
"The gene bi"Hiroshima brand" design open call for participants" features the theme of an excellent article for sale and climate, culture of Hiroshima and raises the ideas of the new "Hiroshima brand" which developed it from the viewpoint of design and is an opening program to introduce a superior work to as an exhibition. You match a plan to show the charm in display effectively with a superior idea, and please apply.

It must arrive by from Sunday, October 1, 2017 to Thursday, November 30

I perform the examination by the Hiroshima City Museum of Contemporary Art staff and the special judge and pick a winner (around 8/set) and each prize. I announce the result on a special website on Friday, January 12, 2018.
(the order of the kana syllabary)
Upper part of a river celebration plum child (design journalist)
Terunobu Fujimori (architect, building historiographer)
Akira Minagawa (designer)

Winning around eight people/set include the following in that
3/set of special judge Prize
1/set of audience Prize
A night (on February 16, it includes breakfast) single than gift of money (100,000 yen), Oriental Hotel Hiroshima is conferred on all the winners as a certificate of merit and a supplementary prize by the art museum. A visitor vote between Sunday determines the audience Prize for from Saturday, February 17 to 25th.

One action displays a winning work chosen among an entry.
A session: From Saturday, February 17, 2018 to Sunday, March 4 meeting place: Hiroshima City Museum of Contemporary Art basement the first floor museum studio no charge for admission