Espace Louis Vuitton Tokyo is delighted to welcome and support worldwide-acclaimed Brazilian Artist Ernesto Neto for its fifth exhibition, "Madness is part of Life". Curator of his own show, Ernesto Neto reconfigures and reinterprets the art space's high-ceiling and glazed wall space through four newly-created pieces with support from Espace Louis Vuitton Tokyo.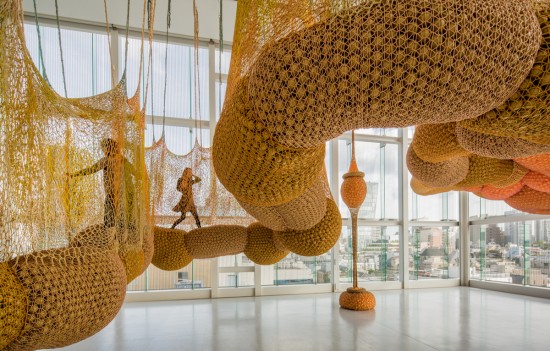 ©Louis Vuitton / Jérémie Souteyrat
Ernesto Neto began introducing his creation from the late 1980's and he is known for organic 3D works and installations made with unique materials including spices and stretching thin fabrics. The title of the exhibition "Madness is part of Life" illustrates the situation of the modern society, in which madness is concealed by political correctness and productivity. Neto raises a question whether such a thing as true "correctness" actually exists, and suggests that the small amount of madness which lives inside and around us can be necessary for the world that is filled with passion.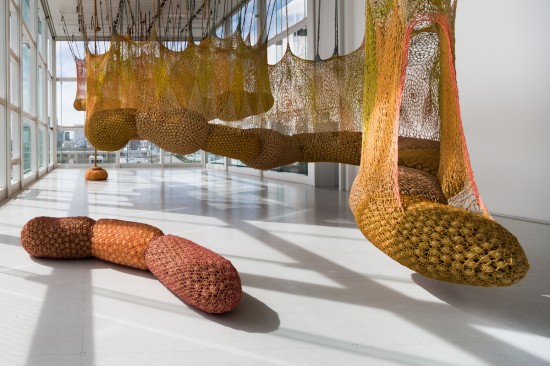 ©Louis Vuitton / Jérémie Souteyrat
The main piece of the exhibition, "A vida é um corpo do qual fazemos parte (Life is a body we are part of) is a large sculpture made by two parts: the aisle that expresses sperm and the living area that is supposed to be ovule. Visitors can walk through this animal-like installation, and by being lifted up close to the glass windows, they may experience some vertigo or feeling of being floating in the sky. This piece deals with stability, as well as discovery of how we move, desire, fear, and most importantly, of the fact our existence itself is part of a body that is "Life".
There will also be three other new works by Neto that will be introduced in this exhibition. While "Linhas pontos e patas" draws a line on the wall,"ToroMacroCopula" points to the ceiling, in an evocation of "Prumo" and "Peso", pieces from the 1980s, and "Pedras", an aggregation of balls in the same stretchy material, invite the visitor to see, sit, touch, walk, smell and think.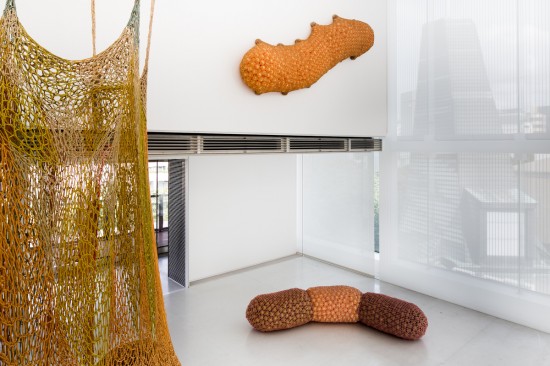 ©Louis Vuitton / Jérémie Souteyrat
Humanity is questioned through each and every one of these pieces. It is also referred to as "physically structured in the relation". For Neto, the combination of parts is not only a mental exercise but also a physical operation. It is to this physical dimension, and to this specific way of understanding and reflecting to the space and the life, that we invite you.
Along those four pieces, each investigating a different way to occupy and/or define the space, Evandro Machado shows a variation of a pre-existing work, Ferrohlo, a semi-fictional work set in a Rio urban scape.
About Ernesto Neto:
Ernesto Neto (1964- ) lives and works in his hometown Rio de Janeiro. He represented Brazil at the 49th Venice Biennale at the main venue Plateau of Humankind and in the Brazilian Pavilion, and has had a number of exhibitions at prestigious art institutions that include the ones in Japan at 21st Century Museum of Contemporary Art, Kanazawa, MIMOKA Marugame-City, and Museum of Contemporary Art, MOT, Tokyo.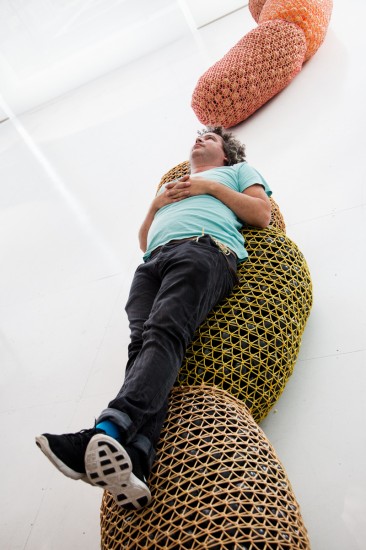 ©Louis Vuitton / Jérémie Souteyrat