In 2010 Massimiliano Gioni served as Artistic Director of the 8th Gwangju Biennale, "10,000 Lives" (September 3 to November 7), and in October was named Associate Director and Director of Exhibitions of the New Museum in New York, where he had previously been Director of Special Exhibitions. Additionally, as Artistic Director of the Nicola Trussardi Foundation, Milan, he organized the first comprehensive solo show at an Italian institution for American artist Paul McCarthy, "Pig Island" (May 20 to July 4) and edited the publication What Good is the Moon? The Exhibitions of the Trussardi Foundation (Hatje Cantz).
ART iT asked Gioni to reflect on the past year's events.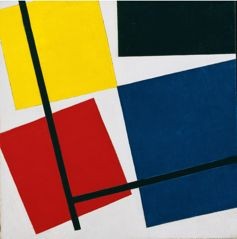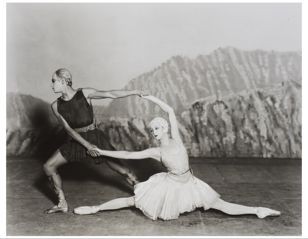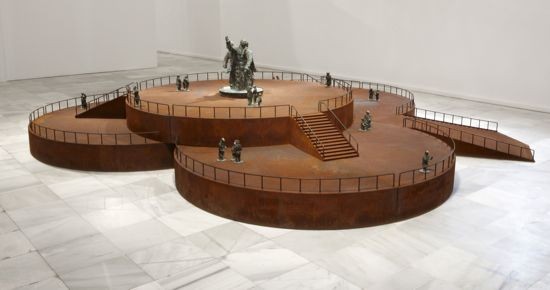 Clockwise from top left: Theo Van Doesburg – Simultaneous Counter-Composition (1929-30), oil on canvas, 50.1 x 49.8 cm; Serge Lifar and Alexandra Danilova in Appolon musagete, 1928, showing the first version of the costumes designed by Coco Chanel; Thomas Schütte – Grosser Respekt (1993-94), steel and bronze, 131 x 450 x 550 cm. 

ART iT: What are some of the exhibitions you saw in 2010 that made an impression on you? In particular, were there any exhibitions that informed – either through content or through curatorial approach – your outlook toward your own projects this year, such as the Gwangju Biennale?
MG: The bulk of my research for the Gwangju Biennale happened before 2010, particularly when it comes to the general premise, and also many of the exhibitions that served as important references for this show date much further back, to the 1990s, '70s and '50s.
In terms of great shows that I saw in 2010 I can certainly mention "Diaghilev and the Golden Age of the Ballet Russes, 1909-1929" at the Victoria & Albert Museum in London (September 5, 2010, to January 9, 2011), a beautifully installed and researched exhibition that also seemed so fresh in its combination of old-fashioned exhibition craftsmanship and high-tech presentation. Some other important solo shows stood out, and here I am citing randomly: Richard Hamilton at the Serpentine in London (March 3 to April 25); Felix Gonzales-Torres installed in the collection of the Beyeler Foundation in Basel ("Specific Objects without Specific Form," May 22 to August 29); Danh Vo at Artists Space, New York ("Autoerotic Asphyxiation," September 15 to November 7); Yang Fudong's 35mm film at the Ullens Center in Beijing (as part of "Breaking Forecast: 8 Key Figures of China's New Generation Artists," November 17, 2009, to February 28); Tino Sehgal at the Guggenheim in New York (January 29 to March 10).
In Europe, it was a great year for Thomas Schütte, with large-scale shows in Bonn ("Big Buildings – Models and Views," June 15 to November 1) and Madrid ("Hindsight," Reina Sofiá, February 17 to May 17). The Theo Van Doesburg show at Tate Modern was fantastic ("Van Doesburg and the International Avant-Garde," February 4 to May 16). Probably there are so many more exhibitions that I am forgetting.
This was also a year of art as seen through books, because I was so often in Asia that I couldn't see all the shows in Europe. For example, I think this was a particularly strong year for Maria Lassnig. Although I can't recall any specific show of hers, I saw great publications that made her stand out for me.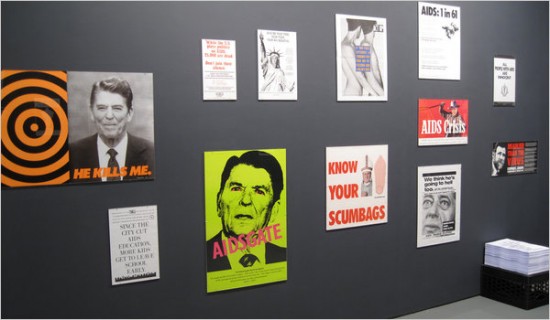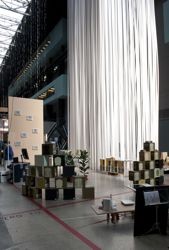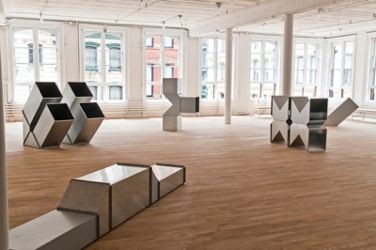 Clockwise from top: Installation view of "Act Up New York" at White Columns, New York; Installation view of Charlotte Posenenske at Artists Space, New York; Installation view of "No Soul for Sale: A Festival of Independents" at Tate Modern, London.
ART iT: Were there any particular themes that you feel informed the way people looked at, thought about and, of course, made art this year? What were some of the significant conversations that you feel took place?
MG: In New York, money always plays a major role in many conversations, or at least in certain conversations. It was actually very refreshing for me to spend a lot of time outside New York and particularly in Asia: New York can be so self-absorbed. Because of the recession, money has become even more of a central issue and obviously it has polarized discussions. At every auction week people wondered whether the art market would hold, and every time new records were set. Galleries both struggled and triumphed.
But what was very refreshing in New York was to see how important nonprofit spaces and independent initiatives continue to be for the city's cultural life. X Initiative closed at the beginning of 2010 after a year of amazing exhibitions produced essentially at zero budget (in full disclosure, it was run by my partner, Cecilia Alemani). Anthony Huberman opened the Artist's Institute, an exhibition space devoted to the study of a single artist for an entire exhibition season. White Columns put on a great show about the history of Act Up ("Act Up New York: Activism, Art, and the AIDS Crisis, 1987-1993," September 9 to October 23). The Artists Space changed its architecture and its program. I think these informal institutions and independent groups are what really shape the discourse in New York.
We also tried to celebrate this spirit on the occasion of Tate Modern's 10th anniversary in May 2010 with "No Soul For Sale" (May 14-16), a festival that hosted dozens of nonprofit groups from across the world.
ART iT: Were there any events this year that changed your perception of the overall direction of international contemporary art? Was 2010 a year for optimism, or concern?
MG: I can't really answer this question. It's a little too broad. Maybe the answer is in my response above.
ART iT: In this context, how do you assess your own activities this year, and what are your frontiers to explore in 2011?
MG: I have been recently named Associate Director of the New Museum, so for me 2011 will be not only about exhibition making but also about thinking of the logistics and the whole structure of the institution. I think that this will be the biggest change for me heading into the new year. And 2011 is also the centennial of Trussardi, the fashion brand that supports the Trussardi Foundation in Milan: it will be a year for celebrations and special projects, among them a sort of retrospective of all the exhibitions the foundation has organized since it was established in 1996.
Image credits: 1) Van Doesburg – The Sidney and Harriet Janis Collection, 1967, 
Museum of Modern Art, New York; 2) Appolon musagete – Photo Sasha, © V&A Images; 3) Schütte – De Pont Museum voor Hedendaagse Kunt, Tilburg, photo Joaquín Cortés/Román Lores, courtesy Museo Nacional Centro de Arte Reina Sofiá, Madrid. 4) "Act Up" – Courtesy White Columns, New York; 5) Posenenske – Photo Daniel Perez, courtesy Artists Space, New York; 6) "No Soul for Sale" – Tate Photography.