Mike Kelly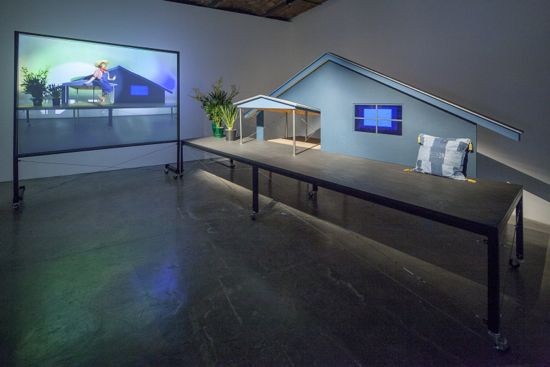 Filling the entire rotating exhibition space of the newly renovated Stedelijk Museum, this large-scale Mike Kelley retrospective brought together over 200 works from across the artist's career, from the "Birdhouse" series dating from his student days at the California Institute of the Arts in the 1970s to one of his final installations, Mechanical Toy Guts (1991/2012). That Kelley had been involved in its organization only gave the idea of this retrospective exhibition an added poignancy in light of the artist's suicide in January 2012.
Widely exhibited in solo and group exhibitions, Kelley's works have enjoyed their fair share of attention, but with them gathered together all at once it was stunning to see, in the diversity of media used, and the diverse modes of expression and themes reflected, the sheer breadth of his practice and the ideas that inform it. Terms like anti-authoritarian, provocative and American pop culture are often attached to Kelley – and are certainly applicable – but such categorizations belie the baffling complexity of his works' construction and the critical gaze directed at issues including art, education and enlightenment principles upon which they are based.
First presented in 1988 at the Renaissance Society in Chicago and subsequently adapted for other venues, Pay for Your Pleasure offers a glimpse of that multi-layered thinking. The work comprises a passageway lined on each side with colorful, wall-sized paintings of historic, male, Western authors, artists and philosophers – Balzac, Degas and Foucault among them. Appended to the portraits are quotations by the portrait subjects on the passion and search for authenticity in art and its overlaps with madness and criminality. Having observed the portraits and read the quotes, viewers ultimately encounter at the end of the passageway a work of art made by a notorious local criminal, and a donation box for the support of victims of violent crimes. Taking these comments on madness by famous intellects at face value only to encounter art born from the tragedy of madness, viewers are confronted with an appalling sense of guilt. The donation box at the end turns upon the almost hypocritical morality of the otherwise responsible viewers of the work. In doing so, this installation prompts reflection on the nature of the redemption that is supposedly promised by art, testifying to the dual senses of both revenge and restoration implied in the term "payback."
Presented at Gagosian Gallery in New York in 2005, the multimedia installation Day is Done is comprised of videos based on images of school plays and Halloween, Christmas and St Patrick's Day celebrations that Kelley collected over several years from American high school yearbooks and local newspapers. In this work Kelley painstakingly dissects and reconstructs the ritual culture of religious festivals that occur beyond the context of the church as a kind of unique American folk culture or true popular culture. In the creepy visual elements of Goths, vampires and devils, and in their staging in the source photographs, the work shows, in a way that goes beyond superficial readings, that these rituals and the structures that support them are an aspect of art's social function. In dissecting mass culture, Kelley reveals the structure behind the personal memories we have regarding culture. Appearing to be placed within the culture, it is through a logic of displacement that Kelley establishes our distance from mass culture; entering a space where sculpture, video, installation elements and music all mix together, one becomes physically implicated within the work, inspiring both a sense of alienation and an awareness of that structure itself.
With its combination of large-scale projects such as Kandor (2000/2007-12), a recreation of the eponymous capital of Superman's home planet, and Educational Complex (1995), which converts his childhood school into a series of maquettes, with countless drawings and other works that flesh out the installations and suggest an aspect of his everyday practice, this exhibition ultimately clarified the tireless creative spirit that Kelley applied to his art.
Details: December 5, 2012-April 1 at the Stedelijk Museum Amsterdam; touring to Centre Pompidou, Paris; MoMA PS 1, New York; and the Los Angeles Museum of Contemporary Art. Image credit: Installation view, MoMA PS1, 2013. Photo Matthew Septimus.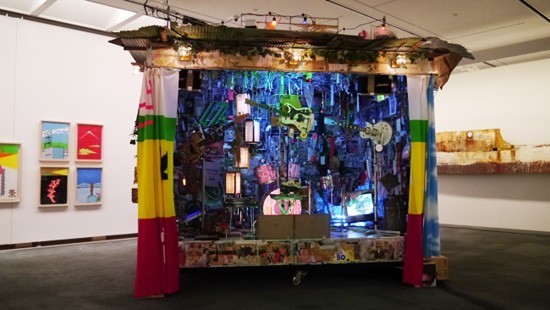 A prolific, protean artist, Shinro Ohtake has proven over the course of his career to be an inexhaustible reservoir of works and ideas. While the massive "Zen-Kei 1955-2006" exhibition in 2006 filled all three floors of the Museum of Contemporary Art, Tokyo, with a radically obsessive, chronological overview of Ohtake's artistic development from childhood to the present, subsequent exhibitions have found no shortage of possibilities for reinterpreting his practice. In 2013, concurrent projects in the Setouchi region combined to form a kind of mega-exhibition matching "Zen-Kei" in scope, while also producing new thematic readings of his overarching concerns and artistic vocabulary.
The primary draw for many visitors was perhaps the chance to see Ohtake's work for the Karlsaue Park at last year's Documenta 13, Mon-Cheri: A Self-Portrait as a Scrapped Shed (2012), installed at the Marugame Genichiro-Inokuma Museum of Contemporary Art as part of the exhibition "NewNew." Even transposed to the museum's main gallery, with small, green-toned canvas studies arranged on an overlooking wall to evoke the forest environs in Kassel, the work did not disappoint, communicating the sheer physicality that goes into the accumulation and composition of materials for Ohtake's collage and assemblage pieces. Suggesting a museum within a museum in Marugame, the "Self-Portrait" also underscored how such works establish within the relations between individual, society, culture and industry a counter space that is both intensely personal and coolly reflective. Also of note here were the handsome series of abstract collages, "Time Memory" (2010- ), which articulate the archaeological sense of accumulated time that informs the iconic "Scrapbooks" project (1977- ) included in this year's Venice Biennale, as well as the three-story high structural work in the museum's atrium, Time Memory / BIBAI (2013), with pale-blue neon highlights accentuating the frame of a rusting bowling-pin-shaped tower.
Covering the years 1964 to 2011, "Okusoku: Velocity of Memory" at the Takamatsu City Museum of Art complemented the "NewNew" exhibition with historical perspective. Works here were grouped according to lyric themes such as "Distant Views of Memories," "Afterimages: Inner Exposures," and "Africa: Reverberating Memories." The inclusion of experimental films and photographs as well as 96 volumes of previously unexhibited sketchbooks underscored the idea of Ohtake as a restless observer of the world around him while also elaborating upon the metaphoric connection the artist has previously described between his approach to art and the photographic process, exemplified in the abstract "Retina" series of mixed-media "paintings" from the early 1990s, made using photographic emulsions. Photographs provide the basis for sketches and paintings while photographic reproductions of paintings and other works are incorporated along with mass-media images and packaging into collages and assemblages in a voracious cycle of visual input, output and reuse. Implicit in the "Velocity of Memory" is a vision of the event horizon where the speed at which we can transfer and preserve our visual, or, indeed, poetic impressions into concrete artifacts meets the speed at which memory itself disappears.
Velocity, of course, is also contingent upon kinetic factors such as mass and displacement, and it is this inherently sculptural aspect of Ohtake's practice which is often overshadowed by the more easily recognizable imagery of his media sampling. Along with Mon-Cheri at Marugame and the pavilion/stage for an automated band, Dub-Hei & New Chanel (1999), at Takamatsu, the new multimedia environment Mecon (2013), made for the Setouchi Triennale in a defunct elementary school on the island of Megijima, helped to redress this issue. One of the most fascinating recent developments in Ohtake's practice has been his interest in plants, as seen in the cactus greenhouse of the Naoshima Bath I ♥ Yu (2009), and continued this time in collaboration with "plant hunter" Seijun Nishihata. Towering over the school courtyard, the centerpiece of Mecon was a gargantuan buoy, which had been painted a shocking red, nested on top of which was a large palm tree. The courtyard was further modified with other botanical and structural interventions, with the exterior of the shuttered school building painted a lurid lime green. Later incorporating sound collages of vintage radio songs and noise as well as an installation of scores of neon lights stuck to a 10-meter-high pole, this project expanded the iterative creative process behind the "Scrapbooks" to landscape-sized, multi-sensory proportions, with Ohtake continuously revising the work over the course of the Triennale's run across the Spring, Summer and Autumn seasons.
Details: Mecon, March 1-April 21; July 20-September 1; October 5-November 4 at Megijima, Setouchi Triennale 2013. "NewNew," July 13-November 4 at Marugame Genichiro-Inokuma Museum of Contemporary Art. "Okusoku: Velocity of Memory," July 17-September 1 at Takamatsu City Museum of Art. Image credit: "Okusoku," installation view at the Takamatsu City Museum of Art. Photo ART iT.
Kodai Nakahara: Migration or Retrospective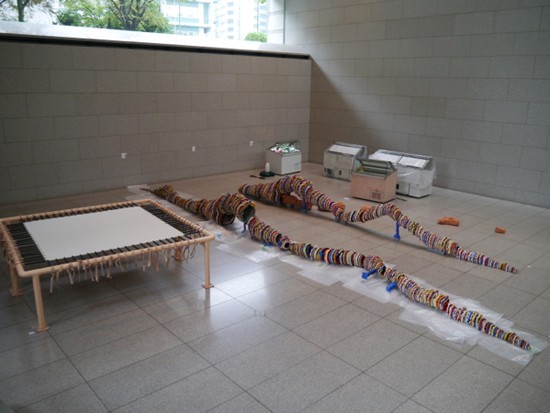 Although artists around the world are increasingly challenging it as a format, the fundamental appeal of the retrospective exhibition is that it offers viewers the chance to see and assess in person a coherent representation of an artist's practice otherwise dispersed across time and space. In his first large-scale exhibition at a public institution in Japan, "Migration or Retrospective," Kodai Nakahara managed to both challenge and reinforce the significance of the traditional retrospective model. Nakahara made his name as a rising art star in the 1980s and '90s, first for sculptural installations of waxy, colored material massed into odd, irregular forms that filled the gallery space, then for gigantic constructions painstakingly made out of Lego bricks. However, he gradually withdrew from the mainstream and over the past decade has only exhibited sporadically at smaller venues. For a younger generation of art viewers, Nakahara has taken on almost mythical status, one that has only been confused by terms like "post-Mono-ha artist," or by the frequent citation of his Nadia (1991-92), for which he assembled and displayed a store-bought plastic figurine of the eponymous anime character, as the starting point of so-called otaku art.
This exhibition at the Okayama Prefectural Museum of Art was the first chance for many to encounter the artist up close, but the promise of obtaining some kind of conclusive understanding of Nakahara's career was undermined by the fact that many of his works were destroyed in a warehouse fire in 2010. The keywords here were thus restoration, reconstruction and, indeed, simulation (a theme made explicit in the Japanese exhibition title, Jiko mohou). Sprawling across the museum's lower level galleries, the exhibition had the air of a studio or gigantic work-in-progress, starting from the entry atrium where two versions of the same piece, Untitled (Lego Worm) (1990/2013), lay side-by-side like recently excavated paleontological specimens: on the one hand was the completed original, on the other a recreation being assembled section-by-section. An unfinished, archaeological aesthetic of surfaces and substrata – the play of explicit and latent appearance – emerged as a metaphoric theme, both in the display, for example, of scores of plastic model kit boxes stacked together in a vitrine, or in the presentation of a collection of undeveloped film rolls, as well as in the sense that works such as Nakahara's remote-controlled cars made of Lego bricks and other more eccentric materials, and the infamous Nadia, too – appended with a note denying any connection to otaku culture – had escaped the context of contemporary art and were now being rehabilitated in a somewhat speculative way, as though the artist himself were approaching his works from a distance. The works became doubly readymade, doubly alienated from what they signify both as found materials and as "art" – a point underscored by the pairing of 3 Legos I made for my child (replica) (2008) and Lego my child destroyed and rebuilt (original) (2008). Rather than confirming the context behind Nakahara's work, this exhibition destabilised the idea of an authorial identity waiting to be historicized; destabilised the space of art itself as a kind of eternal present or "contemporary." The English title, "Migration or Retrospective," thus takes on a provocative ambiguity: if at first it conjures the image of Nakahara, and his works, moving through time and space, it also implies that the retrospective viewpoint itself is constantly shifting, and necessarily relative.
Details: September 27-November 4 at Okayama Prefectural Museum of Art. Image credit: "Migration or Retrospective," installation view at the Okayama Prefectural Museum of Art. Photo ART iT.
Return to Index
Things Worth Remembering 2013