Tadashi Kawamata
'Field Sketch: Tadashi Kawamata Early Photo Works'
February 4 – March 21, 2011
NADiff a/p/a/r/t, Tokyo
Misaki Kawai
'Enpitsu Taisou'
February 5 – March 12, 2011
Take Ninagawa, Tokyo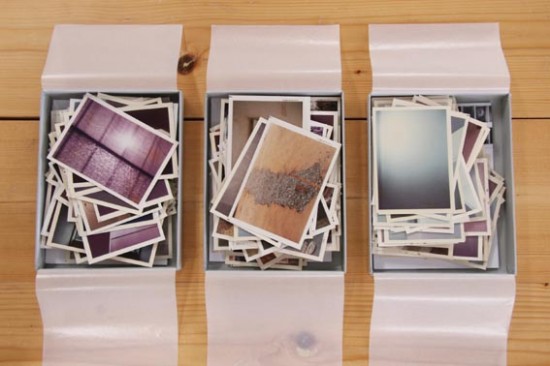 Tadashi Kawamata – Field Sketch (2010) by edition nord.
With not one but two exhibitions in Tokyo related to their publications, the independent art press schtucco/edition nord are currently enjoying some well-earned visibility. At NADiff a/p/a/r/t, the basement gallery of the eponymous art book distributors in Ebisu, "Field Sketch: Tadashi Kawamata Early Photo Works" features a wall-sized grid of snapshots taken by the artist in his early 20s. The exhibition title is self-explanatory: small format prints, these photos find Kawamata investigating architectural exteriors and interiors, land forms and street scenes, all themes that seemingly have gone on to inform his practice of structural interventions into the daily environment. On a facing wall of this small space is a ledge with a sample of edition nord's handsome three-part boxed set of reproductions of the photos, printed on card stock in colors that exactingly reflect the faded tones of the vintage prints. Grouped under the headings "Suspended Room," "Found Objects" and "Reflection and Transmission" and presented in loose piles, these replicas are fun to thumb through, and exaggerate the anachronism of their original counterparts in an age when such fieldwork is now conducted almost entirely in digital formats, often never to escape the confines of the hard drive.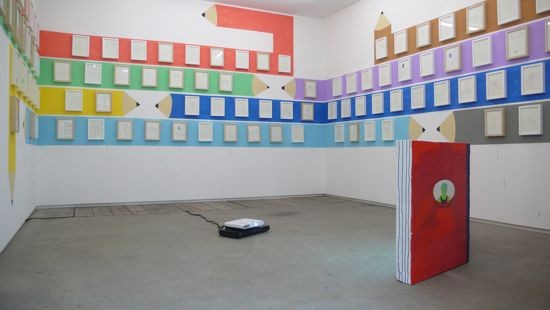 Misaki Kawai – Installation view of "Enpitsu Taisou" at Take Ninagawa, Tokyo, 2011. Photo ART iT.
At Higashi-Azabu's Take Ninagawa, "Enpitsu Taisou" is a site-specific installation by Misaki Kawai, who over the past year has been making over a drawing a day for her eponymous, 500-page artist book (entitled Pencil Exercise in English). Here, a selection of 123 framed, notepad-sized drawings made for the book are arranged in a grid conforming to Kawai's wall-painting of gargantuan, multicolored pencils that encircle the space at different levels. As with Kawamata, these works capture a point in the artistic process where ideas and execution ambiguously overlap. Some drawings suggest studies for Kawai's uniquely ribald take on portraiture, as with one non-sequitor piece depicting a woman whose breasts spill out of her aerobics outfit. Others record progressions of language play, with bastardized variations on brand names and logos like "Nice." In the center of the installation, a free-standing oversized bricollage sculpture of an open book serves as a projection surface for a short animation inspired by the drawings, evoking the creative loop that feeds back from one project to the next. Available at the gallery, the book itself is enjoyably straightforward, with one drawing per page and no text aside from end credits.