'Alternative Humanities'
April 29 – August 3, 2010
21st Century Museum of Contemporary Art, Kanazawa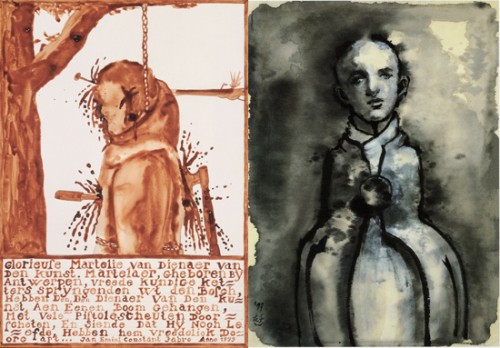 Left: Jan Fabre – Self-portrait of the hanged (1999). Fondation Raimunda Munoz Ortega, Mula (Spain). Photo Attilio Maranzano, © Angelos / Jan Fabre. Right: Katsura Funakoshi – Drawing for "Touch of Winter" (1997). Collection of the Artist. © Katsura Funakoshi.
"Alternative Humanities" spotlights two established artists who innovatively engage with the artistic traditions of their respective countries. From Belgium, Jan Fabre frequently references the paintings of the Flemish Masters in his drawings, installations and performance pieces. From Japan, Katsura Funakoshi makes carved wooden figures that share distinct parallels with Kamakura-period votive sculpture, but also reflect contemporary views of the body and its depiction.
In Kanazawa, the exhibition evolves through a series of correspondences and contrasts: there are rooms for each individual artist, rooms where each artist is paired with historical masterpieces and a final room where the two artists' works as well as historical masterpieces are displayed all together. Despite its potential for heavy-handedness, this dialectical progression is energized by the museum design by the Japanese architectural firm SANAA, with its winding floor plan and its dramatic shifts in scale from intimacy to expansiveness.
One deep rectangular room features a loose phalanx of Funakoshi's recent sculptures, each lit by a single exposed bulb hanging from the ceiling high above, with the artist's preparatory drawings for the sculptures presented in a towering salon-style installation on the far wall. Generally cropped from the waist up and imbued with both life-like presence and surreal details, the sculptures exude an eerie, unsettling effect. Suffused with filtered natural light, another room showcases Fabre's installation Scissor House (1986), two monumental, sarcophagus-like wooden constructions covered in Bic ballpoint pen markings, surrounded by large-scale ballpoint pen drawings on paper.
As the exhibition title suggests, historical works such as Kawanabe Kyosai's loosely sketched Meiji-period scroll following in stages the death of an old woman underscore both artists' interest in themes relating to life and mortality, as well as their ability to find unique approaches to ages-old concerns.