'The Tropics: view from the middle of the globe'
March 13 – June 12, 2010
The Jim Thompson Art Center, Bangkok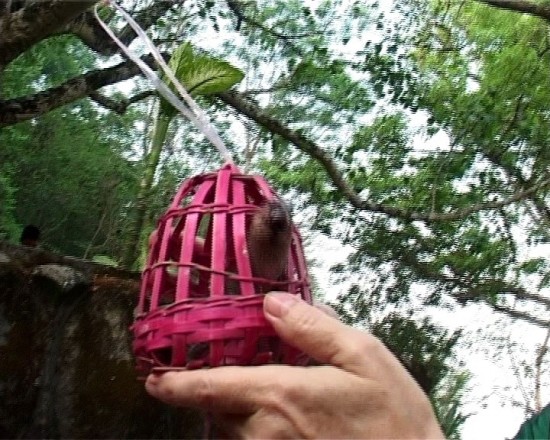 Vong Phaophanit – Still from the video installation All That's Solid Melts into Air (2005/06). © Vong Phaophanit.
Held in Paris in 1989, curator Jean-Hubert Martin's exhibition "Magiciens de la Terre" was a watershed reconsideration of Euro-American Modernism's hierarchical view of world culture. Including 50 artists from the West and 50 artists from the rest of the world, the exhibition attempted to present all on equal footing. While the exhibition has since undergone much-deserved critique, it helped usher in the current globalization of contemporary art.
Currently on view at Bangkok's Jim Thompson Art Center after having made stops in Brasilia, Rio de Janeiro, Cape Town and Berlin, "The Tropics: view from the middle of the globe" is a latter-day response to "Magiciens." Instead of working across a geographical divide, the exhibition attempts to reconsider the European concept of "the tropics" from both "native" and "foreign" viewpoints, as well as through both historical and contemporary works.
Works on display in the Bangkok version of the exhibition, which has been condensed from prior iterations, range from German Marcel Odenbach's roving video tour through the backstreets of Calcutta, Disturbed Places (2007), to Singaporean Sherman Ong`s study of teacher-pupil relations between two classical Javanese dancers, Exodus (2005), and a selection of 20th-century woven fabrics from countries including Ghana, Guatemala, Panama and the Golden Triangle region of Laos, Myanmar and Thailand.
Curated by Alfons Hug, Peter Junge and Viola König (all of whom are German), the exhibition ultimately takes an ambivalent stance toward its subject. Does it reinforce the Eurocentrism of the original cliché of "the tropics," or does it rehabilitate that cliché into a new platform for discovering sympathies between different geographic and temporal contexts? The scope of the theme seems a little outsized for the smallish venue, although Jim Thompson's legacy as an American expatriate who revitalized – and reinvented – the Thai silk industry adds a level of local resonance to the issues under consideration.