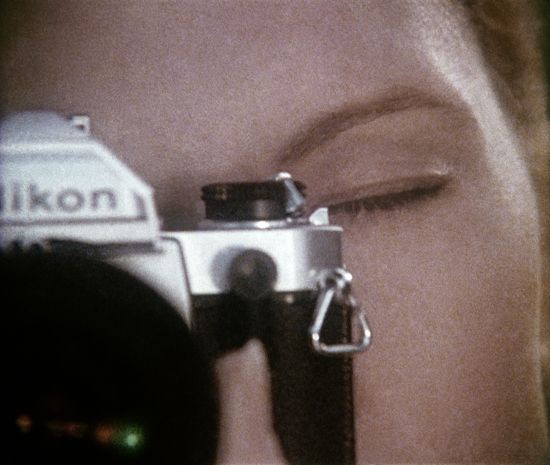 Anne Collier – Woman with a Camera (35mm) (2009), slide projection. © Anne Collier, courtesy Anton Kern Gallery, New York.
Taking the theme "10,000 Lives," this year's 8th Gwangju Biennale is directed by Massimiliano Gioni, a curator at the New Museum of Contemporary Art in New York, and features works by 134 artists and groups spanning the years 1901 to 2010. The theme references an eponymous 30-volume epic poem by the Korean poet and writer Ko Un. Ko was active in the 1970s and '80s Korean democracy movement and jailed four times over that two-decade period. He came up with the idea for his epic poem, which comprises lyrical portraits of every living and historical person that has influenced him, when jailed in 1980 following the Gwangju Uprising in which citizens clashed against forces representing the country's then military dictatorship.
Gioni's exhibition, which opened to the public on September 3, presents an eclectic selection of both era-defining art stars, relative unknowns and art world outsiders, including Maurizio Cattelan, Roni Horn, Jeff Koons, Gustav Metzger, Sturtevant and Andy Warhol as well as Ming Wong and Shinro Ohtake, who were both recently profiled in ART iT. Yet the practicing artists themselves are potentially a mere sideline to another current in the exhibition that looks beyond the contemporary art canon. Also included will be Canadian collector Ydessa Hendeles' Teddy Bear Project (2001-03) archive of images of people with teddy bears, as well as black-and-white mug shot photographs of prisoners at Cambodia's Tuol Sleng Prison who were then executed by the genocidal Khmer Rouge regime in the late 1970s.
ART iT corresponded with Gioni while he was preparing the exhibition to learn more about the theme and his approach to selecting the artists.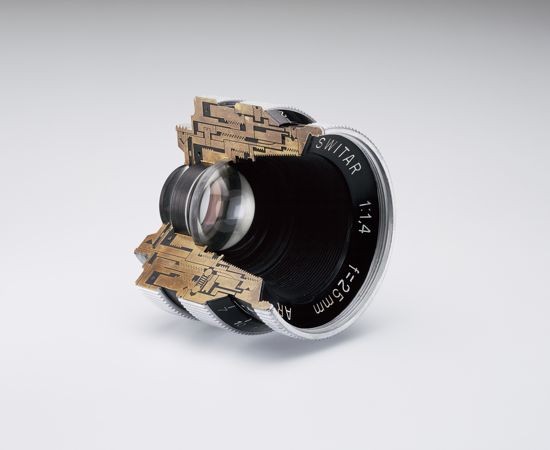 Christopher Williams – Cutaway model Switar 25mm f1.4 AR. Glass, wood and brass. Douglas M. Parker Studio, Glendale, California, November, 17, 2007-November 30, 2007 (2008), C-print, 85 x 95 x 4 cm. © Christopher Williams, courtesy David Zwirner, New York.
ART iT: The Gwangju Biennale has a reputation as one of Asia's most respected international art festivals. How has the experience of preparing this year's edition been for you?
MG: I think for anybody who is curious about culture in the 21st century, it's important to start in Asia. My predecessor Okwui Enwezor often spoke of his biennale in the context of "the great Asian century." Personally, I have tried to learn as much as I could about contemporary art in Asia, but I have also extended the spectrum of my research to include works from the past – namely from 1901 to the present – and to include cultural artifacts or objects that are not strictly art. "10,000 Lives" aspires to be a sort of temporary museum devoted to image making and image consumption. Obviously it cannot effect a systematic research: the territory is too vast. The exhibition proceeds by samplings and examples, but it also cultivates history and memory, as much as it focuses on the present and the future of art.
ART iT: To what extent have you considered the context of Gwangju, in both Korea and the broader Asian region, as well as previous editions of the biennale?
MG: When working on large-scale exhibitions and biennials, it's easy to fetishize the local audience. Local audiences – as any audience – are usually more complex than we recognize them to be. Too often in the name of local audiences we can become patronizing or naïve. I believe an exhibition also has a responsibility to take people somewhere else. I don't care about art that simply reflects the territory where it was made. I care about where art takes us, I care about art that can also help us move beyond our origins.
Having said that, Gwangju has had a major impact on my thinking for the exhibition. This year is the 30th anniversary of the Gwangju Uprising, the 1980 democratic revolution that was suppressed by the military government. The Gwangju Biennale itself was created in the 1990s to commemorate those events, so this year's edition is particularly important. I worked hard to identify themes and topics that could connect the local history of Gwangju with current preoccupations and topics that artists all over the world are investigating. The choice of the title – Maninbo – or, in English, "10,000 Lives" – connects directly to the history of Gwangju: Maninbo is a 30-volume book that has been written by the Korean writer Ko Un. He started it when he was imprisoned for two years for his participation in the Gwangju Uprising. It's a book comprising 4,000 poems in which Ko Un portrays every single person he met in his life. The title serves as a metaphor and inspiration for an exhibition that looks at both the life of people as told by the images they live behind and the lives of images themselves. We live in a world so over-populated by images that images have taken on a life of their own, to the point that it is time we ask ourselves, what do images want?
ART iT: The artist list for the exhibition has some interesting juxtapositions, such as James Lee Byars with Gustav Metzger, and Jeff Koons with Andro Wekua. How do you see these different artists coming together, and to what extent does "10,000 Lives" build upon previous exhibitions you've curated such as "Unmonumental" and "After Nature"?
MG: To an extent, "10,000 Lives" is a straightforward theme show: I was tired of seeing biennials that are just a list of hot new names, so I made a concerted effort to identify a theme or a series of themes that I hope will appear to be relevant to the public and to the artists. And I wanted to tackle problems that are fundamental to art making and to ourselves: that's what inspired the idea of organizing an exhibition that deals with our need to create images as substitutes of ourselves and our loved ones. "10,000 Lives" is about this primal need and about how such a primal need has become an obsession in our contemporary culture: image-making is not only one of the world's leading industries and global pastimes, it seems to be an occupation that literally keeps us alive.
I think theme shows can be most interesting when they manage to expand the curatorial research in unexpected directions: the theme can guide the research, but then the art has to take over or complicate the theme, reveal its complexity, show its richness and the richness of art, which should never be reduced to a simple illustration of a theory. That might explain the strange combinations that you identify in the list of artists. For example, in an exhibition about figuration and portraiture, I think it's interesting to look at Carl Andre and juxtapose his work with the photos from the Tuol Sleng prison in Cambodia.
In this sense, "10,000 Lives" does connect with "After Nature," mostly because both shows incorporated works that come from less orthodox or sanctioned art worlds, and because both shows have a sort of trans-historical, even encyclopedic breadth. Of course they are very personal and partial encyclopedias – but aren't they all?
Here again, Ko Un can serve as an inspiration. His Maninbo is a personal history of the world, one that teaches us that every life is worth remembering. As with "After Nature," "10,000 Lives" is not about establishing a canon or listing the hottest artists today. "After Nature" was inspired by the idea of fiction – it was an attempt at a visual novel. "10,000 Lives" is more of a gigantic essay, or an atlas, a catalogue, a taxonomy – but a taxonomy that is complicated by many exceptions. Actually I think the best way to describe it is probably as a gigantic family album – one that cannot avoid being dysfunctional, of course.
The Gwangju Biennale continues at multiple venues through November 7.
Related:
Ming Wong: A Relationship of Like and Unlike Terms
Shinro Ohtake: An Indexical Survey of Tokyo in the Age of Cinema