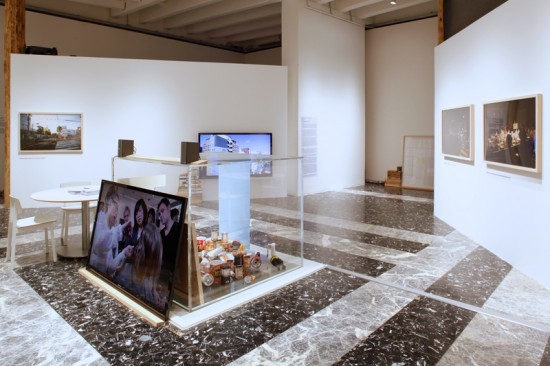 Koki Tanaka – "abstract speaking – sharing uncertainty and collective acts," installation view, the Japan Pavilion, 55th Venice Biennale, 2013. Photo Keizo Kioku, courtesy the Japan Foundation.
Koki Tanaka has been named the Deutsche Bank Artist of the Year 2015, it was announced Jul 4.
Born in Tochigi in 1975 and currently based in Los Angeles, Tanaka is known for his projects – often documented through video and photography – creating unusual interventions into the daily urban and social landscape. These include asking a group of nine hairdressers to cut a model's hair at the same time, and asking a group of five pianists from varying disciplines to compose a new piece together. In 2013 Tanaka was Japan's representative at the 55th Venice Biennale, where his project, "abstract speaking – sharing uncertainty and collective acts," which obliquely addressed social conditions in Japan following the Mar 11, 2011, earthquake, tsunami and Fukushima nuclear accident, was awarded a special mention by the jury.
The Deutsche Bank Artist of the Year includes a solo show at the Deutsche Bank KunstHalle in Berlin. Scheduled for 2015, Tanaka's show will be his first major solo presentation in Europe. He follows Wangechi Mutu, Yto Barrada, Roman Ondák, Imran Qureshi and Victor Man as the sixth artist to be so honored.
In a press release, Hou Hanru, the artistic director of MAXXI in Rome who also serves on the Deutsche Bank Global Art Advisory Council, described Tanaka as a "savvy mobilizer of collective actions [who] encourages sharing among participants to produce a common sense of cooperation and creativity." Along with Hou, the curators Okwui Enwezor, Udo Kittelmann and Victoria Noorthoorn were also involved in deciding upon the Artist of the Year.
Tanaka is well-known to ART iT's Japanese readers for his multi-part, ongoing series of correspondences with other artists, curators, critics and organizers in the Japanese artworld, "Shitsumon suru" (Asking Questions), a selection of which were released in book format by ART iT in 2013 under the title Tanaka Kouki Shitsumon suru: So no 1 (2009-2013).

Related:
Koki Tanaka: The Center Cannot Hold
Shitsumon suru Index (JP only)