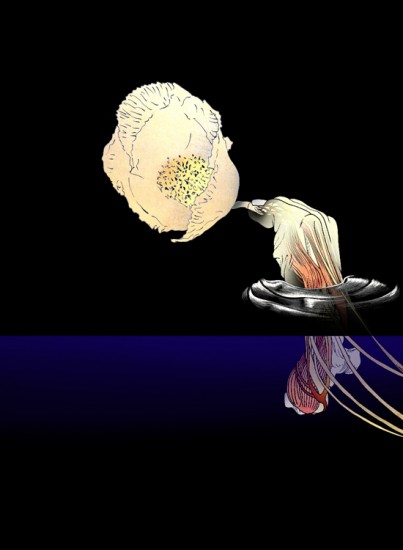 Still from Blow (2009), video installation, © Tabaimo, courtesy the artist and
Gallery Koyanagi, Tokyo.
The Japan Foundation revealed on June 5 that the media artist Tabaimo will represent Japan at next year's 54th Venice Biennale. Known for hand-drawn animations that update the imagery of ukiyo-e wood-block prints to explore themes related to contemporary Japanese society, Tabaimo was selected for the 2011 Japan Pavilion by commissioner Yuka Uematsu, a curator at the National Museum of Art, Osaka.
Uematsu told ART iT that the working theme for the pavilion is "Trans-Galapagos Syndrome," and that Tabaimo plans to make works that will reflect global perspectives on contemporary art while preserving the unique characteristics of Japanese culture. More details about the pavilion and the selection process are forthcoming.
On July 10 the National Museum of Art opens an exhibition of works by Tabaimo, "Danmen," which originated at the Yokohama Museum of Art in late 2009. "Danmen" is the artist's first solo show in seven years in the Kansai region, where she studied at Kyoto University of Art and Design. Tabaimo previously exhibited at Venice in 2007, when she was included in the centerpiece exhibition curated by artistic director Robert Storr, "Think with the Senses – Feel with the Mind. Art in the Present Tense."