This article was originally published Mar 15.
Last updated Apr 13.
We appreciate the expressions of concern and sympathy from our friends and colleagues overseas following the Tohoku Pacific Earthquake and Tsunami that struck on Mar 11 and the ongoing nuclear crisis at the Fukushima I Nuclear Power Plant (also known as the Fukushima Daiichi power plant). Many of you have asked how to assist in disaster relief. In response we are compiling a running list of ways to help.
– Architect Shigeru Ban's drive to construct cardboard partitions for survivors at relief centers in the Tohoku region. For more information see here.
– The Great East Japan Charity Art Sale, Apr 16-17 at Mori Art Museum. Featuring around 20 works by 20 artists, the sale will be held in Gallery 1 of the museum. Admission to view the works will be free of charge. Participants include Ilya & Emilia Kabakov, Yayoi Kusama, Yoshitomo Nara and Yoko Ono, with works ranging in price from JPY 100,000 to 500,000. All proceeds to be donated to the Japanese Red Cross Society. For more information, see here.
Mori Art Museum
http://www.mori.art.museum/eng/
– Artist Emiko Kasahara's drive to raise money for NPO Kokkyo naki Kodomotachi (KnK, Children without Borders). An edition of the work Maria & Eve – loop – will be sent to those who contact the artist and donate USD 150 or more (80 editions available).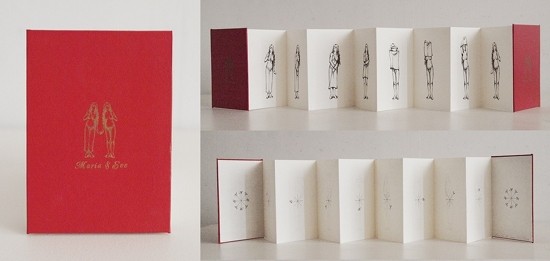 Emiko Kasahara, Maria & Eve – loop –, 1995. Handmade accordion book, offset printing, 8 pages, 15 x 10.8 x 0.8 cm. Signed and numbered, limited edition of 180. Photo courtesy Emiko Kasahara.
For more details, contact Emiko Kasahara at ek.helpjapan[at]gmail.com.
– Custom Aeron chairs designed by artists and architects for Herman Miller Japan and more trees intermediary organization (chairman: Ryuichi Sakamoto). Participants: flower artist Makoto Azuma; architect Yosuke Hayano; architect Yuko Nagayama; artist Kohei Nawa; artist Yasuhiro Suzuki. Each unique chair retails for JPY 500,000. Private view to be held Mar 31 at Herman Miller Store, Marunouchi, in conjunction with Art Fair Tokyo. Chairs will remain on display Apr 1-21, with right to purchase determined by lots Apr 21. Originally intended as a benefit to support reforestation projects by more trees. A specific beneficiary for earthquake relief has yet to be named.
Herman Miller Japan
http://www.hermanmiller.co.jp/en/index.html
more trees
http://www.more-trees.org/eng/
Art Fair Tokyo
http://www.artfairtokyo.com/en/
– Silent Art Auction in Kiyosumi for Northeastern Japan. Organized by galleries in Tokyo's Kiyosumi art complex including Tomio Koyama, Taka Ishii, Miyake Fine Art, ShugoArts, Hiromi Yoshii and Kido Press. Works on view Apr 14-16 at Tomio Koyama Gallery; bids close 7pm, Apr 16. Absentee bids accepted. Participating artists include Nobuyoshi Araki, Stephen Balkenhol, Elmgreen & Dragset, Enlightenment, Tom Friedman, Atsushi Fukui, Taro Izumi, Yoshitomo Nara, Richard Tuttle and Cerith Wyn Evans. All proceeds to be donated to the humanitarian aid organization Japan Platform. For more information, description of lots and absentee bid forms, see here (currently JP only, EN and CN content coming soon).
Japan Platform
http://w3.japanplatform.org/E/work/index.html
– Mar 19 charity auction of artist designed wallpapers for computer desktops and mobile phones, organized by art writer Kiki Kudo. Participating artists include Aki Goto, Brian Degraw, Nick Relph, Tomoo Gokita, Zongamin and others. All proceeds to be donated to the Japanese Red Cross Society.
COMPACT AID!—The Charity Auction for the Earthquake, Tsunami, and Nuclear Disaster in Japan
March 19, 2011 3:00PM at CULTIVATE (Tokyo)
http://www.cltvt.org/
For more information:
http://www.cltvt.org/event/2011/03/16/302.html
– "NOART," Mar 30 to Apr 28 at Taka Ishii Gallery, Tokyo. Organized in commemoration of the victims and survivors of the Tohoku earthquake and tsunami, this exhibition will comprise only a single donation box in the center of the gallery. It replaces a previously scheduled solo exhibition of work by Marijke van Warmerdam. Donations will be remitted to the Japanese Red Cross Society. For more information see here.
ART iT accepts no responsibility for the fiscal reliability of the above listed charity drives, although we can confirm that they are being organized by respected artists and art professionals. We will do our best to vet listed charities as information allows.