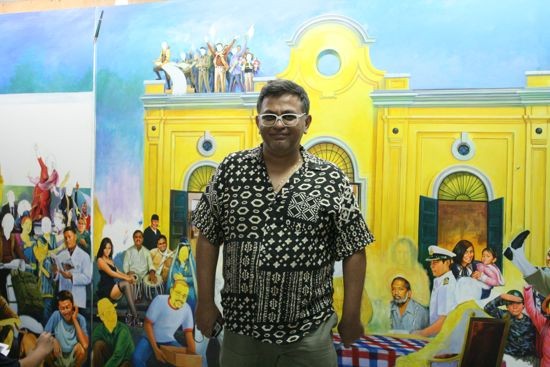 Navin Rawanchaikul at his studio in Chiang Mai. Photo ART iT
While many artists use the Venice Biennale as a platform to critique, parody or invert expressions of national identity, Navin Rawanchaikul is the very embodiment of just such an impulse. Born in 1971 in Chiang Mai to parents of Hindu-Punjabi heritage and now a permanent resident of Japan, Navin has been selected to represent Thailand at the 54th Venice Biennale, but he can hardly be contained by one pavilion alone. ART iT met with Navin at his studio in Chiang Mai to discuss his exhibition for Venice, "Paradiso di Navin," and the possibilities for specific but universal communities.
Interview:
ART iT: This year marks Thailand's fifth participation in the Venice Biennale. How do you anticipate this time differing from previous years?
NR: More than a Thai Pavilion, I plan to make a "Navin Pavilion." The site will be the Paradiso Gallerie near the entrance of the Giardini, which houses a restaurant and bar and also has a beautiful balcony. The exhibition will take place on the ground level of the venue in a sort of collaboration with the bar and restaurant, in that I will turn the entire space into an artwork. There are two titles for the project, "Navinland Pavilion" and "Paradiso di Navin."
ART iT: Can you elaborate on your concept for the pavilion?
NR: To date, the "Navin Party" project in which I search the world for people who share my name has in a sense been about creating a new kind of community. This project was undertaken in opposition to the idea of national boundaries, and seeks to identify a possible universal platform. It was inspired by my realization that there are Navins in Thailand, India, Japan and all other places. Developing from "Navin Party," the idea behind the "Navinland Pavilion" at Venice is also to make a new territory without any domain, one that can exist anywhere in the world, but this time I will push the format further to allow participation even by people who are not named Navin.
First, evoking Coldwar Berlin's Checkpoint Charlie, I will create a Navinland checkpoint. Staff will be continuously stationed there to register participants in the project and collect their signatures. In one room will be an overview of alll the "Navin Party" works to date, such as the "Little Red Book" produced during the China edition of the project, as well as Bollywood-style videos. In another room will be a participatory project in which visitors help to draft a Navinland Constitution. In this way, alongside the personal narrative that connects my works there will also be a political narrative. I am also producing a monumental, seven-meter-long painting of all the Navins in the world, which will also be on display.
But Navinland will not be a utopia. It is the people who come and participate in the drafting of the constitution that will determine what kind of community Navinland becomes. The current political issues in Thailand are widely known, with the yellow- and red-shirt factions divided between supporters for the deposed prime minister Thaksin Shinawatra and those who oppose his return to power. Nor does such upheaval apply only to Thailand. It is also apparent in this year's Arab Spring in North Africa and the Middle East with citizens raising serious questions about their leadership and the policies and directions of their nations. As the official representative of Thailand at Venice this year, I want to address these issues. Thus even though it is the Thai Pavilion, in putting forward the fictional platform of "Navinland" I hope to reflect upon not only the Thai situation but also the world situation.
I should say that I am critical of events like the Venice Biennale that divide artists up on the basis of nationality. I have tried to make my project as open as possible. Usually, Thai national representations involve traditional dance, or are determined on the basis of manifesting some kind of national identity, but this project has Indian elements, Pakistani elements – even a Chinese little red book – and so it encapsulates aspects of many disparate nations. It's not only about Thai national identity, it's also about the world.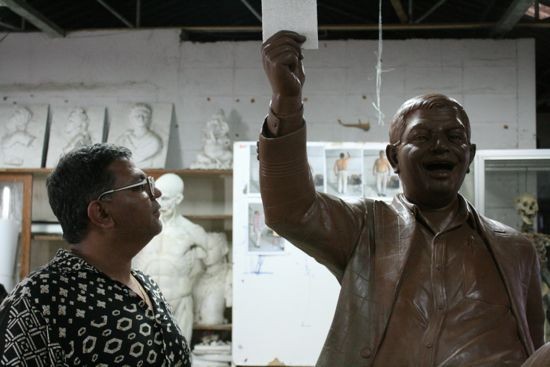 Navin Rawanchaikul inspecting a sculptural work under production at his studio in Chiang Mai. Photo ART iT
ART iT: Did you think of the "Navinland" concept only after you were selected to represent Thailand?
NR: I began the "Navin Party" project in 2006, but had been thinking about what to do next. When I was invited to represent Thailand at Venice, the details started falling into place.
It seems that the Ministry of Culture is anxious about my project. I understand their concerns about politics so I am doing my best to explain the details of what I am planning to them, but actually I feel that they still do not completely accept my ideas. The work does not explicityly comment on the current political situation in Thailand. The reason for creating a "Navinland Pavilion" was that in a small country like Thailand it is only this kind of idea that can transcend local politics. It's not red or yellow – maybe it's a different color altogether. Through the work I want to critique the problems of national identity circulating in the world, and the Venice Biennale is the perfect venue for doing that.
ART iT: How do you feel about representing Thailand at Venice?
NR: First, I feel it's a great opportunity to show my works in a historic exhibition that will be seen by people who come from across the entire world. On the other hand, when the Biennale was founded in 1895, because relatively few people in Europe then traveled beyond the continent, perhaps the idea of national representations made sense. However, today national representation is an outdated concept. Recently the German Pavilion and the Nordic Pavilion have been among those to present works by non-national artists. In that sense, my selection for the Thai Pavilion is both an honor and a predicament, in that there is a possibility I will be squeezed into the framework of being a so-called Thai artist.
For me, how to make art that can be interesting and significant involves not only the artist, and not only a relationship with a specific community or the artworld, but also something more than that. This project responds directly to the context of the Biennale. There are two problems, though. One is that the artworld is extremely insular. The concept behind my project for Venice has nothing to do with the competition or the nation, or the artworld as represented by institutions such as museums. Instead, what is most important for this project are world communities, such as the Navin community, or relations between ordinary people. The other problem is that of national identity. What's the agenda behind doing the Thai Pavilion? Visitors might think, "Where is Navinland? In what country?" That's why the Ministry of Culture has had a hard time accepting my proposal. But that is exactly why I am doing this.
ART iT: Why are you so interested in the notion of community?
NR: I do not make political art; I view the world through my own personal perspective. I was born in Thailand and live between Japan and Chiang Mai, but the one thing that I understand best is community. My identity is deeply related not only to art but also to humanity. When I think about how to make art, I believe that it can become even more interesting if it can go beyond the limits of the artworld, as in my prior project turning Bangkok taxis into mobile galleries. In this way an art project can involve an entire community – children, parents, friends. I do workshops for children, or I do performances – which are not contemporary art – in the middle of Chiang Mai's Warorot market, and these activities take on significance from the participation of all kinds of people. These projects are comprehensive works, but when I carry them out, even if I say they are artworks or even if I call myself an artist, that doesn't mean they are complete in and of themselves. To justify something just because it is an artwork is not enough to persuade viewers to accept it – nor is it possible to control the viewers' responses. Rather, I want to do something that can make people feel engaged. My projects can only be realized in tandem with their specific sites and with the people who constitute the communities of those sites. And that is what I intend to bring to Venice.
The 54th Venice Biennale, "ILLUMInations," opens to the public June 4 and continues through November 27.
Return to story index
Venice Biennale – ILLUMInations: 54th International Art Exhibition