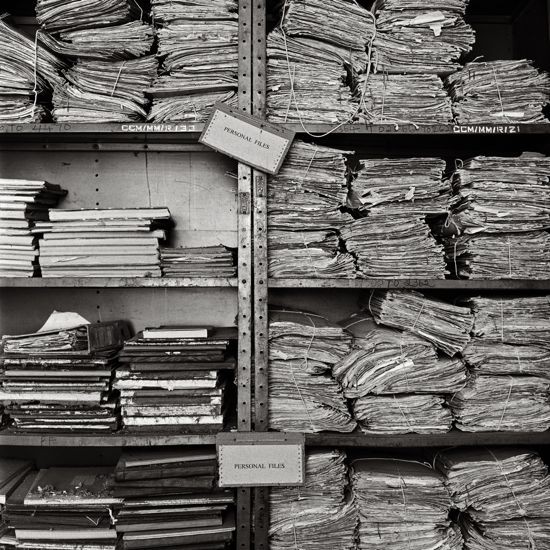 Dayanita Singh – From "File Room" (2011), pigment print, 60 x 60cm. Courtesy the artist, Frith Street Gallery, London, and Nature Morte, New Delhi.
The artistic director of the 54th Venice Biennale, Bice Curiger is curator of Kunsthaus Zürich, co-founder and editor-in-chief of Parkett and publishing director of Tate Etc. She has organized monographic exhibitions for artists including Meret Oppenheim, Martin Kippenberger, Sigmar Polke, Fischli/Weiss and Katharina Fritsch. ART iT corresponded with her to discuss the context behind her exhibition for the Biennale, "ILLUMInations."
Interview:
ART iT: While many critiques of the Venice Biennale focus on the perceived anachronism of the national pavilions, in such a context the artistic director's exhibition can also be problematic. Is it a referendum on the state of international contemporary art, or intended only as a thematic counterpoint to the national presentations? In organizing "ILLUMInations," have you given any consideration to the identity of the artistic director's exhibition in relation to the overall Biennale format?
BC: With this year's Biennale I want to show the audience where art has come today: art must be an instrument of thought and illumination, but it also has to defend its specificity. Nowadays we don't have to fight to make contemporary art popular. On the contrary, maybe we have to fight to protect art, to preserve it from vulgarization. We have to keep art popular without destroying its complexity. I've always been fascinated by this peculiar structure, since my first visit in 1980. I think national pavilions are what make the Venice Biennale so unique. I don't mean to be conservative: the history of pavilions is a sign of the countries' desire to participate in an international exchange, a way to highlight cultural developments in a globalized context. I see the Biennale as a sort of borderless map – you can move around without a definite goal.
ART iT: "ILLUMInations" features a significant number of young artists who will be receiving their first major international exposure. Was there anything in particular that you looked for in the young artists? On the other hand, does the inclusion of older artists like Guy de Cointet, Lynn Foulkes and Sturtevant – all diverse in their own rights – point to anything that should be reintroduced to or maintained in the contemporary conversation?
BC: The exhibition is primarily focused on artists who are under 35-years-old, whose works I know and appreciate. I wanted to show younger positions to a broader public that may not be familiar with many of these less-established artists. Works from an older generation deserve to be shown because of their highly contemporary character, which still contributes to the artistic discourse.
ART iT: Your exhibition seems to have a relatively large number of participants working with photography – Birdhead, Shannon Ebner, David Goldblatt, Cindy Sherman, Dayanita Singh to name a few. Is this light-based medium a key point of emphasis for you in realizing the theme "ILLUMInations"? Does the selection of artists working with photography take into account the way that digital technology has affected the production and appreciation of photographic images?
BC: Digital technology has intensified our connectedness to the world of images. It is now a younger generation that is offering innovative insight into the use and reflection of the medium of photography. One might have thought that all has been said after Jeff Wall, or the Düsseldorf School with Andreas Gursky, Thomas Ruff and Thomas Struth, or after Wolfgang Tillmans, but these younger artists show us that there is still a lot to say.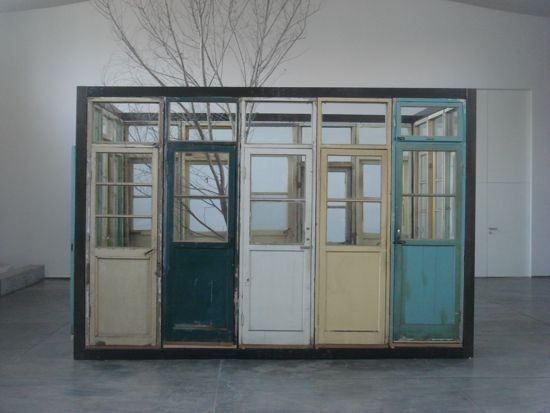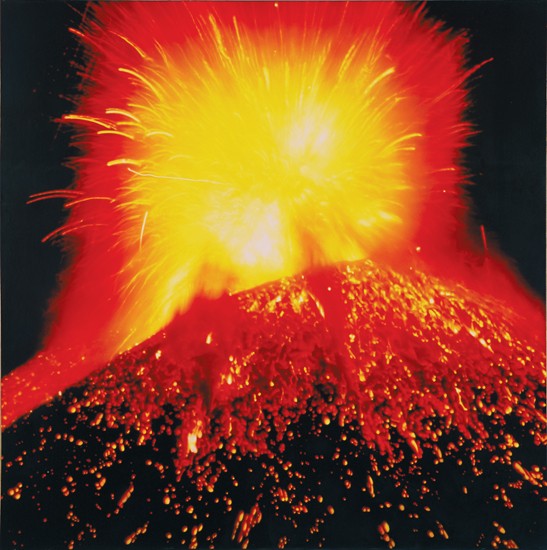 Top: Song Dong – Intelligence of the Poor: Living with the Tree (2005), installation with steel pipe, wooden door, wooden bed, withered tree, bed sheets, 392 x 245 x 265cm. Courtesy Pace Beijing. Bottom: Jack Goldstein – Untitled (1985), Acrylic on canvas, 183 x 183 x 5cm. © Gerhard Born / Ringier Collection, Switzerland.
ART iT: Your introduction of the "para-pavilions" to this year's exhibition will pair works and structures, respectively, made by four pairs of artists. How did you select the pairs? Did you choose them based on correspondences and/or tensions between their works, or were there preexisting relationships between the artists?
BC: The para-pavilions represent an alternative approach to the national pavilions. The aim with them is to create dynamic moments that can break up the additive structure of a big exhibition. In this way things come together differently and the communication between artists is fostered. I asked Franz West, Oscar Tuazon, Monika Sosnowska and Song Dong to create sculptures that could host other artists' works. Tuazon's para-pavilion will host Asier Mendizibal's slide projection, which would probably get lost were it in the Arsenale, while Franz West's will welcome works by the Indian artist Dayanita Singh. In Monika Sosnoskwa's will be exhibited David Goldblatt's photography and an installation by the young artist Haroon Mirza. Song Dong's para-pavilion will host works of some other artists, as will West's.
ART iT: There are, unfortunately, no artists from Japan in this year's exhibition, but in addition to your citations of Rimbaud and Benjamin in your curatorial statement on "ILLUMInations," one also thinks of Junichiro Tanizaki's essay, "In Praise of Shadows" (1933), which sought to articulate differences between Western and Japanese aesthetics. For Tanizaki, the light of Modernity could be a blinding, sterile light – a light that obscured even as it revealed. What are some of the shadows in your exhibition?
BC: I have read Junichiro Tanizaki's wonderful text. In fact, I hope that by introducing paintings by Tintoretto and works by some contemporary artists like James Turrell, Christopher Wool, Mai-Thu Perret and Jack Goldstein there is also a certain aspect that critiques the sterility of the "light of Modernity."
The 54th Venice Biennale, "ILLUMInations," opens to the public June 4 and continues through November 27.
Return to story index
Venice Biennale – ILLUMInations: 54th International Art Exhibition