SOLVING PROBLEMS THROUGH DESIGN
By Andrew Maerkle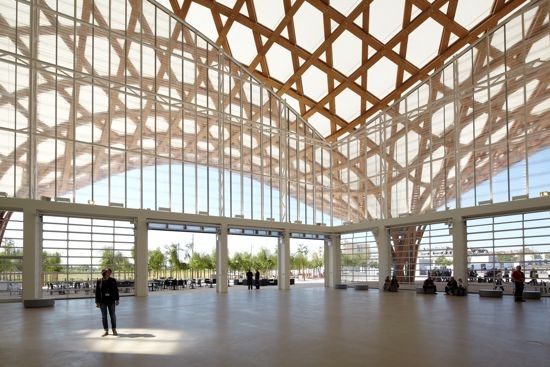 Pompidou Center Metz. © Didier Boy de la Tour, courtesy Art Tower Mito.
ART iT: One of the commonalities that art and architecture share is the legacy of Modernism, which has spread throughout the world in diverse ways and often underpins the social expectations for what these fields can express and how they are understood. To begin with, how do you conceive of the social role of architecture today? Does the idea of architecture being able to shape a new man with new values interest you, or is it something you think about critically?
SB: I don't think that way, nor do I feel there is any legacy connecting what I do to Modern art and architecture. My education was different. Before we learned Le Corbusier or Mies van der Rohe, we had to study Palladio in order to understand the influence of Palladio on modern architecture, or we had to study Schinkel before Mies. History was a very important part of my education.
My feelings about my social responsibility as an architect are reflected in my activities. I was not satisfied with the role of architects working in order to visualize power and money through monumental architecture, so besides working for privileged people, I started my own NGO, Voluntary Architects' Network (VAN), working in disaster areas.
ART iT: Then, for example, do your designs for the Paper Partition System or the Onagawa Container Temporary Housing not visualize any kind of values?
SB: That is not my purpose. Simply I want to improve the living situation of the victims of disaster. Even though I have contact with people in government, they never listen to me, so the only possibility is to make something better to show them what can be done. It is essential to show them that they haven't been doing enough to improve the lives of the victims. I have to show them the bottom line of what can be achieved. You could say I visualize the bottom line of the government people.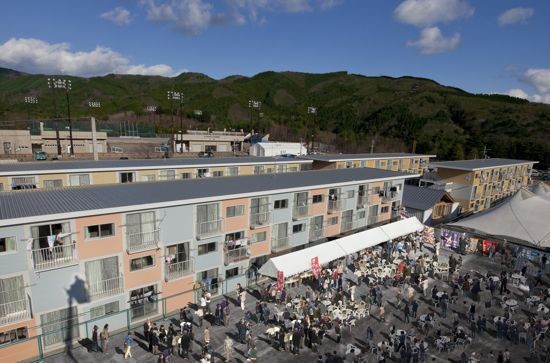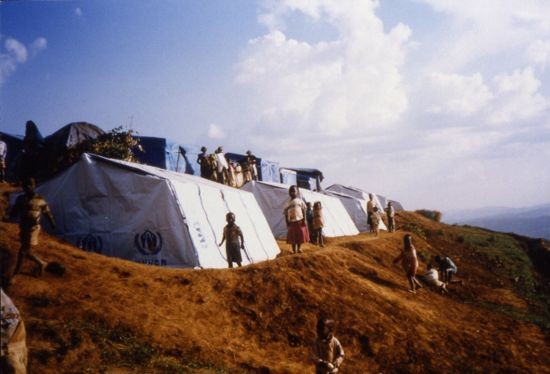 Top: Container Temporary Housing, Onagawa, opening ceremony, November 12, 2011. Bottom: Paper Emergency Shelters for UNHCR, Byumba Refugee Camp, Rwanda, 1999. Both: Courtesy Shigeru Ban Architects.
ART iT: From the Paper Emergency Shelter in Rwanda to the different versions of the Paper Log House in Japan, Turkey and India, your designs for disaster relief projects appear to be extremely efficient, economical and humane. So it is surprising that they are not implemented on a wider scale, and that since starting your NGO the projects have almost been entirely funded by yourself and through private donations. For example, in Rwanda it seems that only around 50 tents were actually distributed.
SB: It's quite political. With Rwanda there was a change in the United Nations High Commissioner for Refugees (UNHCR) and the replacement had different interests. Often with the UN all the policies and projects depend on the high commissioner, and when there is a change then unfortunately the projects under development are discontinued. But with Rwanda I was hired as a consultant working for the UN, whereas all the other projects were done completely pro bono through VAN.
ART iT: In terms of politics, you said you want to show the Japanese government that they can do more to improve the situation of the people in the disaster areas.
SB: Yes. The big difference is that when I'm hired by the UN, I have to follow their policy, or even governmental policies. But as soon as I create my own non-governmental organization, I can do whatever I want to do, without any regard for the government policy. That is the freedom of NGO activity. But I also have to do all the fund raising by myself as well.
ART iT: You started your career in the bubble period in Japan when public money was flowing into construction projects like regional museums and culture centers, as well as highways and other infrastructure, some of which were of dubious necessity. Did your experience of that period shape your ideas as an architect?
SB: I didn't have any working experience when I established my own office. Although it's true that this was the beginning of the bubble period, I didn't have any high-budget projects, only low-cost projects. At the same time the price of construction went higher and higher, so I had to come up with interesting ideas for making something inexpensive. Instead of making cheap buildings, I wanted to make an inexpensive building with new ideas or unusual materials. That was my approach. In any case I was not experienced enough to be hired on the major projects.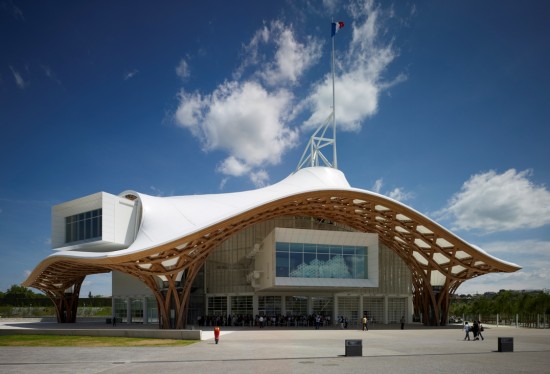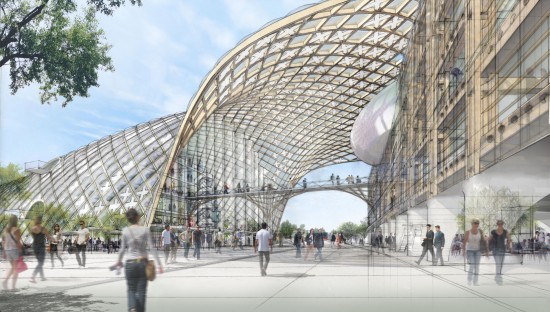 Top: Pompidou Center Metz. © Didier Boy de la Tour, courtesy Art Tower Mito. Bottom: New Headquarters for SWATCH, New Production Building for OMEGA. © Didier Ghislain, courtesy Shigeru Ban Architects.
ART iT: Now that you are in a position to design museums like the Pompidou Center Metz or major projects like the new Swatch/Omega campus in Biel, Switzerland, how do you approach such commissions? Is there a difference with your approach to disaster relief projects?
SB: Obviously the approach is totally different from the disaster relief projects, starting with the fact that I have to win the competitions for larger projects, whereas with disaster relief projects I create the project by myself and set the budget and raise the funds myself. Because I am paid for the big commissions, the financial situation is totally different.
However, ultimately the work is the same, which is to create a nice space and make a building within the budget. Also, the satisfaction I get is totally the same, whether it's a project for the privileged or for disaster relief.
ART iT: With museums, on the one hand you need to create a functional building, but you also need to create a space for community and for experience or even exploration. For example, the circulation of a museum can have a big effect on how people experience the art. What is your guideline for balancing these concerns in such a building?
SB: It's a good point that we have to make a balance. The functional aspect of the building has to be there – it's not something we create. This is the minimum necessity for any building, whether it's a residential building or a museum. But the community aspect, or the responsibility for community, is particularly important for a museum, especially for a public museum paid by tax money.
Only a small percentage of the public will actually go to visit the museum, especially if it's showing contemporary and conceptual art. In that sense the museum has to serve not only art lovers, but also the majority of the people who do not often visit museums. So an important aspect for me is how to make a community space that would be interesting even for the people who are not interested in contemporary art.
That's why in Metz I made a big "forum space," which by opening the shutters is free to be entered from anywhere and totally open to both the public and the outside. This kind of public space is very important, as you said, for the responsibility to society.
ART iT: Of course it's also important for art to be challenged from the outside. I think it's good for the art as well that people who don't like art might visit a museum simply because it offers an attractive communal space. But are you also looking at other museums and trying to experience them through the eyes and body of the art viewer?
SB: Yes. Especially when I was working on Pompidou Metz, everyone was talking about the Bilbao effect. The city of Metz is about the same size as Bilbao, and was similarly seeking an attractive building that could raise its international profile. However, I know that museum professionals and artists don't really like the building in Bilbao, because it's a very personal sculpture by the architect and not very functional. Instead, curators and artists seem to prefer industrial buildings that have been renovated, like Tate Modern or the Dia Foundation in Beacon. As an industrial building renovated into a museum, Dia:Beacon is very successful, and it was done without a famous architect. I know many curators and artists prefer this kind of space to Bilbao.
With Metz, I thought it would be a pity if I have to choose one of the two solutions, either an iconic building or a functional building. I thought it's important to have both. The building has to be attractive and interesting as architecture to provoke the general public, but it also has to be functional as a museum. So my main interest was how to achieve a balance between interesting architecture and the practical part of the museum. In that respect I believe Pompidou Metz was quite successful.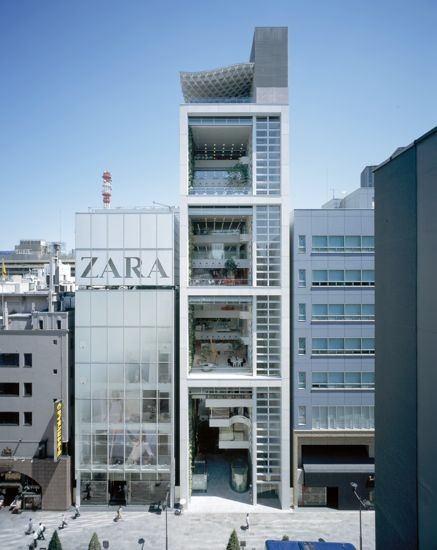 Nicholas G. Hayek Center, Tokyo. Photo Hiroyuki Hirai, courtesy Art Tower Mito.
ART iT: How do these concerns come together when you work on a commercial space, like the Swatch Group's Hayek Center in Ginza, for example?
SB: It is the same. My way of designing is based on problem solving. Normally the project itself has an existing problem, whether it's the budget or a difficult client or anything else, but also sometimes I have to make the problem by myself. There was an international competition for the Hayek Center, and although it was not asked for by the client, I created my own problem to solve through design. My proposal was totally different from the brief, which was to fit together eight boutiques from the different brands of the Swatch Group into different levels of the same building. But because land in Ginza is very expensive and the width of the building is very narrow, there was only room for one boutique to face the front street. I thought this was very unfair. So my problem was how to give the same street exposure to all eight boutiques at the same time. That's why I created the public passage inside the building with the eight glass showrooms, which also work as elevators to bring the customers directly to each shop. This design came from a problem that I created by myself. Whether it's a commercial or cultural building, I always look for a problem that must be solved through design.
ART iT: You also spend a lot of time involved in educating young architects. What kind of values do you communicate to your students?
SB: I'm not trying to communicate anything in particular to the students. They have to see what I do and learn naturally about an architect's responsibility to society. Simply, I always try to bring them with me to disaster areas and give them exposure to the world and different cultures, but otherwise they must learn on their own. That's the most important aspect of my education.
ART iT: Do they have a way to feedback into your ideas about how to create solutions to the disaster?
SB: No. Actually, they only do what I ask them to design. I don't expect solutions from them because they are not experienced enough.
ART iT: What is your interaction with the people in the disaster areas where you do relief projects?
SB: I get very good responses from the people. They really appreciate what I have done. When I was working in 1995 in Kobe I understood the terrible situation of what it means to be evacuated, and I knew this would happen again. I just continue contributing to relief efforts and trying to improve each time.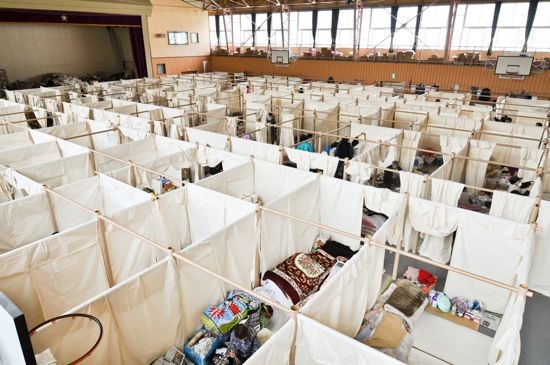 Paper Partition System 4, 2011. Courtesy Shigeru Ban Architects.
ART iT: What are you planning for your upcoming exhibition at Art Tower Mito? Obviously, Mito was affected by the March 11 earthquake and I'm sure there's a sensitivity to the situation there. How do you expect viewers to interact with what will be on display?
SB: I would like to make something different from normal architecture exhibitions. Normally you see many models and drawings, but I plan to show mainly big mock-ups of the buildings and the joints and the materials. I will also bring a full-scale mock-up of the container house to the museum courtyard.
I want to create an exhibition that could even be understood by children. They don't have to understand the architecture drawings or the theoretical aspects of architecture. I want to show them mock-ups, samples and materials, which should be easier for them to understand. Even for the general public who might not be interested in architecture, I want to show them the method of the building process. But I have to see the reaction of the people once the exhibition opens.
ART iT: You also curated exhibitions at the start of your career, and organized a retrospective of Alvar Aalto for the Barbican in London.
SB: Yes, because I started my own practice without any building experience, I had to start designing exhibitions before I could design buildings. That was how I learned and started my own practice.
With the Aalto exhibition I worked with my students to develop a further analysis of Aalto. Many of our findings were quite different from the existing analysis and criticism. In this way it was a very interesting project for the students and I to undertake.
ART iT: You say it's important even now to continue doing residential projects. Earlier in your career you made experimental designs like the Furniture House (1995) and the Wall-less House (1997). What are some of the ideas you are exploring in your current residential projects?
SB: In the exhibition at Mito I will unveil a new temporary housing system, although I cannot say anything about it until then. But if you look at the careers of the great architects like Aalto, Le Corbusier, Mies, or Frank Lloyd Wright, they continued designing houses until they died.
Designing houses is more difficult than designing museums. Financially, it's a disaster; you cannot make any money. But I think the great architects took advantage of designing homes as an opportunity for experimentation and to train themselves. Unfortunately many architects now stop designing houses once they become famous, because it's a pain to work with each client and it's financially difficult. I think it's important to find the opportunity to keep training yourself.
ART iT: Of course, in addition to the many fine houses and villas that he designed, Aalto also worked on the AA-System (1937-45) low-cost housing project.
SB: I actually only learned about the AA-System quite late. It's not really well published. It's a real coincidence that Aalto was inspired to work on this affordable housing project after the disaster of World War II.
ART iT: One of the unique characteristics about Japan is that even in an environment as dense as the Tokyo Metropolitan area, many people want to have their own land with their own home.
SB: As you know, in New York or Paris, nobody imagines to have their own land to make their own house. This is really the Japanese dream. I think it's very unusual that, even when they live in Tokyo, Japanese people still dream about this.
ART iT: In terms of producing a new space for living, what is a guiding principle you would like people to appreciate about the space of a home?
SB: Because of advances in technology and the opportunities of globalization, you might not need to live in one place, or you can be in one place while working with people in another, so our notions of living may be changing very soon. Maybe you don't need to own your own apartment, or maybe you continuously move from country to country. The lifestyle is really changing.
ART iT: How about urban community design? Is this something that interests you?
SB: I'm not so interested in the urbanistic point of view. I'm more interested in making products and houses and buildings instead of designing the city. I believe that a good city is made by individual buildings, not by designing the whole city. Beautiful buildings one by one create a good city.
Held at the Contemporary Art Gallery, Art Tower Mito, the exhibition "Shigeru Ban – Architecture and Humanitarian Activities" opens to the public March 2 and continues through May 12.
Shigeru Ban: Solving Problems Through Design