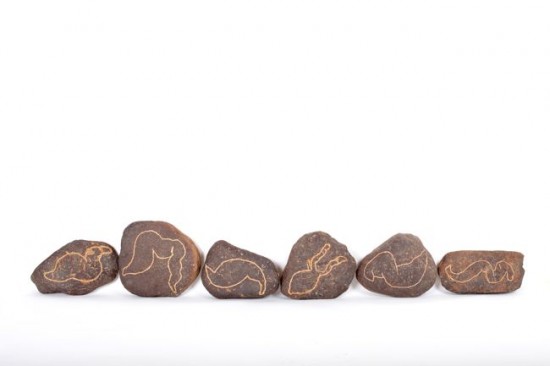 Abdulla Al Saadi – Naked Sweet Potato (2000-10), detail, engravings on rock. Photo Mohamed Somji.
Based in Istanbul where he is research director of the newly established cross-disciplinary organization SALT, Vasif Kortun is curator of the UAE Pavilion at the 54th Venice Biennale, for which he has organized an exhibition of three artists under the title "Second Time Around." Kortun was founding director of one of SALT's predecessors, Platform Garanti Contemporary Art Center, and founding director of Proje 4L, Elgiz Museum of Contemporary Art. He has curated and co-curated international exhibitions including the 6th Taipei Biennial, the 3rd and the 9th Istanbul Biennials, and the Turkish Pavilion for the 52nd Venice Biennale. He is a regular contributor to ART iT. ART iT corresponded with Kortun to discuss the context behind the UAE Pavilion and to revisit a previous correspondence he carried out in 2001 with the Mexico City-based critic and curator Cuauhtémoc Medina on "The Local Tango and the Global Dance."
Interview:
ART iT: In 2001 you carried out a correspondence with the Mexico City-based critic and curator Cuauhtémoc Medina that was reproduced in the catalogue of the Walker Art Center's exhibition "How Latitudes Become Forms." Described as an "unfinished conversation," this correspondence problematized issues related to locality and globalism, center and periphery, inside and outside. Now, 10 years later, you have just inaugurated another new institution in Istanbul, SALT, and are curating the UAE Pavilion at the Venice Biennale. Were you to resume the conversation, where would you begin?
VK: You're asking me a difficult question regarding the conversation with Cuauhtémoc Medina in relation to what's happening right now in Istanbul and with the UAE Pavilion at Venice. It's a different world, a different time. While I think many things still hold true in terms of what we were discussing – it was a pretty good discussion of its time – I should say none of the things I'm doing now are modulated by a continuation of that conversation. Certain cities east and south have become power corridors. The difficulty for us producers is that we have been part of this empowerment process, and sometimes its progenitors.
Now, we are being edged out due to radical financialization, and we have little knowledge of how to deal with this situation. So we have to take a different tack. One is that the institution we're building in Istanbul at this moment is not strictly a contemporary art institution; it houses different temporalities and different disciplines without the disciplinary knowledge that comes with them. I believe SALT is a model institution for the future that will be emulated pretty soon, probably in ways that will be more successful than what we have been able to achieve so far. We have tried to move beyond issues of local and global, which don't really interest us, although we are working quite a bit with what – for lack of a better word – might be called local and regional contexts. But SALT is an institution with a particular kind of conscience, which I think is critical at this moment. Good politics is necessary. You have to be exemplary in many ways, but also, let's say, joyful. It's going to take time.
ART iT: Can you elaborate on what has changed since 2001? For example, have we moved any closer to what you referred to then as the "emancipation of the contemporary"? Alternatively, has such a concern been rendered obsolete?
VK: The emancipation of the contemporary! No, not really: the last decade developed into the invasion and commercialization of the contemporary. There was also in 2001 my deficiency in understanding some of the nuances of history to which I am increasingly drawn now. I assume this has in part to do with our research at SALT into the history of local exhibitions and writing.
ART iT: What appealed to you about curating this year's UAE Pavilion?
VK: I was approached last year with the possibility of doing two different projects in an either-or situation: one was the UAE Pavilion and the other was a bigger project that I couldn't have taken on at this point in my life. I've been going to the UAE for a long time, and was involved with the Guggenheim project there early on. I have an intimacy with the place and think there is still a possibility for the Gulf to fill a vacancy in the cultural production of the region in particular, which is why I was willing to curate the UAE Pavilion. It's a much more intimate situation than one would think. But that was all before the Arab Spring and the following political clampdown, so it now comes with all those complexities. To navigate through all this with some sense of ethics and moral responsibility is increasingly complicated.
ART iT: In 2007 you curated the Turkish Pavilion at that year's Venice Biennale, which ultimately took the form of a solo project by the late Hüseyin Bahri Alptekin. Prior to that Biennale you said that you think of Venice as a "non-specific place" and that the pavilion was not intended to be a reflection of the state of things in Turkey. Does that experience affect your rationale for selecting the three UAE artists – Abdullah Al Saadi, Lateefa bint Maktoum and Reem Al Gaith – each of whom have distinct artistic approaches and concerns?
VK: You remember very well that I said Venice is a non-specific place, and it still is – it has the luxury to be so. It's a shrinking city – we know all of that already – and it has 100-odd years or so of precisely filling that role. It's like the first pre-post-industrial city, the first "experience city" in the world. The Turkey Pavilion in 2007 was not intended to be a reflection of the state of Turkey, even if that was the case to an extent, whereas the UAE Pavilion is comparitively more representational. It's not intended as a representation exhibition – but it is representational of the UAE at this moment.
The rationale for selecting the artists for the pavilion was very simple and clear – they are all great artists. I conducted many studio visits and we could have had perhaps more artists in the exhibition – that was also a possibility. It's a coming of age for art in the UAE, there are many young artists there at this moment who deserve more than what they have had in terms of coverage and interest at both local and international levels. However, an exhibition is a limited space. At the end of the day it's not the national team, it's three artists from a particular place, that's it.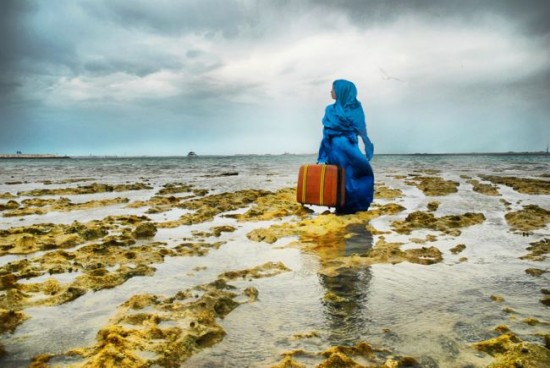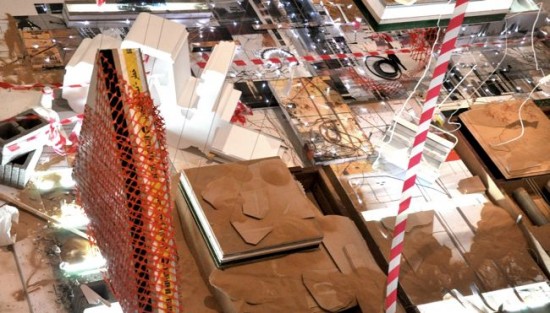 Top: Lateefa Bint Maktoum – The Last Look (2009), photo montage, archival print, 150 x 100cm. Bottom: Reem Al Ghaith – Dubai: What's Left of Her Land (2011), mixed media, 8 x 8m.
ART iT: The title of your exhibition for the UAE Pavilion, "Second Time Around," refers ironically to the first UAE Pavilion, which in turn was itself a self-conscious reflection on the project of national representations. Do you think it is necessary – or inevitable even – for a national pavilion in this day and age to exhibit an aspect of self-awareness?
VK: The UAE Pavilion in 2009 was different. It was very mediatic in its approach to the UAE, and Tirdad Zolghadr is an amazingly sophisticated curator. He is very good at contextualizing and rethinking the exhibition as a discursive tool. Our practices are quite different, and I wanted to approach the project from another angle – a simple angle focusing solely on the artists.
ART iT: International attention has been focused on the UAE – specifically, Sharjah – since the dismissal of Jack Persekian from his post as artistic director of the Sharjah Art Foundation over the inclusion of a work in the Sharjah Biennial by the Algerian artist Mustapha Benfodil, which was determined to be offensive to public sensibilities. Coincidentally we also have the detention of Ai Weiwei in China and the summary alteration of a work by the artist Simon Fujiwara at the Singapore Biennale. Do these incidents in any way affect your assessment of conditions for art in the UAE in particular and the identity of international art in general?
VK: Frankly I would not put everything you mention in the same box. I would not put Ai Weiwei and Jack Persekian in the same box – that would be a great insult to Ai Weiwei and it would not serve Jack any better. I don't know what Jack's situation or agenda is, but it's really embarrassing that other people have stood up for him while he has not stood up for himself. I don't want to be so harsh but it pisses me off.
With the Singapore Biennale obviously, yes, we're facing censorship all around the world at this moment. It just happened that these things coincided in March and April but a similar event has also just happened in Izmir and other things will happen in the future.
You have to realize that the current censorship of artistic or exhibition production is occurring in the context of the mainstreaming of the business of art. It's not like the old days. Art is now taken notice of because it has a huge institutional structure behind it. It has become a huge business or even economy of sorts, and within that economy there are different kinds of regulatory practices at hand and many of the places where this censorship is happening – UAE, China, Singapore, Turkey – are places that are quite new to the dissemination and production of contemporary art at a given level. It's not like they have 200-year-old traditions of this kind of production. At the same time, you see the same things happening in France or the US – just look at what happened in Washington, DC, with the removal of a work by David Wojnarowicz from an exhibition at the National Portrait Gallery after Catholic groups targeted it as "hate speech." That's what it is.
These are very, very tough times and I can't quite figure out what's really happening, but it's not looking bright at the moment. The citation of things like local sensibility is the most absurd thing on earth. Who decides who gives the authority to the censor masters or the editors that something is censorable in one place and not in another place? What are they protecting – who are they protecting from whom, and what are they protecting from what? There's no maturation at this moment, certainly in these regions, but also in the global context as well. The world is not a good place right now. It's on a suicidal run, it's on an ugly run, and this is all the more reason why we should continue doing what we do with conviction.
There's one thing to say here, that I don't like shock-and-awe tactics. I don't like avant-gardist transgression, I don't like many of the things that people think are critical. I think of criticality as a long-term process that relies on research and substantial involvement. I don't like criticality as it's produced in one image or another – that doesn't interest me, that doesn't further the discourse. That plays right into the hands of the market and this mentality that if you want criticality, you can go and put your thing on the cover of Colors magazine. That doesn't produce criticality – that produces shock. We have to separate some of these issues. Some people I'm sure would love to show the work of Mustapha Benfodil. I wouldn't. I don't like the work in the first place. But once it's up there, it cannot be taken down.
The 54th Venice Biennale, "ILLUMInations," opens to the public June 4 and continues through November 27.
Return to story index
Venice Biennale – ILLUMInations: 54th International Art Exhibition