'Quiet Attentions: Departure from Women'
February 12 – May 8, 2011
Art Tower Mito+Contemporary Art Gallery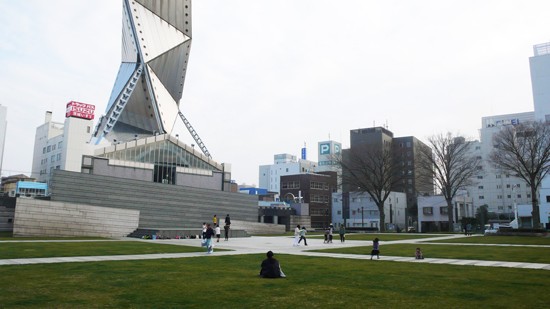 View of Art Tower Mito plaza as seen from the position of the loudspeaker installed for Susan Philipsz's site-specific sound installation Did I Dream You Dreamed About Me (2007/11). Photo ART iT.
A recent trend in international contemporary art has seen the emergence of the disingenuous non-identity identity-based group show, exemplified by the survey of African-American artists organized in 2008 by the private Rubbell Family Collection in Miami, "30 Americans." While the politics are entirely different, the latest survey organized by curator Mizuki Takahashi for Art Tower Mito achieves a similar effect in its title and conceptualization, "Quiet Attentions: Departure from Women." Comprising works by 11 women and a collaboration between the female artists Yuki Kimura and Jutta Koether and a lone male participant, Ei Arakawa, the exhibition both indexes its identity-based origins even as it attempts to address something else entirely, contemporary sculpture and installation. This self-negating framework leads to an exhibition that is stylish, airy and pleasant but unable to say anything about post-feminist art – if that was ever an objective to begin with – or indeed new approaches to sculpture and installation.
Visitors enter through Fumiko Kobayashi's Node Point (2011), an environment harnessed together from bicycle parts and other detritus found among the local environs, and breeze past Tatiana Trouvé's room of prints and an abstract sculpture into Midori Mitamura's gothic environment combining what appear to be fragments from a Victorian domestic interior with video and sound elements, Before the Daybreak (2011), and then Nobuko Tsuchiya's room of sculptures assembled from disparate types of synthetic and organic junk, 11th Dimension Project (2011), followed by Hwayeon Nam's diagrammatic wall drawings, Atomic (2011), before reaching the apparent literal and figurative heart of the show, the collaborative work Boycott Women (2011) by Kimura, Koether and Arakawa, in which an environmental sculpture of scattered beams and scaffolding doubles as a platform for performances, after which things wind down with Su-Mei Tse's dysfunctional record player, White Noise (2009), and group of oversized, automated, wall-mounted hourglasses, Personal Times (2003-09); a hallway-long sound installation by Sachiko M; a rec-room cum interactive environment by Kanghyun Ahn; a hanging, ornamentally abstract carving by Ranjani Shettar; and site-specific installations by the installation artist Laura Belém and the sound artist Susan Philipsz.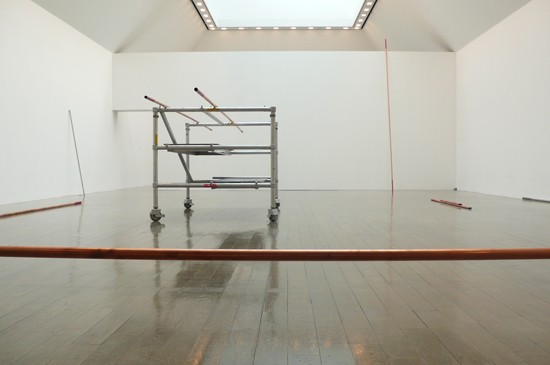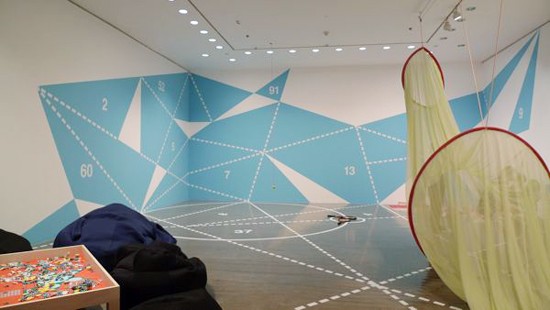 Top: Yuki Kimura+Jutta Koether+Ei Arakawa – Installation view of the collaborative work Boycott Women (2011). Bottom: Kanghyun Ahn – Installation view of Throwing a Dice (2011). Both: Photo ART iT.
It's hard to see how the works of these artists of disparate nationalities, ages and reference points relate beyond purely formal concerns, the inevitable coincidences of an era when worldwide art education is more uniform than ever. Compare, for example, "30 Americans," in which many of the artists chosen for what might be called their "non-blackness" were members of a shared creative community, or the 2007 survey "Wack! Art and the Feminist Revolution," which investigated the work of female artists in a historical context. At Mito, viewers may be drawn to this or that work. They might be absorbed by the whispering sands funneling at different rates through Tse's hourglasses, lose themselves assembling miniature sculptures from clay and broken toy parts in Ahn's rec-room or rediscover the dimensions of public life on the gallery plaza, where Philipsz's Did I Dream You Dreamed About Me (2007/11) casts a plaintive, haunting melody from a loudspeaker installed above the green where girls practice dance routines, children run and squeal, smokers smoke and, in a private nook somewhere, a musician strums a ukulele. These exercises in "quiet attention" are certainly rewarding. What is missing overall, though, is a work, or works, that can disrupt or depart from the underlying orthodoxy of the exhibition – its recurring variations of material, form, volume and physics – that ultimately make it so easy to sum up as an artistic experience, in spite of the contradiction of what is stated in its title. (Made doubly contradictory when comparing the English "departure," unequivocally connoting the idea of "leaving behind," and the word shuppatsu used in the Japanese version, more suggestive of taking women as a starting point.) Instead of basing her theme on a non-identity, Takahashi might have come up with a messier, more compelling exhibition had she genuinely committed to exploring what it means to be a woman making art in an international context today.
Related:
Photo Report – "Quiet Attentions: Departure from Women" (JP)