I wonder if the gentle readers of ART iT are aware of the existence of a very different sort of magazine, devoted to the photographic efforts of those with what one might call "exhibitionist" proclivities? The sort of magazine, that is, filled with people exposing themselves in immodest fashion outdoors, or in public places.
In the vast majority of cases, these images are not the work of professional photographers and models, but photos shot by amateurs, using amateur models. Needless to say it is this reality (as opposed to quality) that readers can relate to and find titillating.
Photography is an unusual medium in having originally developed primarily through the endeavors of affluent amateurs, and in that sense a photography magazine composed of pictures sent in by amateurs was always destined to become the classic photographic medium. By the 1900s Japan already had a magazine, Hana no kage (In the shadow of the flowers), carrying photos submitted by amateur photographers, its pages adorned with the work of nobles such as Tokugawa Yoshinobu.
Japanese photography magazines underwent their first major transformation in the 1980s, coinciding with the sudden availability of high-performance camera equipment such as SLRs at prices even middle and high school students could afford. 1981 saw the launch of two contrasting, innovative photography magazines: FOCUS from Shinchosha, and Byakuya-Shobo's Shashin Jidai. However most pages of both magazines were still filled with the work of professional photographers.
The first photography magazine to consist of photos taken by amateurs, and what's more, contributions of a sexual nature with exhibitionist tendencies, was probably Toko Shashin (published by Koyusha, later Sun Publishing), in 1984. No doubt many will remember the huge scandal that erupted when the "nyan-nyan" photo of virginal underage idol Tomoko Takabe puffing on a cigarette in bed with a languid and distinctly post-coital air was brought to the editorial offices of FOCUS by her partner at the time. That story was published in 1983, and come to think of it, it's from around this time that photography magazines suddenly started to make the transition from serious journalism to the trashier, celebrity-dominated realm of the paparazzi.
In any case, thanks to Tomoko Takabe and FOCUS, nyan-nyan became a recognized Japanese term for sex, and if the late 1980s turned out to be the boom years for the shots-up-idol-skirts – photos captured by amateur voyeurs armed with ridiculously long zoom lenses (compensating for their own inadequacies?) – that sold magazines like Toko Shashin, in the '90s, the amateur photo magazine once again entered a major transition period. In this new, revolutionary turn of events, private sex acts hitherto hidden – hence the concept of "peeping tom photos" – were being submitted to the media by the perpetrators themselves.
In step with the rapid rise of the digital camera in the 1990s, the amateur contribution-based photo magazines launched in the 1980s rapidly became increasingly extreme in content, and while every issue seemed to be part of a competition between magazines, and contributors, to publish photos that had one marveling, "Should this sort of stuff really be on sale in an ordinary bookshop?!" most magazines also reserved a space for "reader illustrations" on the last couple of pages. And here could be found what one might call the "journeyman contributors" who every night, unseen, sat down in front of sketch block or postcard with the aim of making it onto these barely noticed illustration pages tacked on to the back of the magazine like an afterthought.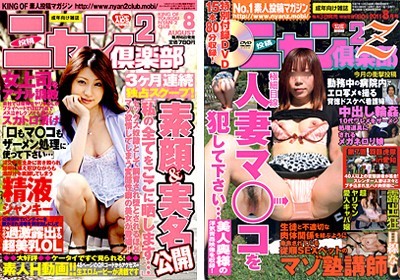 Left: Nyan 2 Club and right: Nyan 2 Club Z (both published by Core Magazine)
Among the magazines, one far outshone them all in terms of radical content: Nyan 2 Club. Nyan 2 Club (known by its fans not as Nyan-nyan but affectionately as Nyan-tsuu) launched in 1990 by Core Magazine of the Byakuya Shobo stable, was followed by more than 10 sister magazines including Nyan 2 Club Z, Nyan 2 Club Live Windows DVD and Nyan 2 Club Ubu Mode, over time amassing a huge base of both readers and contributors. It is still in print today, some 20 years on.
I'm not exactly sure when I first saw the illustrations in Nyan 2, but I remember finding it odd to see pages crammed with anything from 10 or so to over 20 illustrations, each generally smaller than a business card. They were a breed apart from the cartoons in the evening papers, or the work of professional illustrators found in soft-core comics: crude, childlike, yet suffused with a fearsomely obsessive energy. This was outsider art by anonymous practitioners, a nightmare panorama of painful fantasies.
Thanks to the webzine VOBO launched this year, which could be described as an Internet archive of Nyan 2, I now have in my possession a retrospective of some of the legendary contributors whose drawings have quietly graced the pages of Nyan 2 for many years.
In the photography sector professionals rank above amateurs, and for a photography magazine, the work of artists is deemed preferable to reader contributions. Illustrations sent in to adorn a page or so of a magazine that ranks the very lowest of the low among the photographic media – basically soft porn – what's more placed at the very back and the work of amateurs, really do suffer from a triple handicap, and are truly at the bottom of the pile, so to speak.
When it comes to photos you can print any number of copies, and these days with digital cameras all you need to do is send the data. But illustrations don't work like that. One has to take the time to draw each original, and magazines of this sort do not return submitted work. In other words, once posted off to the editors, that picture you've toiled to produce is lost.
Moreover it's not uncommon for contributors to write a story on the back of the picture, sometimes a commentary of considerable length, but even if the magazine decides to publish the picture, it will indeed be just the picture, and never the text. So why are there so many contributors, fully aware of this, who have continued to send in work for over 20 years, from 1990 to now?
No doubt they're happy as long as their work gets published, even if the fee is nominal (mind you, one has to wonder with whom they can share that happiness), but still they keep on drawing, sending, and giving up their work, knowing in advance that inevitably it will be lost to them. These are creatives inhabiting a world 180 degrees opposite to that of what we think of as professional artists, and yet look how many of them exist here in the sludge of the media pool. Acknowledged by virtually no one (as far as I know, a single small-scale exhibition organized by Lily Franky, who also wrote an essay on the matter), completely ignored too of course by both the contemporary art and outsider art worlds, and even looked down upon by contributing photographers as "that lot even pervier than us," they still survive, and continue to draw.
Allow me to introduce a few of them, and their work: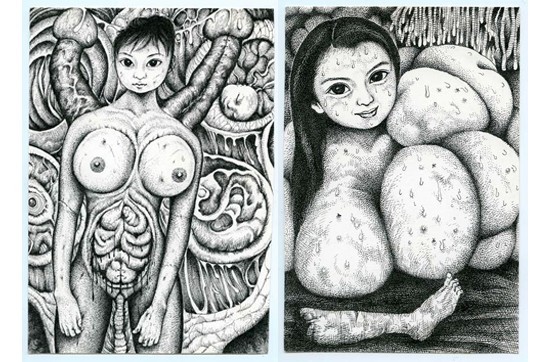 Pinkara Taiso
Pinkara Taiso is a veteran contributor of illustrations who has adopted various styles since 1992. In particular his work of the late 1990s, consisting of grotesque pointillist realist drawings rendered in black pen, and of around 2001, his "nurupyon" period, in which he covered the canvas with strange objects he himself dubbed nurupyon, possess a deluded intensity only achieved by the best outsider art.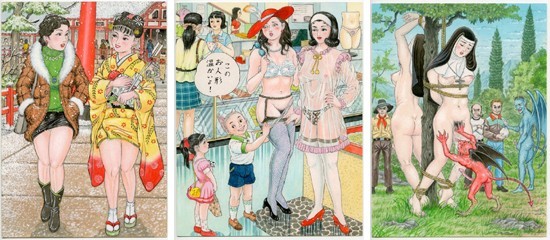 Mr Spark
Mr Spark was an important figure in the early days after the 1990 launch of Nyan 2 who contributed work of a high visual quality over a period of almost a decade. Spark's illustrations were notable for the overtly Showa feel of their composition, underpinned by perfect technique. His work was not so much of the erotic drawing genre as an X-rated take on the naughty postcard, or adult version of the classic "Kiichi no nurie" coloring books, and all his artwork is distinguished by this old-fashioned look.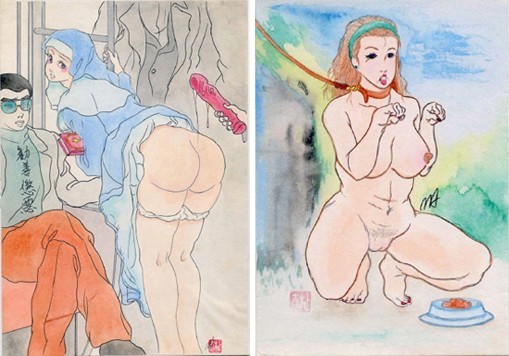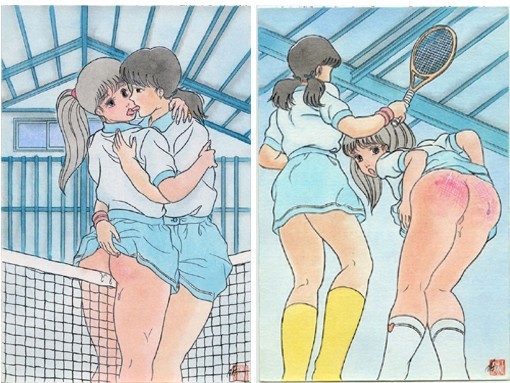 Sawae Masao
In the early '90s no contributor page was complete without the work of Sawae Masao. Around 1994, he suddenly stopped submitting illustrations. Then, almost a decade on, around 2002 he again began submitting pictures on a regular basis. Like Henry Darger, who created his own obsessive, fantastical universe by tracing images of young girls found in print, whether Masao's girls are laughing, crying or suffering, they are somehow plastic and lacking in expression, adding an unconventional, almost "painting-like" charm to the pictures.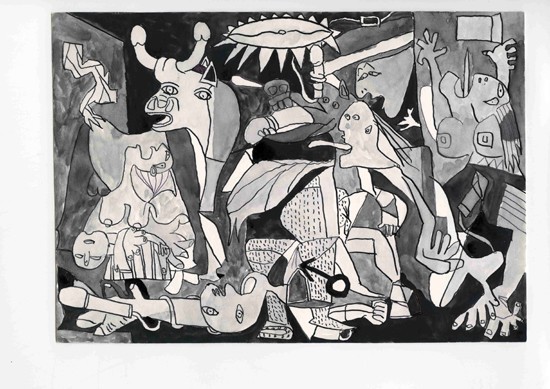 Apollo
Apollo first appeared in the pages of Nyan 2 Club in 1993. The published work consisted of rough monochrome sketches, however within a few years Apollo had raised his game conspicuously, and is now a true veteran, and still contributing. What makes Apollo's offerings fun is their single-frame cartoon-like look, but recently he has taken a step away from the realm of humor to tackle a bold series parodying even the likes of Picasso in his Cubist period.
The series Moso Geijutsu Gekijo (Galleries of Obsession) is still updated every Tuesday on the Web magazine VOBO. All the past articles are also available for reading: I highly recommend going a few rough and tumble rounds with their anarchic power.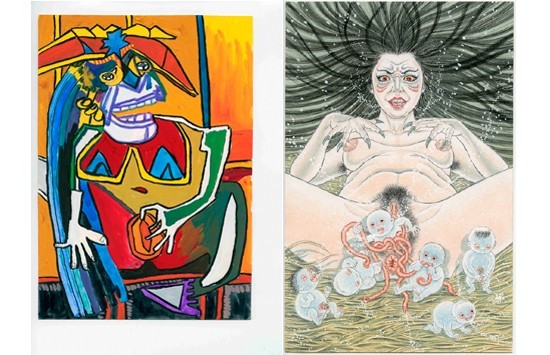 Clockwise from upper left: Apollo, Mr Spark, Pinkara Taiso, and Sawae Masao.
http://vobo.jp
(All the work shown here comes from the aforementioned site. Courtesy of Core Magazine KK, Nyan 2 Club editorial department)