Judy Annear is Senior Curator of Photography at the Art Gallery of New South Wales, Sydney. What follows are her "Things Worth Remembering" for 2010:
Yasumasa Morimura,
"A Requiem: Art on Top of the Battlefield"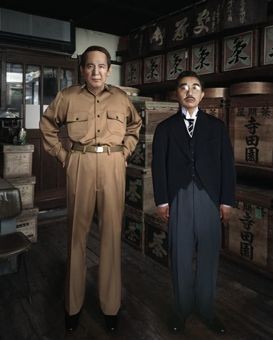 Unexpected Visitors
Morimura's exhibition examining masculinity in the 20th century – the bombast and poignancy of its successes and failures – was a standout. In an interview with ART iT in early 2010, Morimura remarked in relation to a work in which he recreates the photograph of the 1945 meeting between American General MacArthur and Japanese Emperor Hirohito: "That picture is a wedding photo of sorts. MacArthur the husband, the Emperor the wife […] Japan embraced and was seduced by American culture. Amid a complex love-hate relationship, things Japanese and things American gradually became entangled in strange ways. I began to see myself in there, progeny of these two 'parents.'" This continues and expands upon Morimura's 1990 pronouncement of himself as the "daughter of [Western] art history."
Details: Tokyo Metropolitan Museum of Photography, March 11 to May 9; Toyota Municipal Museum of Art, June 26 to September 5; Hiroshima City Museum of Contemporary Art, October 23, 2010, to January 10, 2011; Hyogo Prefectural Museum of Art, January 18 to April 10, 2011. Image credit: Yasumasa Morimura – A Requiem: Unexpected Visitors/1945, Japan (2010), C-type print, 187.5 x 150cm, courtesy the artist.
Women artists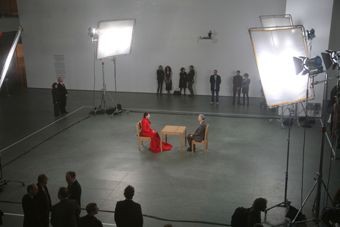 Marina Abramovic
Despite being a rather indifferent show, the 2010 Biennale of Sydney nonetheless brought to the world stage some very intense women and their powerful work redefining history and image making. This applied in particular to New Zealanders Fiona Pardington and Yvonne Todd, and Canadian Skeena Reece. Their interest in history and how imagery can be manipulated parallels the spectacular project at New York's Museum of Modern Art that took place around the same time: "Marina Abramovic: The Artist is Present." Abramovic's controversial revival performances and the criticisms they received led her to announce: "Performance art has to live and survive. It cannot be put on walls. If we do not perform and recreate it, the art fuckers and the theatre fuckers and the dance fuckers will rip us off without credit even more than they do anyway. I am sick and tired of the mistreatment of performance art. Even the pop-video fuckers steal from it. I want to bring young people in afresh so they can experience the beautiful work of Beuys and Acconci. The best way to do that is to bring those works alive, to perform them." (The Observer, Sunday, October 3, 2010). Her feistiness endures in the work of younger artists for whom she will always be a mentor.
Details: The 17th Biennale of Sydney, "The Beauty of Distance – Songs of Survival in a Precarious Age," curated by David Elliot, multiple venues in Sydney, May 12 to August 1; "Marina Abramovic: The Artist is Present," Museum of Modern Art, New York, March 14 to May 31. Image credit: Marina Abramovic – installation view of the performance The Artist Is Present at the Museum of Modern Art, 2010, photo Scott Rudd, © 2010 Marina Abramovic, courtesy the artist and Sean Kelly Gallery/Artists Rights Society (ARS), New York.
Censorship of art
0fC3sUDtR7U
Including Larry Clark (his current show at Musee d'Art Moderne de la Ville de Paris is reserved for those over the age of 18), Richard Prince (whose Spiritual America (1983) was removed from Tate Modern's "Pop Life: Art in a Material World"), Bill Henson…Yes, these are all aging guys who have an interest in photographically depicting fresh, young bodies. The dilemma for society is whether there is anything actually wrong with that or not. Art and beauty have gone hand in hand for centuries and beauty can be found in youth very easily, so why should society mutter? In the age of obsession over criminal acts perpetrated against children, it seems easy to focus on those artists who celebrate beauty (even when the way that beauty can manifest is in the heedless violence of the young), conflating this celebration with exploitation. The conflation changes nothing for children and is counterproductive for society.
And then in Washington, DC, there was the National Portrait Gallery's decision on November 30 to remove a work by the late David Wojnarowicz from the exhibition "Hide/Seek: Difference and Desire in American Portraiture." The idea – whatever the religion – that an image can be blasphemous remains surprisingly resilient. Certainly, images (and words) have power, and that's why religions and the ruling elite of all stripes try to control them. However, attacking Wojnarowicz's Super-8 film A Fire in My Belly, A Work in Progress (1986-87), which in part depicts ants crawling on a crucifix, is a stretch too far. Even worse, the National Portrait Gallery director apparently agreed without resistance to the removal of the work, which was ordered by his superior, G Wayne Clough, secretary of the Smithsonian Institution. Artistic freedoms, and freedom of speech (think Wikileaks), are clearly in jeopardy in the 21st century, and the century has only just begun.
Details: Larry Clark, "Kiss the past hello," Musée d'Art Moderne de la Ville de Paris/ARC, October 8, 2010, to January 2, 2011; "Pop Life: Art in a Material World," Tate Modern, October 1, 2009, to January 17, 2010; "Hide/Seek: Difference and Desire in American Portraiture" at the National Portrait Gallery, Washington, DC, October 30, 2010, to February 13, 2011.
Avatar
d1_JBMrrYw8
James Cameron's 3D maxi-screen moral tale (of self sustainability and interdependence versus unchecked greed and its corollary, colonialism), and Christopher Nolan's Inception were the big American movies of 2010. Whose reality are we living in? American movies in particular keep asking this question – from the Wachowski brothers' The Matrix and David Cronenberg's Existenz (both 1999) and beyond. Further, whose story is believable – all, or any? Inception has been likened to a Haruki Murakami novel by the actress Ellen Page, who plays dream architect Ariadne in the film. Page notes that the success of Murakami's storytelling lies in its realization of "honest" fantasy that never loses its "emotional spine." However, did Inception lead its primary audience beyond the special effects? And did Avatar give that same audience any ideas about sustainability, or were the effects just too good to notice any kind of message or set of ideas?
April's Gulf of Mexico oil spill,
October's toxic sludge in Hungary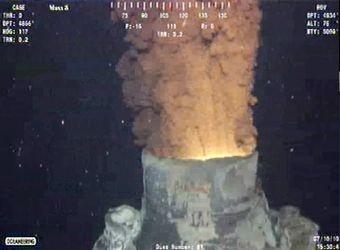 BP's spill cam
Between tsunamis, earthquakes and man-made catastrophes, we live in an age of unmatched mediatized sublimity in which massive disasters are brought to us on screen daily (as in this Huffington Post slideshow from May). Amazingly, that old chestnut about images changing the way we think, feel and live continues to survive, even though there is no hard evidence to show that our exposure to them changes anything – at all.
Things Worth Remembering 2010