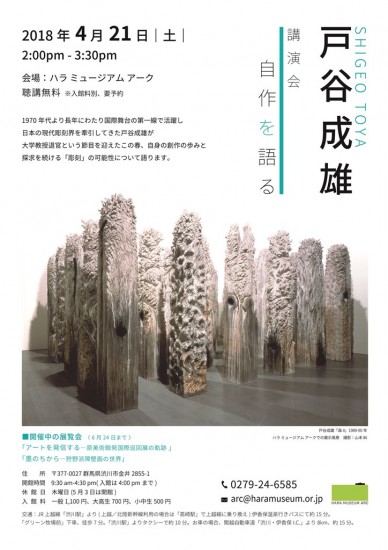 Artist Talk: Shigeo Toya
April 21 (Saturday), 2018  2:00 pm-3:30pm 
Since the 1970s, Shigeo Toya has been a leading figure in the world of Japanese contemporary sculpture and an active presence at the forefront of the international art scene. This spring, having recently retired from university teaching, Toya marks this turning point in his life with a talk about his creative journey and the possibilities in sculpture which he continues to pursue.
Time: 2:00 pm – 3:30 pm
Venue: East Corridor at Hara Museum ARC (Capacity: 70)
Fee: free (reservation and museum admission fee required)
*For reservations: Tel: 0279-24-6585、 Email: arc@haramuseum.or.jp
Artist Profile
Shigeo Toya is widely recognized as one of Japan's leading contemporary sculptors. Since the first showing his work POMPEII · · 79 in 1974, Toya has ceaselessly explored the principles and structure of sculpture. His career began with a series of conceptual pieces with which he sought to redefine the concept of sculpture, followed by the "Forest" series launched in 1984, the "From Boundary" series in 1994 and "Minimal Baroque" series around 2000. In these works, Toya's aim was to reconstruct a sculpture that had been deconstructed during and after the Post-Minimalism and the Mono-ha movements and to explore new possibilities.
He has held solo exhibitions at many art museums including the Hiroshima City Museum of Contemporary Art in 1995, Aichi Prefectural Museum of Art in 2003, Miyazaki Prefectural Art Museum in 2006 and Vangi Sculpture Garden Museum in 2011. He has held solo exhibitions at such galleries as ShugoArts and Kenji Taki Gallery. He has participated in the 1988 Venice Biennale, "Primal Spirit – Ten Contemporary Japanese Sculptors" (North American tour) in 1990, the Gwangju Biennale in 2000 and the Kiev Biennale in 2012 and other international exhibitions. He won the Fumio Asakura Memorial Prize in 1988, Denchu Hiragushi Prize in 1995, the Asia Award at the Gwangju Biennale in 2000, Minister of Education, Culture, Sports, Science and Technology's Art Encouragement Prize in 2004, and the Teijiro Nakahara Prize in 2015. In 2009, he was awarded a Purple Ribbon Medal by the Government of Japan. In 2006, he was appointed professor of sculpture at Musashino Art University where he dedicated himself to the training of the future generation of sculptors. He retired from teaching this spring.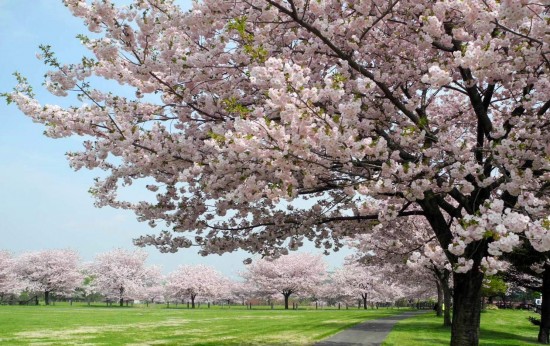 Hara Museum ARC
2855-1 Kanai, Shibukawa-shi, Gunma 377-0027
Tel 0279-24-6585  Fax 0279-24-0449  E-mail arc@haramuseum.or.jp
http://www.haramuseum.or.jp (official website) http://mobile.haramuseum.or.jp (mobile site) https://www.art-it.asia/en/u/HaraMuseum_e (blog) http://twitter.com/HaraMuseumARC (Twitter)
Hours: 9:30 am – 4:30 pm (last entry at 4:00 pm)
Closed: Thursdays (except May 3)
*Subject to temporary closure in the event of severe weather.
Admission: General 1,100 yen, Students 700 yen (high school and university) or 500 yen (elementary and junior high), Free for Hara Museum members, 10% discount for a group of 20 or more, Combination ticket for Hara Museum ARC and Ikaho Green Bokujo (except during Golden Week): General 1,800 yen; Students 1,500 yen (high school and university) or 1,400 yen (junior high), 800 yen (elementary), half price for those over 70, discount for groups of 20 or more
*Children must be accompanied by an adult.
*For residents of Gunma Prefecture: Free admission for elementary and junior high school children every Saturday during the school term/200-yen-discount on admission for up to five persons upon presentation of the Guchoki Passport.
Directions: By train: Take the Joetsu Shinkansen to Takasaki, change to the Joestu Line, and disembark at Shibukawa. From Shibukawa, ARC is 10 minutes away by taxi or 15 minutes by bus (take the Ikaho Onsen bus to ″Green Bokujo Mae″). By car: 8 kilometers (about 15 minutes) from the Kan-etsu Expressway Shibukawa Ikaho Interchange (in the direction of Ikaho Onsen).