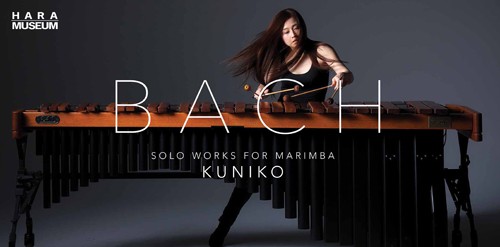 Photography: Michiyuki Ohba
The Hara Museum of Contemporary Art welcomes back the world-renowned percussionist Kuniko Kato who will perform at the museum on two consecutive nights. The program will consist of cello suites and violin sonatas by J.S. Bach featured on her latest album, a double-disc set recorded at the 13th century medieval church Jaani Kirik in Estonia over the course of a month. Those who attend both nights will be treated to the entire contents of the album, performed by an artist whose dazzling musicality has given the world a mesmerizingly new solo interpretation of the classic repertoire.
Program
Music by J.S. BACH – SOLO WORKS FOR MARIMBA Transcribed and performed by Kuniko Kato
First Night 4.13 Friday
Cello Suite No.1 in G major, BWV 1007
Cello Suite No.3 in C major, BWV 1009
Cello Suite No.5 in C minor, BWV 1011
Transcribed from Lute Suite in G minor BWV 995
Second Night 4.14 Saturday
Violin Sonata No.1 in G minor, BWV 1001
Violin Sonata No.2 in A minor, BWV 1003
Violin Sonata No.3 in C major, BWV 1005
Starting time: 19:00 on Friday, April 13; 18:00 on Saturday, April 14. (running time: approx. 80 min)
* Ticket-holders may view My Favorites: Toshio Hara Selects from the Permanent Collection prior to the performance.
Tickets (non-reserved seating; includes museum admission): 6,000 yen (for Hara Museum member and up to one accompanied person: 4,500 yen); reduced-price ticket for both evenings: 10,000 yen (for Hara Museum member and up to one accompanied person: 8,000 yen)
Tickets available at PEATIX from March 6, 11:00 am http://kunikohm.peatix.com
* Note: Preschoolers will not be permitted in the venue.
For more information, please visit http://www.haramuseum.or.jp
Performed by: Kuniko Kato
Sound design by: Yuji Sagae
Organized by: Hara Museum of Contemporary Art, kuniko kato arts project
Venue: The Hall at the Hara Museum of Contemporary Art
4-7-25 Kitashinagawa, Shinagawa-ku, Tokyo 140-0001
Tel: 03-3445-0651 E-mail: info@haramuseum.or.jp Website: http://www.haramuseum.or.jp
Directions to the museum: 5 minutes by taxi or 15 minutes on foot from JR Shinagawa Station (Takanawa exit); or from the same station take the No.96 bus, get off at the first stop (Gotenyama), and walk 3 minutes
KUNIKO – Percussionist
"Meticulous and muscular performances, at once elemental and elegant. Brilliant." –The Sunday Times
Kuniko Kato is one of the world's leading percussionists whose astonishing virtuosity, exquisite musical insight and expressive yet elegant performance style on both keyboard and percussion instruments continue to attract not only audiences, but established conductors and composers as well. She is the first Japanese to record with internationally renowned Linn Records. She is globally endorsed by Pearl and Adams and currently resides in the USA.
http://www.linnrecords.com/artist-kuniko.aspx
www.kuniko-kato.net