"Portraits"
April 14 to May 12, 2012
ArataniUrano, Tokyo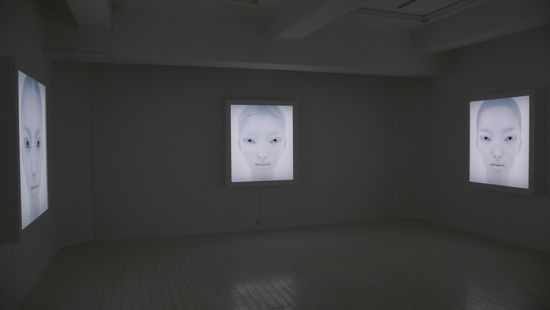 Installation view of Go Watanabe's "Portraits" at ArataniUrano, Tokyo, 2012. Photo ART iT.
This exhibition of new lightbox works by Go Watanabe inaugurates ArataniUrano's new home in the Shirokane Art Complex, where the gallery has taken over the second-floor space recently vacated by Nanzuka Underground. Watanabe's "Portraits" are all depictions of ethereal, androgynous faces – cropped tightly from base of neck to crown of head – which in the glassy stares of their impossibly oversized, wideset eyes and the milky frost of their porcelain complexions hover unsettlingly between the angelic and the alien. Executed at large scale and arranged at more or less uniform intervals around the circumference of the otherwise gallery, these works suffuse the space in an eerie white light that is amplified by the white walls and white-painted wood flooring. In this way the works both suck viewers into specific details, such as the faint outline of the eyebrows articulated by the underlying structure of the skull, or the volume suggested by the shading between pursed lips, but also repel definition at the same time, the way that especially polished marble does when seen from certain angles and distances, collapsing two- and three-dimensionality. Watanabe stakes an ambivalent position between classicism and critique: is he seeking to update ideal conceptions of human form, or to parody the desire to refract our physical insecurities through unattainable images? Regardless, he seems to be committed to exploring the new implications for representation presented by digital technology, whereby regimes of perfection are no longer contingent upon what the mind can imagine, and rather algorithmically composite the diversity and variability of the existing real into probable – but certainly not inevitable – suppositions of some evolutionary endpoint.