Same-Same but Different: The Role of the Artist in the Arab World and Japan
Special supplement to ART iT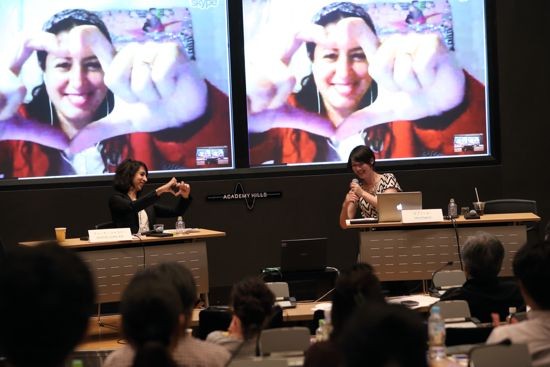 Zena El Khalil (on screen), Sputniko! (at right) and moderator Deena Chalabi (at left) during Session 3 of the symposium "Pop-up Mathaf @ Mori Art Museum – Same-Same but Different: The Role of the Artist in the Arab World and Japan." Photo Mikuriya Shinichiro. All images unless otherwise noted: Courtesy Mori Art Museum.
On September 28-29, the Mori Art Museum (MAM) hosted a symposium between artists and curators from the Arab world and their peers in Japan. Part of related programming of the exhibition "Arab Express: The Latest Art from the Arab World," held at MAM from June 16 to October 28, 2012, the symposium, entitled "Pop-up Mathaf @ Mori Art Museum – Same-Same but Different: The Role of the Artist in the Arab World and Japan," was also organized in conjunction with Mathaf: Arab Museum of Modern Art, Doha, and the Qatar Museums Authority in commemoration of 40 years of diplomatic ties between Qatar and Japan.
Throughout the discussions, the "Arab Express" exhibition was a key touchstone. Curated by MAM Director Fumio Nanjo and Curator Kenichi Kondo as the first major survey of contemporary Arab art held in Japan, the exhibition challenges preconceptions about life in the Arab world that have been shaped by media representations of conflict and terrorism. With 34 artists and artist groups from across the Arab world contributing works in genres ranging from photography and video to painting and installation, the exhibition expresses the diversity of viewpoints and practices in the Arab world today, and also how the "Arab world" in fact extends across the globe through diaspora communities and exchanges such as residencies and international exhibitions.
For "Pop-up Mathaf @ Mori Art Museum," Kondo teamed with Deena Chalabi, former Head of Strategy at Mathaf, to organize three dialogues between participating artists from "Arab Express" and their Japanese peers. Each session addressed a theme that bridged the individual practices of the artists. On September 28, the symposium began with "Bearing Witness," pairing Iraqi-born photographer Halim Al Karim with Ryuta Ushiro and Ellie of artist collective Chim↑Pom. The next day's sessions were "Tracing History," with Syria-born photographer Hrair Sarkissian and the video artist Meiro Koizumi, and "Subverting Kitsch," with Beirut-based writer and mixed-media artist Zena El Khalil and the media artist Sputniko!, followed by a closing discussion with all the symposium's participants, moderated by Fumio Nanjo. As anticipated by the event's title, "Same-Same but Different," the sessions between artists addressed the commonalities and differences in approaches to art between the participants, opening up lively and genuine exchanges, and also eliciting active participation from audience members through questions and comments.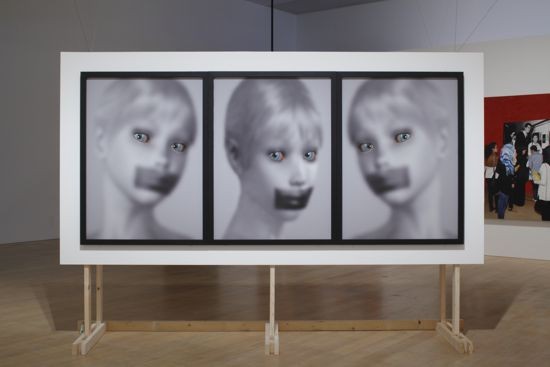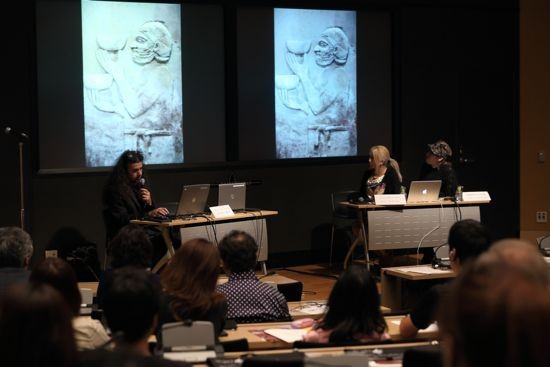 Top: Halim Al Karim – Untitled 1 (from the Urban Witness series) (2002), installation view as presented in "Arab Express: The Latest Art from the Arab World" at the Mori Art Museum, Tokyo. Photo Kioku Keizo, courtesy Mori Art Museum. Courtesy XVA Gallery. Bottom: Halim Al Karim speaks about the influence of Sumerian reliefs on his artistic practice as Ellie and Ryutaro Ushiro of the artist collective Chim↑Pom look on. Photo Mikuriya Shinichiro.
In "Session 1: Bearing Witness," Halim Al Karim took an indirect approach to discussing his practice. He showed slides of the Sumerian reliefs that inspired his personal aesthetic, explaining that his "out-of-focus" photography technique is inspired by the effects of time on ancient artifacts, as well as his own blurry vision. He said that as he studied Iraq's ancient culture, he came to feel that he was living across multiple realities between the past and the present, and that the ancient reverence that Sumerian culture had for women as goddesses informed his own photographing of and empathy for female subjects. But his works are also capable of expressing a strong critical position. He described how he reconsidered his view of humanity while hiding in the dessert for three years after refusing to enter the mandatory military service required of Iraqi citizens under the Saddam Hussein regime, which throughout most of the 1980s was engaged in a costly war with Iran. Series like "Lost Seclusion of the Soul," "Hidden Agenda," "Black Rain," and "Black Bread" variously dealt with issues of the Iran-Iraq War, international support for the Hussein regime, the invasion of Iraq during the 1991 Persian Gulf War, and the anger of the Iraqi people at the international embargo that followed.
Representing the six-member artist group Chim↑Pom, Ryuta Ushiro and Ellie framed their practice, which often involves guerilla stunts in public, as a matter of survival. Screening their early video works Super Rat and Black of Death, they explained that they see in rats and crows a symbol of the intense survival pressures faced by all living creatures in an urban environment like Tokyo. These works develop from a fluid practice in which the group members respond to events in their daily lives. They said that the earthquake, tsunami and nuclear disaster of March 11, 2011, was a tremendous shock for both the artists and the broader Japanese society, disrupting daily routines predicated on peace and stability. Wanting to make a statement that could be relevant to future generations, Chim↑Pom felt it was necessary to address the disaster. They traveled to the devastated city of Soma, in Fukushima prefecture, where they filmed the video KIAI 100 with local workers, who gathered with the artists into a circle and each took turns expressing sentiments of hope for the future through boisterous cheers. For Real Times, the group traveled by car and foot to the gates of the Fukushima Daiichi Nuclear Power Plant, just before the enforcement of the 30km forced evacuation radius took effect. While making this work, the group became aware of their own relationship to video and the media, as no major news agency had entered the disaster zone to film up close. In the work, several of the group members don white radiation suits and walk to a hill overlooking the nuclear power plant, where they then unfurled a white flag that they spray-painted with a red radioactive hazard sign that also evoked the Japanese national flag.
In dialogue, Ushiro and Ellie expressed admiration for Al Karim's life experiences; in turn, Al Karim said that the group's KIAI 100 video exactly met the symposium theme of "Same-Same but Different." He said that even though thousands of kilometers might separate Japan from other countries, just as the workers in Soma city were cheering each other on, so too were people around the world cheering them on. In other words, Al Karim recognized through the video that even though there are multiple differences that separate different people and societies, there are also unique moments of unity – neither difference nor sameness are mutually exclusive.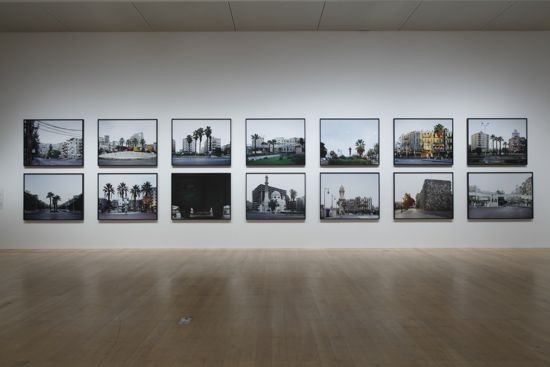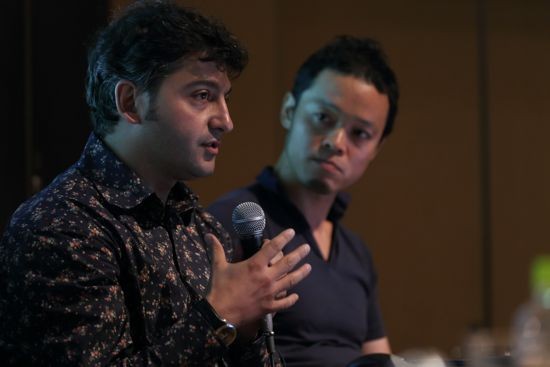 Top: Hrair Sarkissian – "Execution Squares" (2008), installation view as presented in "Arab Express: The Latest Art from the Arab World" at the Mori Art Museum, Tokyo. Photo Kioku Keizo, courtesy Mori Art Museum. Collection Sharjah Art Foundation. Bottom: Hrair Sarkissian, with Meiro Koizumi in background. Photo Mikuriya Shinichiro.
In "Session 2: Tracing History," the Damascus-born, Armenian-Syrian photographer Hrair Sarkissian explained how the history of the Armenian Genocide (1915-23), during which authorities of the Ottoman Empire systematically persecuted their Armenian subjects, resulting in an estimated 1-1.5 million deaths and massive social displacement, extends into the present for many people of Armenian origin, and is now one of the main structures of Armenian identity. The Genocide is still not officially recognized by Turkey, the successor state to the Ottoman Empire, and Sarikissian has made several works in Istanbul dealing with this erased history. For the series "Istory," he visited public libraries and archives in Istanbul and photographed them, as a way of confronting the absent historical evidence. For his latest project, "Unexposed," he researched Armenians who were forcefully converted to Islam during the Genocide, and whose descendants remain in Turkey today, living their lives with adopted names and religion. However, some of these Armenians are secretly reconverting to Christianity and reclaiming their Armenian names. After three years of research, Sarkissian found nine such people and had them pose for portraits in their homes, with their features intentionally obscured to reflect the way that Turkish society, as well as the resentment of Armenians who did not convert to Islam, still forces them to hide their identities.
Having studied art in the Netherlands from 2005-07, the video artist Meiro Koizumi became interested in understanding his identity as a Japanese person and his relationship with the society and nation of Japan, and how that could shape the kind of work he wanted to make. His return to Japan in 2007 coincided with his impression that Japanese society was shifting to conservatism, and one of the topics that he began to investigate was the figure of the Kamikaze suicide squadron pilots during World War II. For Koizumi, the Kamikaze pilot represents an ambivalent window into Japan's past, as when considered from an objective perspective, it is impossible to say conclusively whether these pilots truly volunteered for their suicide missions or whether they were forced into it by the authorities. Surviving testimonies suggest it was a mixture of both. This history inspired his video Portrait of a Young Samurai, which shows a young man in a pilot outfit giving an impassioned farewell speech to his parents off-camera. Then an off-camera voice gives directions to the man to further seek out his "samurai spirit," revealing that what is depicted is a stage with an actor and director. The man repeats his monologue and then receives more directions from the off-camera voice. This process repeats, each time escalating the tension between actor and director. Koizumi also introduced the two-channel video Defect in Vision (2011), with multiple takes of a couple discussing the war over dinner in their home. There is a total of eight versions of the same scene, with the couple's movements becoming increasingly awkward with each scene, until it becomes evident that although they appear normal at first, the actors are actually blind.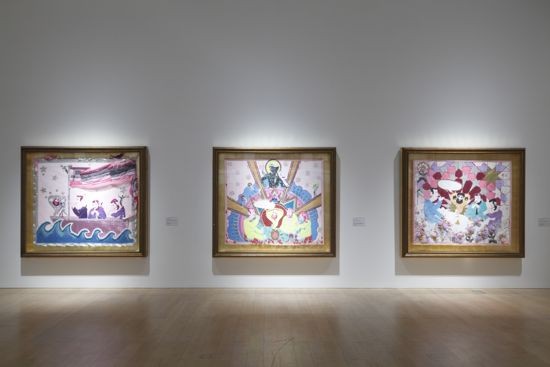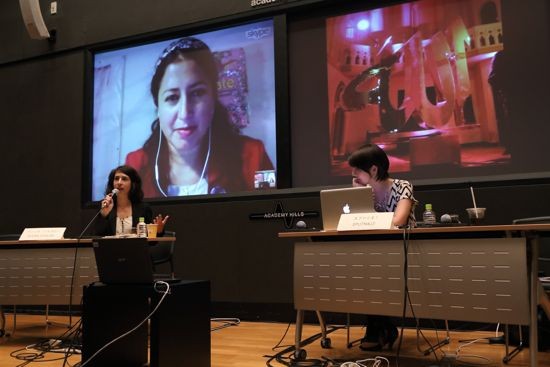 Top: Zena El Khalil – Xanadu, Your Neon Lights Will Shine, Skip the Light Fandango and Peace Will Guide the Planets and Love Will Steer the Stars (2010), installation view in "Arab Express: The Latest Art from the Arab World" at the Mori Art Museum, Tokyo. Photo Kioku Keizo, courtesy Mori Art Museum. Courtesy Galerie Tanit. Bottom: Moderator Deena Chalabi speaks about the work of Zena El Khalil as El Khalil (lefthand screen) and Sputniko! listen. Photo Mikuriya Shinichiro.
In "Session 3: Subverting Kitsch," both Beirut-based Zena El Khalil and Tokyo-based Sputniko! expressed affinities for each other's practices. With both artists dealing with pop culture and exploring alternative ways of popularizing their work through social media and multiple creative platforms, they perhaps had the most in common of all the symposium's participants. Providing context about her origins, El Khalil explained that she grew up between Lagos, Nigeria, and Beirut, and was exposed to many different cultures in her childhood. Pop culture became for her a way to bridge these differences. Now, she said, she uses pop culture to expose the superficiality of war, and to create an alternate reality through love and humor. For her, the color pink is an important symbolic color. Even though it can be cloying, it is also a symbol of non-violent protest, used by the Code Pink woman-initiated peace and social justice movement and the Think Pink breast-cancer awareness movement and, in the form of a pink triangle, as a symbol of gay pride. She also uses art as a place of meditation and escape from the conflict around her. She makes her mixed-media collage pieces from thousands of small pins, which delicately hold the different elements in place. She explained that this reflects the instability of the region and the problem of collective amnesia that has arisen in Lebanon since the Civil War of 1975-1990. At any time, someone else could rearrange the paintings to tell a completely different story. In a similar way she re-appropriates contentious religious symbols. She made a giant disco ball with the word Allah in Arabic script, inviting participants to dance rather than kill under the light of God. She also brought a monumental sculpture of the word Allah to a church in Italy, where again people were invited to dance. She explained that the Allah sculpture is inspired by a real monument in Tripoli, where people often convene for protests. Her pieces in the "Arab Express" exhibition, she said, were inspired by Israeli propaganda flyers that were distributed during the war in 2006. And she revealed that this practice of inverting violent imagery into beauty also has a precedent in her grandfather, who during the Civil War refused to leave his village despite the heavy fighting that took place there. Every time a bomb fell near his home, he would take the next opportunity to plant a tree in the crater, and now there is a beautiful line of trees leading to his home, and his street has been renamed Flower Street.
The child of a Japanese father and a British mother – both mathematics professors – Sputniko! like El Khalil grew up between cultures. She initially planned to study computer science and mathematics at Imperial College London, but then switched to studying art. This change in interest was partly inspired by her concern over the social roles of women in Japan, and questions about her own biology and issues relating to menstruation and pregnancy. She says that she wanted to become a cyborg, and combined her technological and scientific background to address these problems through art. The first work she introduced as Menstruation Machine Takashi's Take, for which Sputniko! pretended to be a boy who likes to dress up as women but wants to develop an even deeper connection to the opposite sex, and so invents a machine that use electrodes and a vial of blood to recreate the pain and discomfort of menstruation. Building an actual menstruation machine with the help of scientists, Sputniko! photographed herself wearing the machine in the role of the fictional character Takashi, and also created a song and music video about the project. Although the aesthetic of the music video is inspired by pop musicians such as TM Revolution and by media artists like Laurie Anderson, the work also questions the social pressures shaping technology. Sputniko! said that even though doctors knew when they were first invented that contraceptive pills would also stop menstruation, they marketed a program by which women would take the pills for three weeks and then rest a week to maintain the natural menstruation cycle. She cited information that in Japan it took nine years to approve a new contraceptive pill, Libro, which can be used for an entire four-week cycle, whereas it only took five months to approve Viagra. Sputniko! also introduced Sushi Borg Yukari, also realized through photos and a short film, about a "nyotai mori" cyborg, in the shape of an attractive woman, which serves sushi to businessmen from a rotating belt attached to her waist. In the work's premise, the cyborg decides to attach knives to the service belt and slaughter all the men. The artist's most recent project is Nanohana Heels, responding to the ongoing aftereffects of the March 11 Fukushima nuclear disaster. Sputniko! is developing a pair of fashionable high-heel shoes that will plant rape flower seeds, which are contained in a dispenser attached to the shoe, with each step the wearer takes. Sputniko! was inspired by information observed in Chernobyl that rape flowers absorb radioactive substances from the soil. The flowers, which can also be used to create biodiesel, could thus be used to clean up the area around Fukushima and to provide local farmers with a new agriculture that could offset the loss of their crops and livestock due to radiation and also provide an alternative to nuclear energy.
In dialogue, both El Khalil and Sputniko! asserted that although they both draw inspiration from pop culture, they find in art specifically a space to reflect deeply on issues that concern them and to move at a slower pace than commercial artists whose work is driven by sales and visibility.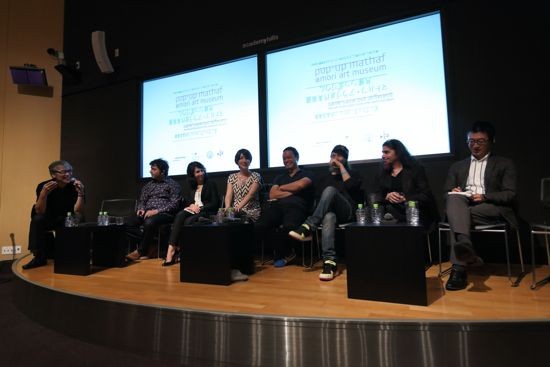 The participants of "Pop-up Mathaf @ Mori Art Museum – Same-Same but Different: The Role of the Artist in the Arab World and Japan" during the closing roundtable discussion of the symposium, with MAM director Fumio Nanjo at far left and MAM curator Kenichi Kondo at far right. Photo Mikuriya Shinichiro.
The symposium concluded with a roundtable discussion with all the participating artists, as well as curators Chalabi and Kondo. In his opening remarks, the moderator, Fumio Nanjo, touched on themes of identity and questions about how to negotiate the potential hegemony of "common languages," whether defined as English or contemporary art. The artists had diverse views about these topics. Sarkissian said he felt identities such as "Middle Eastern Artist" which are determined by criteria established in the US and Europe, are counterproductive for both the individual artist and meaningful international exchange. Koizumi used the example of the filmmaker Yasujiro Ozu to suggest that, even where artists begin with a common reference point, such as Hollywood films, they still are able to create their own personal artistic languages. The discussion also touched upon points of how contemporary art is now consumed through both markets and international exhibitions, with the curators Nanjo, Kondo and Chalabi reflecting candidly on the responsibilities that exhibition organizers have to protect the individuality of the artists and to reach out to audiences.
Pop-up Mathaf @ Mori Art Museum
Same-Same but Different: The Role of the Artist in the Arab World and Japan