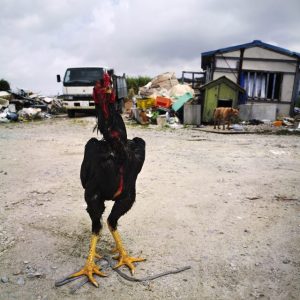 Ryuichi ISHIKAWA, ZK076 Yaese, 2014, from "A Grand Polyphony", 2014 The National Museum of Art, Osaka © Ishikawa Ryuichi
More than two years have passed since the new coronavirus pandemic transformed our lives. Not infrequently we feel as though our sphere of activities, but also our very lives, feelings, and perspectives had shrunk considerably.
This exhibition, "Faraway Places / Nearby Places," consists of works that broaden our narrowed vision. Featured are works by artists related to Eastern Europe and Russia, as well as those, mainly new acquisitions, from Okinawa. Each of these groups is given a separate section. We hope that this will help make faraway places feel closer, or recognize the remoteness of places that normally feel familiar.
Artists
Nobuaki TAKEKAWA, Mirosław BAŁKA, IlyaKABAKOV, Christian BOLTANSKI, Boris MIKHAILOV, Józef SZAJNA, Ágnes SZÉPFALVI / Csaba NEMES, Ryuichi ISHIKAWA, ChikakoYAMASHIRO, Futoshi MIYAGI, Emily Kame KNGWARREYE, Yoko MATSUMOTO, NatsukoSAKAMOTO, Isamu NOGUCHI, Noe AOKI, Shigeo TOYA, Yoshihisa KITATSUJI, KarinSANDER, Mark MANDERS, Yoshihiro SUDA, Alexander CALDER, Joan MIRÓ, Henry MOORE, Jiro TAKAMATSU
Period 

June 25–August 7, 2022

Note: No special exhibitions will be held at the museum during this period.

The National Museum of Art, Osaka
4-2-55 Nakanoshima, Kita-ku, Osaka 530-0005
https://www.nmao.go.jp/
Opening Hours
10:00-17:00 (10:00-20:00 on Fridays and Saturdays).
*Last entry 30 minutes before closing.

Closed
Mondays (except July. 18 ) and July. 19.
Admission
Adults: 430 (220) yen / University students: 130 (70) yen.
・( ) admission for groups of more than 20 people.
・Admission free for visitors under 18 and those 65 and over, and visitors with disabilities and one attendant (proof required).
Night discount (applicable after 17:00 on Fri. and Sat.)
Adults: 250 yen / University students: 70 yen.
Free admission days: June. 25, July. 2, August. 6, 2022.
Organized by The National Museum of Art, Osaka
Sponsored by Daikin Foundation for Contemporary Arts