Over the past 12 months, we at ART iT have gone from considering art as text with Danh Vo and Miranda July, and art as education with Wong Hoy Cheong and Toyo Ito, to thinking about approaches to locality with Kimsooja and Martha Rosler and identity with Cheyney Thompson and Mickalene Thomas, and from questioning the power of revolutions with Monica Bonvicini and Miwa Yanagi to identifying the constructions behind the practices of Anri Sala and Tadashi Kawamata, not to mention previewing the Venice Biennale, where many of these issues intersected at once. Amid the momentous events that have occurred this year, it is our sincere hope that these interviews, and the exchanges we have had with artists and thinkers who have generously shared their time and reflections, will provide something to build upon, both in the near future and in posterity, which is why we put so much effort into arranging and editing them. It is in that spirit – something to build upon – that we present our Things Worth Remembering for 2011.
'Camping and Tramping Through the Colonial Archive: The Museum in Malaya'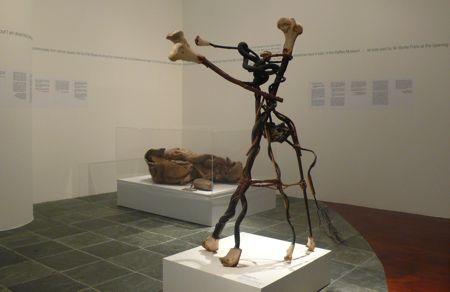 At a time when biennales, survey exhibitions, galleries, art fairs and even university degree shows have increasingly come to resemble each other, exhibition practice has reached a critical point. How can one articulate an idea through the arrangement of objects, information and experiences in space? And how can these materials be given a voice that expresses something beyond the fact of their existence?
While the curators of major institutional projects must confront the pressures of a production culture that demands efficiency and pragmatism, this concise investigation into the history and development of museological practice in Malaya, organized by Ahmad Mashadi at the National University of Singapore Museum, is a powerful statement of the potential of the "small" exhibition.
If his theme begins from a classic post-colonial academic position, Mashadi has transported stale critique to completely unexpected, and riveting, levels of physical and intellectual encounter. Interspersing anthropological, zoological and botanical specimens with cultural artifacts and monitors and projections of historical documentary footage as well as works by the artist and shaman healer Mohammad Din Mohammad, he has brought a diverse range of sources into a shared, contemporaneous space. Most effective is the arrangement of the glass cases containing the specimens along a slightly skewed central axis and in clusters within separate alcoves, such that viewed from certain angles the concatenation of glass surfaces distorts and refracts the space of the gallery itself, or reflects the flickering, faded images of forest aborigines at work or ceremonial galas with dancing royalty from the documentary footage, most of which was shot on 16mm film.
Here, revealed in Mashadi's sensitivity to the constantly shifting visual relations among things is a canny sympathy with both the subject of inspection – the position of the native, of the land, of the object – and with the one doing the inspecting – the anthropologist, the contemporary, the gallery visitor. Wrapping around a freestanding partition extending along one side of the gallery is a continuous wall text stitched together from various historical documents, such as official correspondence advocating the establishment of a natural history museum in Malaya or reports commenting on the success of the colony's participation in international exhibitions of Commonwealth territories. Engrossed by the text, which is arranged according to a complex reference system corresponding to additional sources, one literally stumbles through the development of the rationale behind the packaging and circulation of cultural knowledge, looking up to be shocked by an overhanging whale skeleton, or narrowly avoiding a low-lying vitrine with the parched skin of an elephant's head. Indeed, it was hard to read this willful delirium, conceived as a two-year, long-term display, as anything but a commentary on the aspirations of the concurrent Singapore Biennale, and other similar projects.
Details: January 13, 2011, to December 2, 2012, NUS Museum, Singapore. Image credit: Installation view at NUS Museum, photo ART iT.
'A Fateful Journey: Africa in the Works of El Anatsui'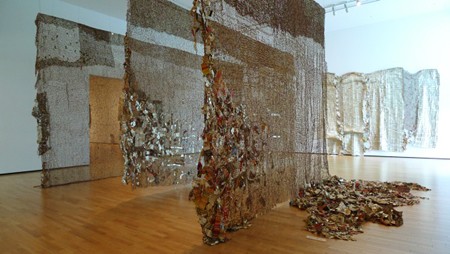 Originating at the Hayama branch of the Museum of Modern Art, Kamakura & Hayama, this retrospective of the Ghana-born artist El Anatsui revitalized the majestic white cube space of the venue. Tracing his creative arc, the exhibition provided a rich structure through which to appreciate Anatsui's career as a sculptor: it was revelatory to see the early woodcarvings with pieces of aluminum attached to them which anticipate his use of salvaged materials and his signature metalwork tapestries made of bottle caps, foil and copper wire. At first glance, Wastepaper Basket (2004-10) appears to be made of discarded newsprint, but in fact it is made from the original newspaper printing plates, showing how through skillful manipulation familiar materials can be given unexpected properties. Aside from a large gallery with numerous tapestry works, a second gallery deeper into the museum was the showstopper. Utilizing the natural light of this room, the work Gli (Wall) (2009) was installed such that the transparency of the weaving and the fabric-like drapeline of the aluminum were displayed to full effect.
While Anatsui's works have appeared in numerous international survey exhibitions, this was a rare chance to appreciate the special qualities of the tapestries together in one group. What became evident from this presentation was that the way these works change depending on whether they are viewed up close or from afar, inviting viewers to determine their own diverse approaches, develops from a rigorous investigation into the potential of sculpture.
Yet the exhibition also harbored some problematic issues. Because it was organized in collaboration with the National Museum of Ethnology, it included not only Anatsui's works, but also representations of culture in the artist's native Ghana and his current home of Nigeria, introduced after the exhibition proper as contextual material. Certainly the display showed how Anatsui's works are grounded in African culture and the developments of the era of his youth during the wave of African independence movements, but whether this attempt to read Africa through Anatsui, and Anatsui through Africa, was absolutely necessary, or simply patronizing, is highly debatable.
The National Museum of Ethnology's Yukiya Kawakuchi addresses this concern in his text in the exhibition catalogue, sincerely outlining his reasoning for why it is necessary to provide cultural context. But certainly if the situation were reversed, and an international institution attempted to read Japan, or rather Asia, through the work of a single Japanese artist, it would be a difficult premise to support. These are issues that become increasingly relevant, and yet increasingly complex, amid the increasingly global circulation of art.
Details: Originated February 5 to March 27 at the Museum of Modern Art, Kamakura & Hayama; toured April 23 to May 22 at Tsuruoka Art Forum, and July 2 to August 28 at the Museum of Modern Art, Saitama. Image credit: Installation view at Museum of Modern Art, Kamakura & Hayama, photo ART iT.
Taryn Simon, 'A Living Man Declared Dead and Other Chapters
Taryn Simon is known for series such as 2007's "An American Index of the Hidden and Unfamiliar" and 2003's "The Innocents," produced after intensive research and deploying the interactions between documentary photography, captions and text to bring to light the political and social issues that lie behind the creation of images.
Exhibited at Tate Modern, this latest project was realized over the course of four years, during which time the artist traveled the world to visit a total of 18 "bloodlines," recording the members of these families and their related stories. Each of the 18 multi-panel works takes the form of a main panel or group of panels with portraits of the members of each bloodline; a secondary panel with text information and captions listing the names, birthdates and occupations of everyone depicted; and a third panel with photos of objects, places, documents and figures related to the bloodline's story. Each bloodline thus forms a chapter in a story that is gradually revealed through the interplay of text and image, and each chapter is structured in highly systematic fashion. For example, the bloodline photographs are all shot against neutral backgrounds, evoking identity portraits, and the members of each bloodline are all ranked in order from oldest to youngest.
The first chapter, which also gives the project its name, takes place in Uttar Pradesh in India, and follows a family in which four of its members have been officially declared dead. Another chapter investigates the progeny of the governor-general of Nazi-occupied Poland, with many of them requesting that their names and images be withheld, replaced with blank backgrounds. Simon also visits among others a Druze family in Lebanon, who believe in reincarnation, with the same portraits appearing in multiple points along the lineage; and she a family in Brazil that is engaged in a deadly feud with another family, their mutual resolution of grievances through blood a tacit condemnation of the absence of law enforcement and appeal for justice.
Through each of the 18 chapters, the territorial disputes, power struggles and historical, religious, cultural and science-related issues of different points across the globe are thrown into sharp relief. The project is accompanied by an 867-page, large-format catalogue, which no doubt expands upon the full details of each bloodline and the story as a whole. However, in presenting this project in the space of an exhibition, Simon confronted viewers with the fact that the issues addressed in each chapter are universal even as they take unique form in specific localities. It is a powerful statement by the artist.
Details: May 25, 2011, to January 2, 2012, at Tate Modern.
Edward Kienholz, Five Car Stud 1969-1972, Revisited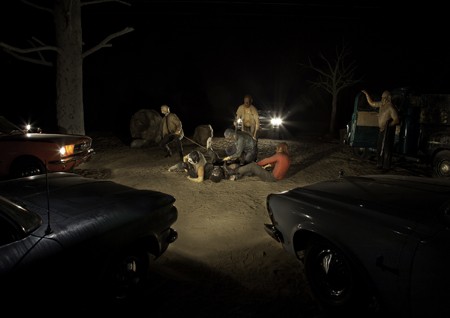 Organized by LACMA, this exhibition was the first in 38 years – as well as the first ever in the United States – for Edward Kienholz's seminal large-scale installation Five Car Stud, produced over three years from 1969 to 1972.
The work in fact is deeply connected to both LACMA and Japan. It was originally intended for an exhibition of Los Angeles artists at London's Hayward Gallery organized in 1971 by Maurice Tuchman, the curator who had overseen Kienholz's 1966 retrospective at LACMA. However, proving too expensive to ship, it was not included in the show. It finally made its debut in 1972 in Harald Szeemann's Documenta 5, and toured Germany, before being acquired in 1974 by the Japanese company Dainichi Can, an affiliate of Dai Nippon Ink and Chemicals (now DIC), on the advice of sculptor Yoshikuni Iida. From that time on it remained in storage in Japan, although it was transferred to the collection of the DIC Kawamura Memorial Museum of Art when it opened in 1990.
This would amount to little more than fascinating art historical arcana if the work did not address such a deeply endemic American issue. At LACMA the work was installed in a spacious, darkened room coated in sand, with the headlights of a ring of four cars and a fifth pickup truck illuminating the figures of several white men assaulting a single black man. Upon entering the room, viewers tread gingerly upon the sand, gradually discerning the figures upon approaching the site of the lynching. With the darkness of the room and the proximity of the viewing experience, the violence of the scenario comes across with imposing physical force.
Although the work does not cite any specific incident, it is significant that Kienholz used his friends and family in creating the molds for the figures, tacitly locating the terror and depravity he conjured within the very fabric of our most intimate selves and communities. Far from illustrating an episode of the past, in the context of the present Five Car Stud elicits reflection on the deep-rooted issues that still pervade social hierarchies.
Details: September 4, 2011, to January 15, 2012, at the Los Angeles County Museum of Art. Image credit: Installation view at Los Angeles County Museum of Art. Photo Tom Vinetz, © Kienholz, Collection Kawamura Memorial Museum of Art.
Alighiero Boetti, 'Game Plan'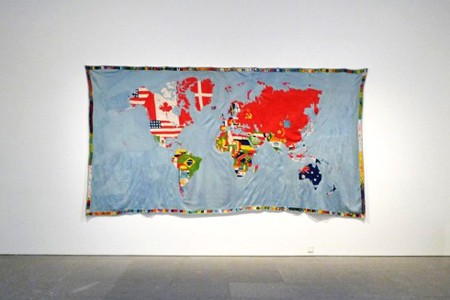 Curated by Lynne Cooke, this large-scale retrospective of Alighiero Boetti successfully avoided the formula of chronological organization and biographical narrative (a modernist conceit with surprising resilience, as displayed in Tate Modern's current Gerhard Richter retrospective). Cooke placed and grouped each work in such a considered way that viewers could imagine what Boetti was thinking as he made them. With no wall texts, and descriptions gathered together in specific points, her installation privileged the experience of Boetti's works in space.
Here one could see where Boetti's interests lay at each phase in his career, from his start as a member of Arte Povera to his gradual distancing of himself from that movement, and his use of techniques such as classification, arrangement, archiving and word play. In particular, a room with assembled works from the distinctive "Mappa" (1971-94) series of embroidered world maps, executed with different color schemes and at different scales and production dates, revealed how over the years Boetti achieved a contemporaneous documentation of drastically changing geopolitics.
In light of current social upheavals, and with art increasingly equated with political action, one wonders how Boetti would respond were he still alive. With a practice rooted in drawing and making, and producing multiple series at a time, Boetti was no activist; he always lived as an artist, somewhat removed from politics. Having produced works in Asia at a time when the West was the center of contemporary art, and having commissioned works from craftsmen at a time when the hand of the artist was still a mark of authenticity, Boetti was distinguished by his unique sense of autonomy through collaboration, and it is this spirit of communal independence that is worth emulating even now.
Without directly commenting on politics and society, this exhibition's presentation of works that anticipated the contemporary art of today (what was then the future) reconsiders what an artist is or can be. At the same time, it is a potent reminder of the ability of a curator to bring an artist's works to life.
Details: October 5, 2011, to February 5, 2012, at the Museo Centro de Arte Reina Sofía. Image credit: Installation view at Reina Sofía, photo ART iT.
Return to Index
Things Worth Remembering 2011