Carolyn Christov-Bakargiev is the artistic director of the upcoming Documenta 13. In addition to preparing the exhibition, in the past year she has overseen the production of the publication series "100 Notes – 100 Thoughts"; a calendar for 2011-12 dedicated to dog-human and cat-human relationships in the art world; and a multimedia online platform sharing the research and ideas going into the exhibition's making.
ART iT asked Christov-Bakargiev to share her reflections on 2011 and her horizons for 2012.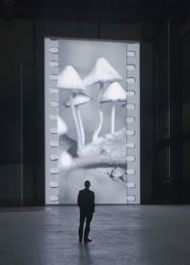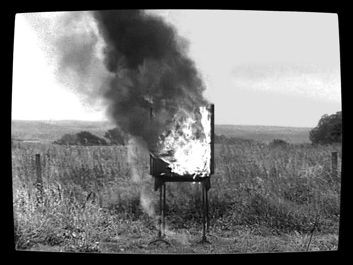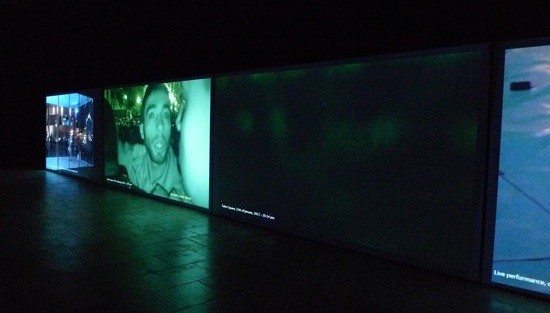 Top left: Tacita Dean – FILM (2011), installation view at Tate Modern, London. Photo Lucy Dawkins, courtesy the artist, Frith Street Gallery, London, and Marian Goodman Gallery, New York/Paris. Top right: David Hall – TV Interruptions (7 TV Pieces): Interruption piece (1971), from the exhibition "Are You Ready for TV?" at MACBA. Courtesy the artist and LUX, London. Bottom: Ahmed Basiony – Installation view of "Thirty Days of Running in the Space," Egypt Pavilion at the 54th Venice Biennale, 2011. Photo ART iT.
ART iT: As you prepare for the upcoming Documenta 13, we'd like to ask for your reflections on the events of 2011, and your horizons for 2012. What are your impressions of the past year?
CCB: I'm neither a visionary nor a prophet, so I don't know what 2012 will bring. Historically speaking, 2011 certainly was an incredible year. I have never liked to use the word crisis: etymologically, the Greek krisis – from which also derives criticism and critique – means to separate in order to judge, which I find to be overly dramatized. But I think almost anybody would agree that crisis is an appropriate word to describe this year, not only in relation to the escalation of the preceding years' so-called financial crisis, but also with regard to the incredible revolutions and terrible disasters that occurred, and are still unfolding, from the Arab Spring and the London protests to the Occupy movement and the March 11 earthquake, tsunami and nuclear crisis in Japan.
In terms of art, we could say the year starts in Cairo on January 25 with the uprising in Tahrir Square that led to Hosni Mubarak's resignation in February. The artist Ahmed Basiony, who posthumously represented Egypt at the 54th Venice Biennale (Egypt Pavilion: "Thirty Days of Running in the Space," June 4 to November 27), had been in the square as an active participant, videotaping the protests and uploading the videos to the Internet. He was shot and killed there on January 28. This is not to say that Basiony was necessarily a great artist, but that the year starts with a body of an artist, on the street, dead, means something to me in terms of the relationships between art and the world, and art and history.
It makes me think of Judith Butler, whose most recent books and texts have been about crisis contexts and contexts of war and devastation. Particularly in her book, Frames of War: When is Life Grievable? (2009), Butler speaks of the precariousness of the subject in our times. What Butler addresses is the fact that the body itself is precarious, and that people die, and that unless one can understand the precariousness of an individual life, one can neither mourn nor give value to it. This investigation is connected in her thoughts to the question of the embodied, and the act of putting one's body in a position that is simultaneously vulnerable and yet engaged.
ART iT: Aside from Ahmed Basiony's representation of Egypt at Venice, do you feel that the historic events of 2011 have been reflected in how we've talked about art, or in specific events, exhibitions and initiatives of the past year?
CCB: There are many art worlds, not just one. There is the market-oriented art world of prestige and legitimation and social standing, which also has to do with investment, and then, to name just one alternative, there's the art world of activists, who in fact form a new kind of underground.
Many people use the word "art" because it's a very striated, open, ambi-significant word. You can attach it to many things. I feel that the kind of young people who in the 1960s and '70s would have ended up in politics are now turning to art, which is interesting because art is a sphere in which one doesn't consider failure the same way as in other fields.
In art, failure can be a great achievement, as with a drawing by William Kentridge, which fails, gets erased, and is remade over and over, until it leads to a beautiful artwork made of thousands of failures. Given this complexity, I think many people have moved into art seeking a space both of activity in and engagement with the world, as well as, strangely enough, a space of retreat from the world.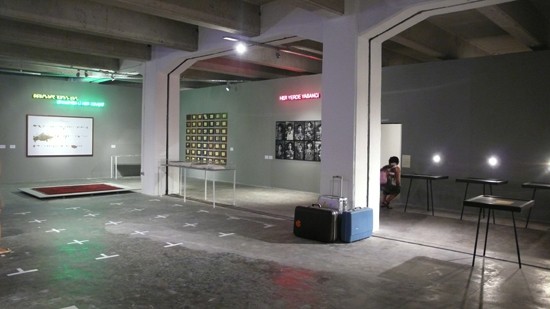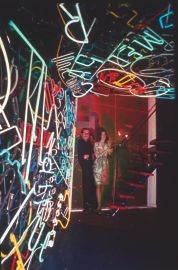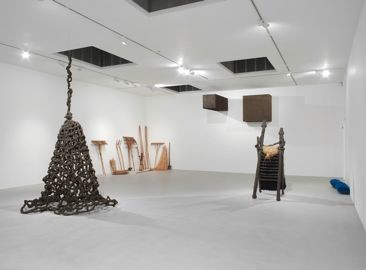 Top: Installation view of the group show "Untitled (Passport)" in the 12th Istanbul Biennial, 2011. Photo ART iT. Bottom left: Marta Minujín – Marta Minujín and Rubén Santantonín in La Menesunda (1965). Courtesy MALBA. Bottom right: Pino Pascali – Installation view of "Pino Pascali's final works 1967-1968" at Camden Arts Centre, London. Photo Andy Keate, © Camden Arts Centre.
ART iT: Were there any exhibitions in 2011 that made an impression on you, or that have informed your organization of Documenta?
CCB: There were some great exhibitions in 2011, although I hesitate to rank this year's periodic international exhibitions among the best.
I must disclose that I am on its board, but I think the Istanbul Biennial ("Untitled (12th Istanbul Biennial)," September 17 to November 13), curated by Adriano Pedrosa and Jens Hoffmann, was an interesting experiment that swung toward the directions of research, archive and retreat. It presented an understated, beautiful aggregation of objects through questions of scale and of curatorial intelligence. Also important was the reconnection Pedrosa and Hoffmann made with the idea of the politics of form.
Another radical show was the exhibition "Are You Ready for TV" at Museu d'Art Contemporani in Barcelona (November 5, 2010, to April 25, 2011), organized by Chus Martinez just before she left MACBA to join Documenta as Head of Department. With its extraordinary, gesamtkunstwerk-like installation, the exhibition was an activated archive concerning the participation in TV of philosophers, intellectuals and other figures who generally do not appear in the mainstream.
There were also excellent and important historical solo exhibitions, like the retrospective of the feminist artist Marta Minujín at Museo de Arte Latinoamericano in Buenos Aires ("Obras 1959-1989," November 26, 2010, to February 14, 2011); the exhibition of the often overlooked Arte Povera artist Pino Pascali at the Camden Arts Centre in London ("…a multitude of soap bubbles which explode from time to time…: Pino Pascali's final works, 1967-1968," March 4 to May 1); and the retrospective of Alighiero Boetti at Reina Sofía in Madrid ("game plan," October 5, 2011, to February 5, 2012), organized collaboratively with Tate Modern in London and MoMA in New York.
Among other solo exhibitions, there was Akram Zaatari at the Moderna Galerija Ljubljana ("This Day," March 1 to April 10), and the Otolith Group, whose "Thoughtform" toured from MACBA (February 4 to May 29) to MAXXI in Rome (October 6, 2011, to February 5, 2012), where I saw it. One of the year's most significant pieces is Tacita Dean's FILM, made for the Tate Modern's Turbine Hall (October 11, 2011, to March 11, 2012). It is a requiem to the history of cinema at a time when companies are stopping production of materials necessary for making, projecting and reproducing film on film.
To mention an American artist, Fred Sandback is one of the most minimalist and retreated artists today; his sculptural installation made of yarn, at the Whitechapel Gallery in London (May 25 to August 14), was the right decision given our times of crisis, because certainly you can't say it's over-produced work. And to speak of younger artists, Goshka Macuga has emerged through exhibitions at the Whitechapel in 2009-10, at the Walker Art Center in Minneapolis ("It Broke From Within," April 14 to August 14) and at the Zachęta National Gallery of Art in Warsaw ("Untitled," December 3, 2011, to February 19, 2012) as a key figure. I think the curatorial turn is one of the authoritarian turns of recent years; an artist like Goshka who's working in a curatorial mode or with that methodology is reclaiming that space from those who have more to do with the management of global flows of information than with participating in and confronting the eternal struggle: how does one position oneself vis-à-vis the world, and what is the role of the creator and intellectual within society?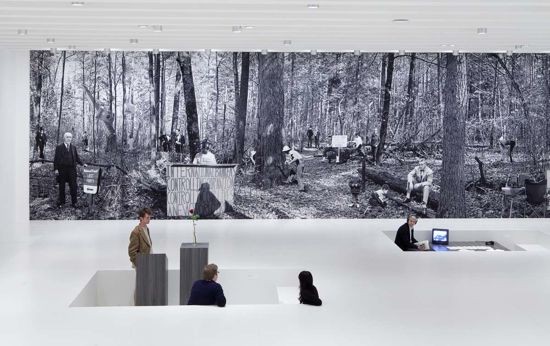 Goshka Macuga – Installation view of "Goshka Macuga: It Broke From Within" at the Walker Art Center, Minneapolis, 2011. Photo Gene Pittman, courtesy Walker Art Center.
ART iT: What do you think the role of the artist will be in the coming year, and do you think anything will change about how we relate to and discuss art?
CCB: Everything will change – not just one thing, not just a little bit. Everything will change, but not in 2012. It's not like an advertisement for the end of the world. It takes 30, 40 or 50 years for a paradigmatic shift to happen, which is when everything starts to be interpreted through the same lens. Right now we haven't made that full shift, but there are signs of its approach in very different areas.
Everything will surely change in the ways we consider the relationship between art and the world, and how we define art. For example, I never use the term "contemporary art," because I identify it specifically with the 1950s and '60s, when it first came into use as a substitute for the term "modern art." The term is almost 70 years old, and it defines a specific period of art history, and I think we are no longer in that period. Yet the practices of and the works made by the people we call artists are even more important and crucial today than in the past, because they represent the space of the imagination, which is both the very space that cognitive capitalism is attempting to control, and the only space that can resist that control. As the philosopher Christoph Menke wrote in his contribution to Documenta's publication series, "100 Notes – 100 Thoughts," we need to make leaps of imagination to rebuild democracy based on the fact that we all share imagination.
Documenta 13 is scheduled to run from June 9 to September 16, 2012.
Return to Index
Things Worth Remembering 2011