IV.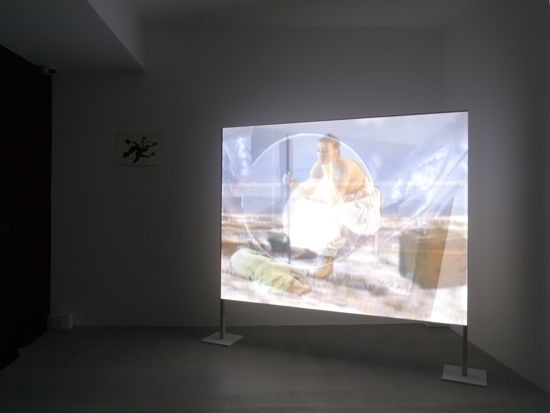 Reanimation, installation view, Wako Works of Art, Tokyo, 2013. All images: Courtesy Wako Works of Art, Tokyo.
ART iT: Two works which interest me and might even in some way be connected to the current piece, Reanimation, are Jones Beach Piece (1970) and Delay, Delay (1972), for which you expanded the performance or event across an entire landscape, and played with sound delay as well as drawing into the landscape. Do you ever revisit these ideas in your recent pieces?
JJ: I have revisited the idea of working with landscape and distance, but not directly. I include the action or concept of drawing in all my work. I find reasons to draw in relation to the space and content of the work. For Reanimation, I didn't think of drawing in the snow before I went to Norway to record footage for the work. It's just that all of a sudden I thought, I have to draw in the snow. That's how it happened.
But I do look at my old work and think, how can I bring those ideas back? I have what I consider a vocabulary that migrates.
ART iT: With Delay, Delay in Rome, you used the motion of the Tiber as a device for movement in the performance itself. That's radical. We look at rivers all the time in the urban landscape and are not really conscious that they're moving and that our actions are intrinsically connected to that movement.
JJ: Yes, I work with what is at hand; it was an experiment. I put the rope in the river with the board on it, and I thought these six men could drag it out, but they couldn't do it for the whole performance. So that became a constant throughout the performance, them trying to drag that board out.
ART iT: What would have happened if they had been able to get the board out?
JJ: Nothing. It would have just happened. I didn't have any plan, but I liked the image of the board on the rope in the water throughout the performance.
ART iT: In your recent pieces going between performance and video do you also maintain space for that kind of contingency or accident?
JJ: I work in the same way that I have always worked. I begin each piece with a collection of materials and ideas. I allow accidents. I think first you have the structure and the subject matter, and then you program your brain to be involved in that process. In that way ideas come to you. For instance, when I was working on Mirage (1976/2005), I was walking and saw a game of hopscotch in the street – this is a common sight, but in that situation at that moment, I thought, that's perfect, and I incorporated it into the work. I allow that to happen.
ART iT: The interesting thing about Noh theatre is that the performers don't really rehearse together. They're all highly trained, but as an ensemble they might only meet once before the actual performance.
JJ: That's amazing, I didn't know that. I do rehearse. For me it doesn't work to fully improvise in live performances. I have it totally planned out, so that 99 percent of the time the only thing that varies is that I might take a little longer to get across the stage or move this before that – very minor differences – but everything is choreographed. It has a lot to do with my idea of movement, that I move in a certain way, cross the room in a certain way, pick up something – I try to do it the same way every time, because it has to do with timing, economy of movement, and a sense that the continuum of movement can be a kind of dance.
ART iT: In the 1960s you did workshops with Trisha Brown and other choreographers. Can you explain more about what these workshops entailed?
JJ: In moving toward performance I had little prior experience, so during this transition from sculpture and more traditional visual arts I attended workshops with dancers. Trisha Brown's workshop provided a situation in which one could experiment and present with the other participants. We were not working on Trisha's pieces at all. It was a very open situation of improvisation. She never commented on our work, but we discussed it among ourselves. In workshops with Yvonne Rainer, we would sometimes perform simple actions like running in her presentations. I tried to learn Trio A, which was interesting, but I never performed it. I never performed with any of those people, except Deborah Hay, once at the Whitney.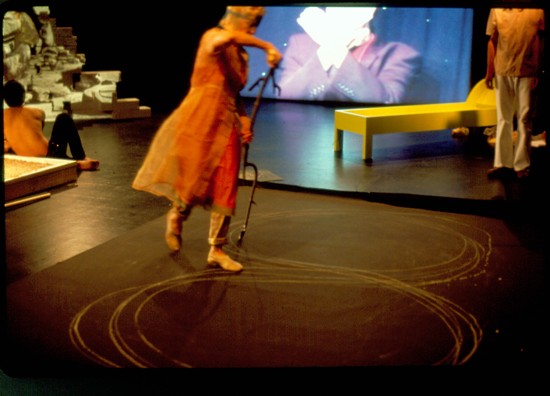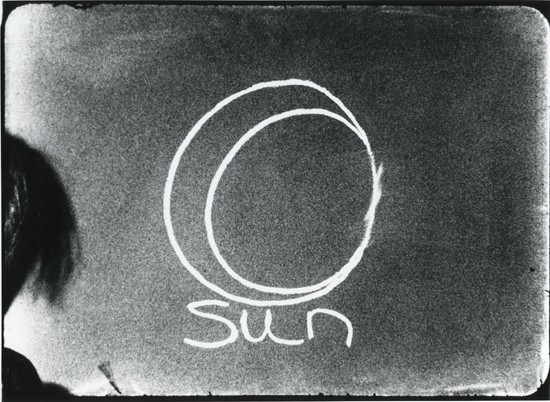 Top: Lines in the Sand, performance, Documenta XI, Kassel, Germany, 2002. Photo Werner Maschmann. Bottom: Mirage, film still, 1976. Photo Babette Mangolte.
ART iT: Simply in having bought the Portapak there, your trip to Japan in 1970 was a big turning point for your career. It's also an interesting moment in Japanese history because there was the Osaka Expo and the Tokyo Biennale, and my sense is that this was a point when there was great confidence in the Japanese art scene that a real dialogue was happening with other parts of the world, and it was also the moment when the group of artists who came to be known as Mono-ha were first being recognized. Did you have much interaction with Japanese artists or curators at that time?
JJ: I knew about the Portapak before I went, but I bought it there, and then, because I really wanted to get away from the aesthetic of minimalism and develop my own language, seeing the Noh drama, which is a kind of dance-visual theatre, was very encouraging and inspiring.
But I didn't meet many Japanese artists, and only learned about Mono-ha recently. I was with Richard Serra, and after the Tokyo Biennale opened we went to Kyoto and Nara and stayed there.
ART iT: So the encounter with Noh was really the big thing.
JJ: Yes. Also, just being in Japan. The minute I arrived I remember the sounds were different. All cities were emptier and quieter than they are now, but Tokyo in particular. I remember hearing the sounds and thinking it was so different. Everything was so different. And I'd never been to Asia, of course, so the whole thing was completely fascinating. But I was aware that the contact American artists had with Japanese artists in the 1960s had a strong impact on what was going on in New York.
Joan Jonas: Reflections from the Mirror Room