A Restatement: The Art of 'Ground Zero' (Part 27)
'Tanesashi Decontamination 2016' (1)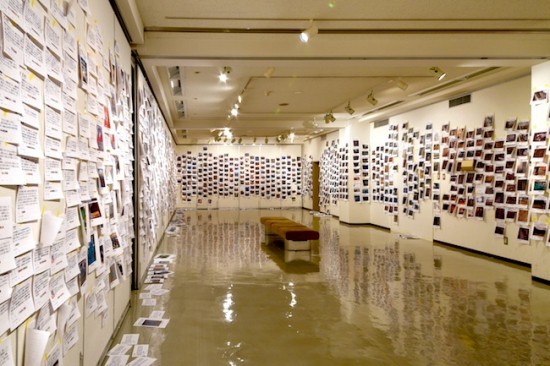 Installation view (first floor gallery) of "Shuji Akagi + Kio Kuroda – Tanesashi Decontamination 2016" at Hachinohe City Museum of Art. © ICANOF
All photos: courtesy ICANOF.
At the end of August, I returned to Japan temporarily from South Korea, where I am curating the Busan Biennale 2016, and immediately boarded a shinkansen bound for Hachinohe in Aomori prefecture. I had been invited to take part in the Decontamination Forum that was being held in conjunction with and scheduled for the first three days of the "Shuji Akagi + Kio Kuroda – Tanesashi Decontamination 2016" exhibition at the Hachinohe City Museum of Art. "Decontamination," which generally refers to the neutralizing and/or removal of toxic substances arising from chemical experiments and clinical medical treatment, was once a word we rarely came across, and indeed hoped to have nothing to do with, as long as we led normal lives.
Following the Fukushima nuclear accident, however, "decontamination" quickly became a familiar word – because the removal from soil over a wide area of toxic radioactive material emitted from the reactors at Fukushima became something that is talked about as if it were completely normal. At this exhibition at Hachinohe, some of the more than 350,000 photographs taken by Shuji Akagi since the nuclear accident, showing the decontamination process in Fukushima city together with comments he posted to Twitter describing the process, were displayed across the museum alongside various items left behind in the wake of this process, and videos showing Akagi's daily life. On the first floor, Akagi's tweets from immediately before the Tohoku earthquake and tsunami to the present were arranged in chronological order. On the second floor, printed photos were displayed. And on the third floor, a video artwork edited by Hidekazu Sato based on video Akagi shot in conjunction with his still photos was presented along with the various "objects" Akagi has collected to date, the latter, still not clearly identified, displayed in darkness and creating a peculiar atmosphere.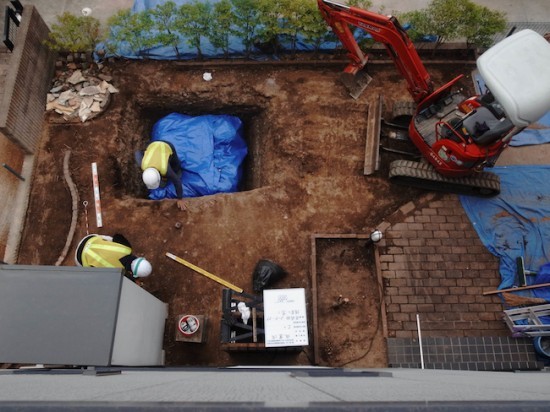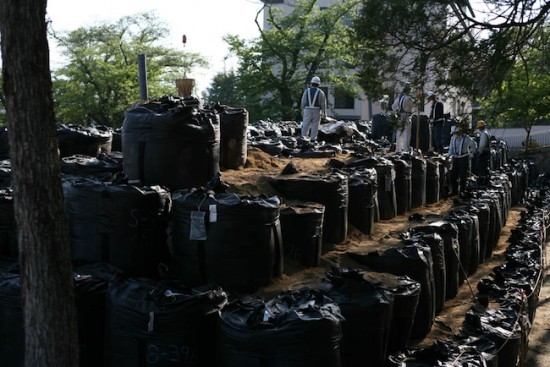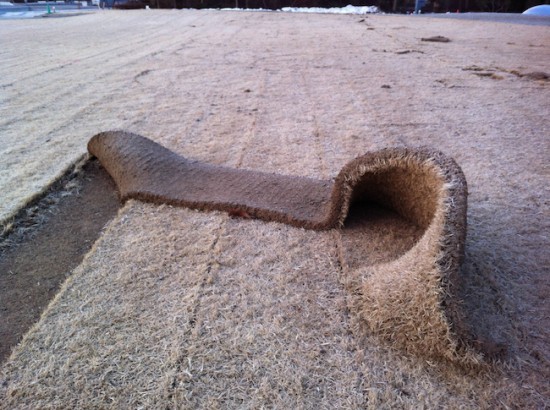 Top to bottom: Shuji Akagi – "February 20, 2012, Fukushima Prefectural Museum of Art," "June 21, 2013," "May 10, 2014." © Shuji Akagi
As for the forum, photographer Keiji Tsuyuguchi and curator Shigeyuki Toshima had come up with two topics in regard to Akagi's photographs – "1. Photography and temporary storage depots" and "2. Tanesashi and temporary storage depots" – and a total of 12 speakers discussed these at length over three days, with changes in the line-up and location along the way. Incidentally, the "temporary storage depots" (kari-okiba) referred to here are facilities for storing contaminants removed from irradiated soil during the "decontamination" process. The reason they are "temporary" is that a decision has yet to be made regarding facilities for the permanent disposal of such radioactive material. Be that as it may, how on earth are these temporary storage depots and photography related? As well, what on earth has "Tanesashi," a reference to the Tanesashi Coast, a place not far from Hachinohe city known for its scenic beauty, got to do with this?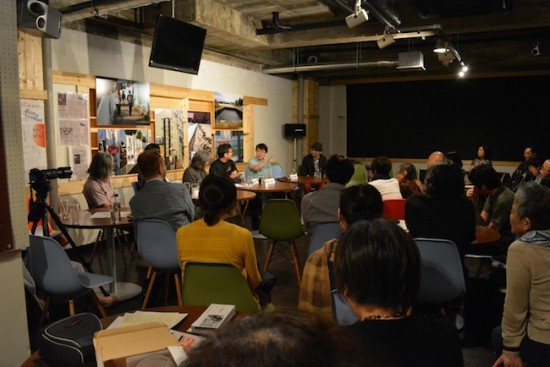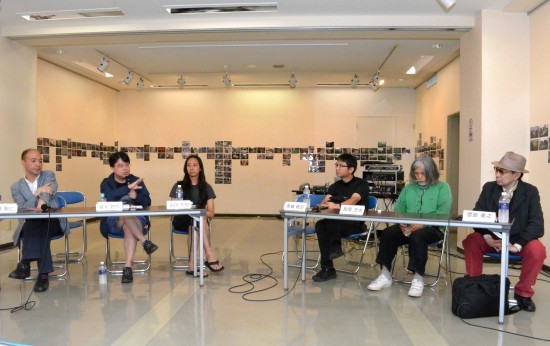 Above: Decontamination Forum 2 (August 27, 2016) at the local restaurant Rody's. Below: Decontamination Forum 3 (August 28, 2016) at Hachinohe City Museum of Art. © ICANOF
Before we consider these questions, however, I would like to address an even greater as-yet-unresolved puzzle concerning this exhibition. That is, where does Kuroda, a supposedly key figure whose name appears alongside that of Akagi in the exhibition title, fit in? As a matter of fact, not a single exhibit concerning Kuroda could be found at the venue. Then again, in all likelihood, Kuroda, who was a poet after all and has no connection whatsoever to Akagi, had not been summoned to have work exhibited at this museum. Rather, it can safely be said that it was an experiment to see how the participants could summon this absent dead person to the exhibition, itself a kind of temporary storage depot, through the medium of Akagi's photography. The person responsible for springing this rash question on participants and visitors alike was none other than the initiator of the exhibition itself, Shigeyuki Toshima. Yes, this was the latest ICANOF Exhibition, an initiative started in 2001 at the Hachinohe City Art Museum by Toshima, who is both an exhibition curator and a stage director at the Molecular Theater, over which he also presides. And in this exhibition, puzzles are imbedded one after another so that they form a kind of maze that misleads visitors. Reading the detailed explanation on the ICANOF website concerning its origins, the thing that stands out is probably that in Hachinohe, the connections between the transformation from within the city by local residents through art programs centered around Toshima and the outside started forming long before the kinds of art festivals and "regional art" that we see now became such a popular topic for discussion, and not as the result of administrative directives but far more spontaneously.
No doubt there will be some people reading this who will be somewhat bewildered at this background and at the depth of the multilayered discourse and conceptualization on display at this exhibition. Conversely, however, one could say that this highlights how ICANOF's initiatives have taken the form not of short-lived events, but of the accumulation of questions and answers through trial and error over a truly long period of time. This was also evident in how, coinciding with this exhibition and festival, people active in various fields and scattered around the country, including in Tokyo, willingly and somewhat surprisingly spared time to gather one after the other in Hachinohe in order to spend time together in the same place.
However, the fact that it was not only myself who was reunited with Akagi, who was waiting for me when I got off the shinkansen at Shin-Hachinohe Station, but also stage director Norimizu Ameya and artist Fuyuki Yamakawa (we had traveled from Busan, Fukushima city, Ibaraki prefecture, and Aichi prefecture respectively) was because we had been invited to take part in the forum by Toshima as members of the four-man unit Grand Guignol Mirai. We did not head to the exhibition venue right away. This was because we felt it necessary to pay a visit to the nuclear waste reprocessing center in Rokkasho, the largest decontamination-related temporary storage depot currently under construction in Japan, which is accessible by car from Hachinohe by heading directly north.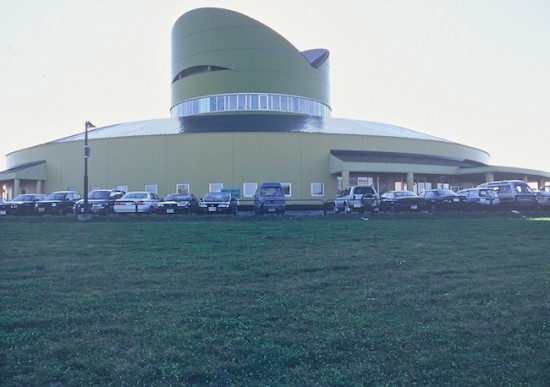 Rokkasho Vistors Center. Photo: Masakazu Iwata
As we continued to drive in torrential rain across a seemingly endless plain that gradually grew more reminiscent of Hokkaido than Tohoku, we began to notice more and more lakes and marshes, and when we eventually arrived at Rokkasho village around an hour and a half after leaving Shin-Hachinohe, the first thing we saw was a boundary line with multiple fences as if it were a fortress. Moreover, we were not able to look inside the actual facility, and had to settle for a tour of the Visitors Center. However, from the 360-degree panorama windows on the top floor of the center we were able to look out over the undulating, green land, much of it covered with unfamiliar nuclear-related facilities, giving the impression of a remote secret base.
After that we had to hurry back by car to Hachinohe, where Akagi and I were each due to give short lectures as well as participate in the joint sessions scheduled for the first day of the forum. In addition, on the final day, we had to stage a short performance (a radio drama, or "radioactive drama" as Toshima named it) concerning our "Demio Fukushima 501" exhibit at "Don't Follow the Wind," the exhibition that "no-one can see" held in the difficult-to-return zone in Fukushima prefecture in which the four of us participated. For a moment, as the pouring rain and the spray kicked up from enormous puddles by the tires lashed the windshield, obscuring our vision, I recalled how the four of us, wearing protective clothing and riding in the car we would abandon at the venue, passed through a barricade with our passports or other identification on our way to install the above-mentioned artwork in the difficult-to-return zone. Depending on how you look at it, this zone could also be regarded as land forced to become a giant "temporary storage depot" through the acceptance of a plan to construct an intermediate storage facility for radioactive soil and debris. (To be continued)
Noi Sawaragi is a member of the curatorial team for the Busan Biennale 2016 exhibition "Project 1" (venue: Busan Museum of Art). Taking "an/other avant-garde china-japan-korea" as its theme, the exhibition is structured around the trajectory of avant-garde art in China, Japan and Korea up until the 1990s. The Biennale runs through November 30, 2016.