Provoke and Con-pora: In the blank space of '1968 – Japanese Photography' (Tokyo Metropolitan Museum of Photography) II
Awareness of the fact that, as a result of the inundation of image information, the real world itself is being turned into a photograph is the same awareness that lies at the heart of Con-pora. As most people already know, the word "Con-pora" originated from the title of the exhibition held at the George Eastman House in New York in 1966: "Contemporary Photographers: Toward a Social Landscape." Let's take a look at Nathan Lyon's introduction to the exhibition.
Photography has achieved an unprecedented mirroring of the things of our culture. We have pictured so many aspects and objects of our environment in the form of photographs (motion pictures and television) that the composite of these representations has assumed the proportions and identity of an actual environment. Within this environmental context the giving of a pictured significance to ordinary objects through photography has contributed greatly to a shifting graphic vocabulary of the twentieth century. Aside from the subjects and objects themselves, the structural disposition of the picture itself has undergone a definite change which is also, in part, attributable to the development of photographic representation. (1)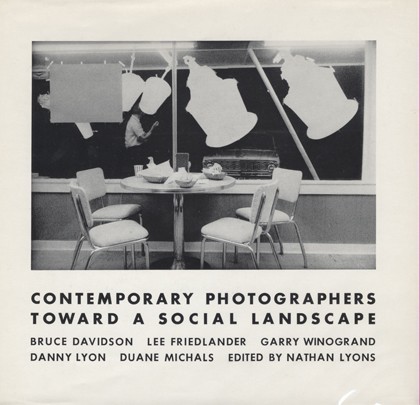 Catalogue for the exhibition "Contemporary Photographers: Toward a Social Landscape"
From the photos and television footage distributed by mass media outlets to the voluminous number of everyday snapshots that accumulate in family photo albums: people are born and grow old with photographs as part of their lives. Photographs have already become an environment of their own. (2) The term "social landscape" signified an environment whose every corner was being turned into photographs by the massive quantity of image information. The pure world is gone, and as many a tourist in whatever place in the finite world has discovered, the world as it really is, a naked reality that has not been photographed, no longer exists. The world and the self have already become something that sucks in and spits out photos. This all means that the beliefs that used to support the discourse of modern photography – the belief in a zero world that exists dispassionately beyond all human activity – have become a thing of the past.
It is only the "structural disposition of the picture itself," "aside from the subjects and objects," that becomes an issue. That is to say, the term "social landscape" refers to a landscape in which it is only the input/output node of the photographic information and its network that exist. Node = self and others; network = the only existing world that has been photographed, the only world that exists. What was Con-pora all about? It was about no longer being able to believe in the utopia called naked reality, the world as it actually exists, and accepting a dystopia in which all that the self and others do is flicker on and off within the surge of photographic information, questioning, in a bridgehead-like way, "this," "my," reality.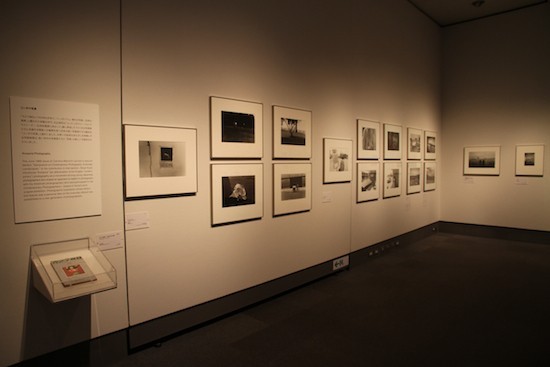 Installation view of the Con-pora section of "1968 – Japanese Photography." Photo courtesy Tokyo Metropolitan Museum of Photography.

Presented in this way, we realize that, as photographic representations, both Provoke and Con-pora have responded to the reality of the advent of this image-media society of ours, which explains why they are often confused with each other. Provoke, however, went the route of radically exhausting modern photography (the last of modern photography), and Con-pora was searching for a photographic representation not premised on modern photography at all (the first post-modern photography).
If Japanese photography were to be plotted on the aforementioned realism timeline, Shomei Tomatsu would be in the generation of people who want to believe in the "realism" of "recording." (3) Tomatsu's criticism was directed at the demential Con-pora, which no longer even attempts to seek out naked reality (which is irrelevant for Tomatsu), and the Are-Bure school, which, in the absence of any concrete objects, merely autistically pursues naked reality as a limiting value. (4)
Now, however, having mentioned "questioning … within a dystopia … in a bridgehead-like way, 'this,' 'my,' reality in a bridgehead-like way," I am describing nothing more than an abstract attitude to production. I would specifically like to explore, with reference to the body of photographs that were exhibited at "1968 – Japanese Photography," what it is that Con-pora photographs and the manner in which it is photographed. (To be continued)
"1968 – Japanese Photography" was held form May 11 through June 15, 2013 at the Tokyo Metropolitan Museum of Photography.
Nathan Lyons, Contemporary Photographers: Toward a Social Landscape, "Introduction," George Eastman House, Rochester, New York, 1966. (Emphasis mine.)
Lyons attached great importance to this point even in the unpublished conversations he had with Garry Winogrand and Simpson Kalisher. Nathan Lyons: Selected Essays, Lectures, and Interviews, ed. by Jessica S. McDonald, University of Texas Press, Austin, 2012, p.127.
Consequently, the 1968 exhibition "100 Years of Japanese Photography: The History of Photographic Expression by the Japanese " could be considered as the product of crisis consciousness for Tomatsu.
Camera Mainichi, January 1972 issue, page 61. A few years later in 1976, it was reported that Shomei Tomatsu, at a group exhibition in Tokyo, uttered words of praise after perusing the work by Miyako Ishiuchi that would later be put together as Zessho/Yokosuka Story. Why did Tomatsu make such a bold declaration about photographs taken by a photographer who had just barely started her career and had taken the photographs in the style of the time (in other words, are-bure, military-base related, dark prints)? Because the style or "how" of Zessho/Yokosuka Story was something borrowed, but the object or "what" was something authentic. The subject of Ishiuchi's photos was her own personal authentic Yokosuka. In Japan in the first half of the 1970s, "naked reality" was floating out there in a blank state. It was only Ishiuchi who was able to fill it with an authentic object, to fill the scars on are-burephotographs, scar-covered photographs, with an authentic significance. The use of a technique for getting closer and closer to naked reality as an extremity in the representation of an extremely personal authenticity (Yokosuka) was barbarity, achievable only to someone uninitiated in photography. Therein lies the freshness of her early work – Zessho/Yokosuka Story (1977) and Apartment (1978) – and Tomatsu probably sensed it – a barbarity impossible in Provoke.