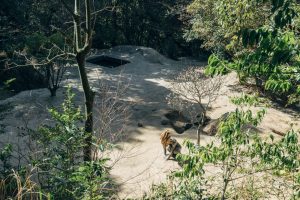 ©Pierre Huyghe 
Photo by Kei Maeda
As a memorable tenth exhibition of Dazaifu Tenmangu Art Program, which started in 2006, French artist Pierre Huyghe (born in 1962) created an entirely new garden 'EXOMIND' in a site of the shrine in November 2017.
Walking inside the precincts, the "garden of the shrine", and looking through plans of the precincts and other materials exhibited in the shrine museum, Huyghe imagined how the garden had changed over a thousand years. This was the conception of this work, which reflects his insights into the relationships between nature and man-made, a subject which he had previously explored in his project "Untilled" in dOCUMENTA (13) (2012).
This 'garden' by Huyghe is planned be open on the first Sunday and the first Wednesday of every month between March and October. However, due to the nature of the work, we might well close the garden for weather condition such as rain, typhoon, etc. We strongly suggest you to check the shrine official website or our Facebook page "Pierre Huyghe 'Exomind'" for updates on its opening. You can also call Dazaifu Tenmangu or email before you plan your visit.
Presented by Dazaifu Tenmangu Shrine
Supported by Institut français du Japon- Kyushu
Cooperated by TARO NASU
Contact number 092-922-8225 (9am-5pm)
Email art@dazaifutenmangu.or.jp