August 2 (Thursday) – September 30 (Sunday), 2018
Venue: Café d'Art at Hara Museum ARC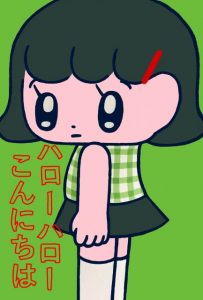 SHOP@CAFE is a regular event that introduces artworks and goods under the catchphrase "Living with Art." This summer, for the seventh installment of the series, some 20 colorful, pop-style works will be on offer by monyochihta pomichi, an artist who resides in Kiryu, Gunma prefecture.
http://monyochita.tumblr.com/
monyochita pomichi
Born in 1996, monyochita pomichi completed coursework in the Department of Art and Design at Kiryu Junior College. She currently resides in Kiryu city. She began her art activities while still a student and have participated in group exhibitions since 2015. She received the Selection Committee Encouragement Award at the 17th 1_WALL Graphics Exhibition (Ginza, Tokyo in 2017).
Hara Museum ARC
2855-1 Kanai, Shibukawa-shi, Gunma 377-0027
Tel 0279-24-6585  Fax 0279-24-0449  E-mail arc@haramuseum.or.jp
http://www.haramuseum.or.jp (official website) http://mobile.haramuseum.or.jp (mobile site) http://www.art-it.asia/u/HaraMuseum (blog) http://twitter.com/HaraMuseumARC (Twitter)
Hours: 9:30 am – 4:30 pm (last entry at 4:00 pm)
Organized by: Hara Museum of Contemporary Art
Closed: Thursdays (except during the month of August) *Subject to temporary closure in the event of severe weather.
Admission: General 1,100 yen, Students 700 yen (high school and university) or 500 yen (elementary and junior high), Free for Hara Museum members, 10% discount for a group of 20 or more, Combination ticket for Hara Museum ARC and Ikaho Green Bokujo (except during Golden Week): General 1,800 yen; Students 1,500 yen (high school and university) or 1,400 yen (junior high), 800 yen (elementary), half price for those over 70, discount for groups of 20 or more
*Children must be accompanied by an adult.
*For residents of Gunma Prefecture: Free admission for elementary and junior high school children every Saturday during the school term/200-yen-discount on admission for up to five persons upon presentation of the Guchoki Passport.
Directions: By train: Take the Joetsu Shinkansen to Takasaki, change to the Joestu Line, and disembark at Shibukawa. From Shibukawa, ARC is 10 minutes away by taxi or 15 minutes by bus (take the Ikaho Onsen bus to ″Green Bokujo Mae″). By car: 8 kilometers (about 15 minutes) from the Kan-etsu Expressway Shibukawa Ikaho Interchange (in the direction of Ikaho Onsen).
*Visitors can view the on-going exhibitions Stop and Go (Contemporary Art Galleries A, B anc C) and Dynamism and Stillness (Kankai Pavilion).