Performing Art of Yann Tomita at Hara Museum
August 25 (Saturday), 26 (Sunday), 2018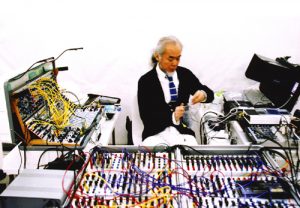 Yann Tomita is a highly versatile musician/producer whose work ranges from experimental music to pop songs. He has collaborated with artists spanning a wide variety of musical styles and genres, and has developed a large and loyal fan base throughout the world. Since 1989, Yann has directed the music research institute Audio Science Laboratory whose aim is the expansion of consciousness through music. Yann is also Japan's first professional steel drum player.
(Posted 8/26/2018 9:00) Today's performance will be held in the garden. The door to the garden opens at 17:15. If you have a reservation, you can  collect your ticket at the reception counter from 11:00 am.
=Latest Massage from Yann Tomita=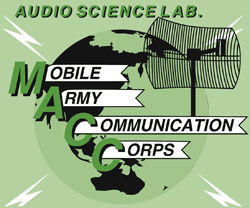 FLAG:A.S.L. MOBILE ARMY COMMUNICATION CORPS
"From dusk to nightfall, with the stage as base camp for the A.S.L Mobile Army Communication Corps, I want to express in this non-musical, non-play performance something intangible yet important. The troops will include M.C.Boo, Yumiko Ohno, Keigo Oyamada, Shuji Kanao, Kensuke Shiina, Suzi Kim, DUB MASTER X, Gen Tamura, Takashi Chiba, Shuji Nagai and Robochu. Also appearing, if the weather is fine, will be the ASTRO AGE STEEL BAND."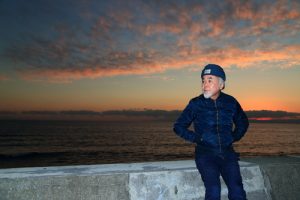 Event Information
Title: Performing Art of Yann Tomita at Hara Museum
Dates: August 25 (Sat.) and August 26 (Sun.), 2018
Doors open at 17:15. Performance starts at 17: 45
Venue: The Hall at the Hara Museum of Contemporary Art (or in the museum's courtyard garden in the event of fine weather).
Directions to the museum: 5 minutes by taxi or 15 minutes on foot from JR Shinagawa Station (Takanawa exit); or from the same station take the No.96 bus, get off at the first stop (Gotenyama), and walk 3 minutes
Tickets (Max: 3 per person): General: 4,500 yen (4,000 yen for Hara Museum members and up to one guest)
*All seating is unreserved. Ticket includes museum admission.
*Preschool children are not allowed in the venue during the performance.
*Booking accepted from 11:00 am on June 30 (Saturday).
Please send ticket requests to yanntomita@haramuseum.or.jp
*Ticket-holders may view Mami Kosemura: Phantasies Over Time on the day of the event
*Please note that limit for reservations for The Hall (which will be the venue in case of heavy rain) has been reached. However, reservations are still being accepted for an outdoor performance in the garden in the event of fine weather. The venue (outdoors/indoors) will be determined on the day of the performance depending on the weather and posted on the Hara Museum website, mobile website, blog and Twitter. Payment for the tickets for the outdoor performance should be paid in cash at the door on the day of the performance.
*Reservations for the performances are  closed. (Announced on August 22, 18:20)
*Original T-shirts and caps will be available.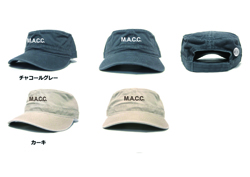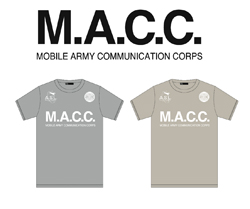 For Inquiries
Please contact the museum at info@haramuseum.or.jp.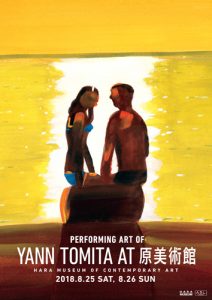 Organized by: HARA MUSEUM OF CONTEMPORARY ART
Coorperation provided by: AUDIO SCIENCE LABORATORY
Hara Museum of Contemporary Art
4-7-25 Kitashinagawa, Shinagawa-ku, Tokyo 140-0001 Tel: 03-3445-0651
E-mail: info@haramuseum.or.jp Website: http://www.haramuseum.or.jp